LMDE 5 – a New Distro as of 3/20/22 – Cinnamon desktop – Overview & tour, plus multi boot tips.
Thor Hartmannsson has made the first LMDE5 video for YouTube. Watch it to see what's new and different from your Ubuntu based version.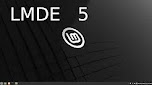 Best viewed on Large Screen & volume up. LMDE 5 overview and tour and also multi boot info of this Linux Mint distribution.