After Dustbin Bieber today we have a real muso:
I stopped being a Sting fan already after the first two Police albums but he's a really talented songwriter and perfomer. We can't take that away from him.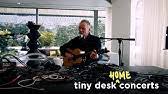 And thx anyway to all the musicians and pop stars playing the Tiny Desk Concerts for free, even in times of lockdown as Tiny Desk – Home – concerts.
Thank you Sting and all others.