Heyas Linuxy frens
If you're reading my bloggo and its Linux content for quite a while you know these few very daft and boring facts about your editrix:
I don't use any Debian/Ubuntu based distros
If I would use Debian I'd forfeit vanilla Debian, MX, LMDE and others but go with the well-known but sadly under appreciated Polish distro Sparky.
Since YouTube channel 9to5Linux just uploaded a video about the latest version of Sparky, and we don't get to see/hear much about this nice little distro, I'll link to it here in my bloggy as well. Maybe you understand why I can appreciate this bland workhorse. Because that's what Debian should be in my eyes. A robust work system without any sugarcoating and cherry on top.
But look for yourself: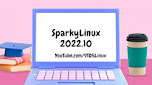 PS: Debian on Kernel 6.0? OMG, ferfeksake. 😮 Let's hope the poor users can survive such development on light speed. As we know most Debian users they'll be curled up underneath their desks in embryo position as of right now … and shitting their pants. 😉