Joe Collins is many things but first and foremost he is a good example! LOL
He's the personified older user who still uses Linux Mint after 20 or more years experience and geekery on Linux.
He, respectively his family, are also a shining example to prove that Linux is for everybody, really for every funny body! Coz in the Collins residence everybody is on Mint, dad, the wife, the young kidz, the medium kidz and the older kidz, too.
Also, since Joe's such a stone-old rock in the Linux YouTube scene, he's mostly retired from making videos by now. But when Ubuntu/Mint was up for the generational jump from 20.3 to 21, guess who's back to tell us all about it!
Is there any reason not to use Linux Mint? Do you have a reason to be still on Windows? I guess the answer in both cases is a strong and resounding NO! So bugger outta here, go to Minty's website, grab your copy of the Mint 21 ISO file and install it on your best computer!
Really.
Do it.
Do it nao!!!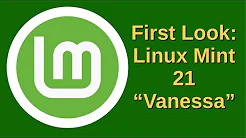 See ya on the greener side. 😉