Could it be that this is actually kinda sorta … good?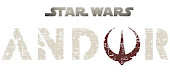 My thinking is twofold. On one hand I hate Disney's recycling of old and dead characters – we all know how Cassian Andor's story ends – on the other hand we have with Andor a real oldschool SW hero, bit rough around the edges man of action and rebellion. Does he remind us on a certain Solo, maybe?
The teaser was very much to my liking, the world dark and grey and well lived in. And no Vader or Jedi smurfs and death stars anywhere in sight. If they have managed to let Cassian be the lead character and don't abandon him to the back seat (Fett, Kenobi) we might have a gritty good vs bad space western on our hands.
Only time will tell.