A really useful tipp from Thor how to get faster downloads:
As usual you can't watch the vid on my bloggy but have to switch to the original source.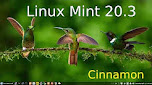 Oh, btw, this should work in the same way on LMDE5. 🙂 No reason to linger around on the Ubuntu base any longer. Ok?