Pffff…
That's not what everybody was hoping for.
Johannesburg – President Cyril Ramaphosa has announced a further easing to the level 1 lockdown restrictions, announcing masks would no longer be required outdoors and that venues could take up bigger numbers, provided patrons were vaccinated or if they could produce negative PCR tests.
He also said funerals would be restricted to 200 people instead of the previous 100.
One of those who was critical of Ramaphosa was Wits University's vaccinologist professor Shabir Madhi, who spoke to broadcaster eNCA, said he was "unfortunately hugely disappointed" by the president's speech.
He said the mask wearing mandate should have ended six months ago and that the current restrictions and regulations were illogical, irrational and inconsistent.
He said the president had again missed an opportunity "to make a break from the past because we are at a different phase of the pandemic".
It is indeed a bit disappointing, innit? But who knows, maybe Papa Smurf has a lekker anniversary surprise for us, like declaring all restrictions null and void on the 27th.? It is a Sunday, so perfect for a giant beach bash or the world's biggest BBQ party! 🙂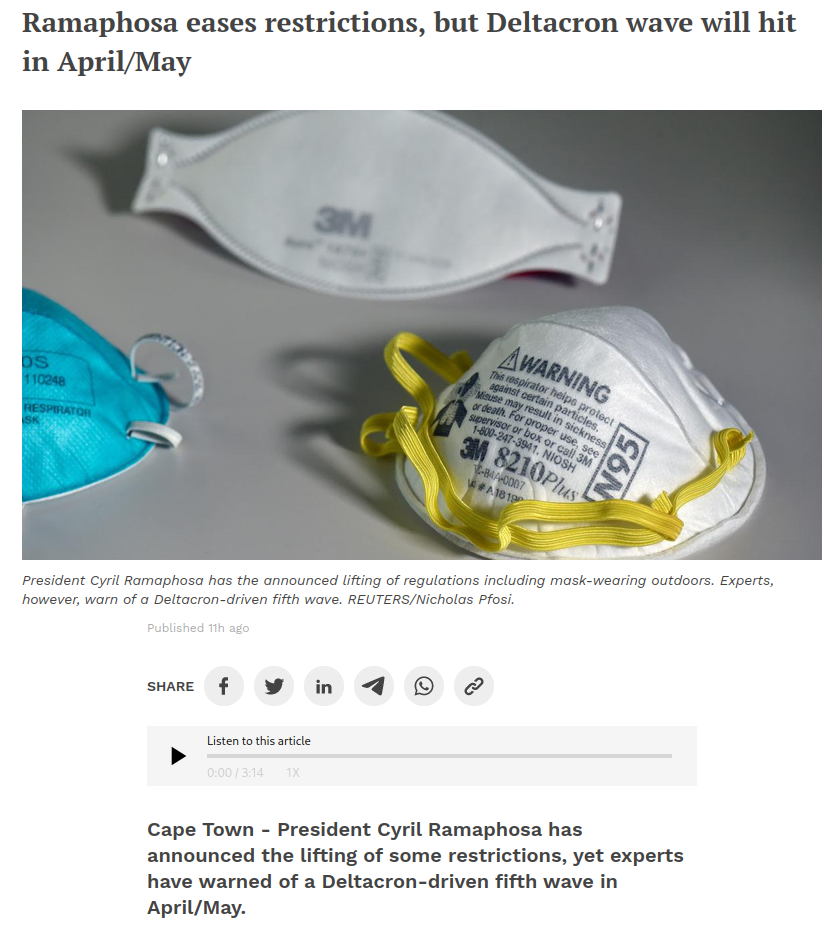 Cape Town – President Cyril Ramaphosa has announced the lifting of some restrictions, yet experts have warned of a Deltacron-driven fifth wave in April/May.
In his national address on Tuesday night, the president announced the country will remain on alert level 1, but has scrapped some restrictions including that of mandatory mask-wearing outdoors and gatherings for social events.
Despite this, the Deltacron variant has been currently driving up Covid-19 cases worldwide.
The variant, which is a mixture of the Omicron and Delta variants, has also appeared in South Africa, and experts warn of a fifth wave at the end of April/May.
In a television interview, medical expert Dr Vivek Solanki says that the Deltacron variant is expected to be highly contagious but not necessarily fatal.
What? Highly contagious but not necessarily fatal? So like an even weaker mutation of Omicron? So worst case scenario is two or three 102 y/olds are dying from flu. Dr. Solanski, why don't you just go home, have a beer, relax and tell it like it is: Fukn Covid scare time is over!
Was fun while it lasted but now that big pharma and the WHO and all the small dictators of our modern democracies are taking over, why don't you use your expert credibility and declare the pandemic Nullified?
Please don't get me wrong, my frens: I'll comply and wear my mask inside buildings. As I did in the last 2 years anyway. I'm still not gonna apply for vaccination until it's a hard requirement in order to fly internationally. But only in that case.
Yo kidz do gud, ok?
Cya latah
xoxo