Finally a video that hopefully answers the question burning on most of you Minty users' minds:
I guess, just a guess, a non-technical taste thing, that alone the fact you don't have to deal with Canonical/Ubuntu nonsense anymore, makes the switch to Debian base worthwile. Oh, according to Mint chief Clem, it's a bit faster as well.
Try it out, give LMDE5 a test run … or don't. Or do the great switch to Arch/Manjaro … or don't do that either and stick to your traditional Mint. Do I care?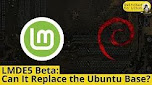 Naaw, not really. You know what? I'm happy that more and more people are leaving the Win/Mac world and choose freedom. That's super kool and recommendable and makes y'all rock stars!
I just think Mint is a super first contact with the Linuxverse … and for many it's also the last. They stick with Mint since it's soooo gud! Tom for example. A truly geeky guy who knows and tests many other distros but uses Mint for his professional work.
Well, anyway, after some weeks/months you'll know enough about Linux to decide what you really want and how to install exactly your dream system with exactly the right desktop environment or window manager that's right for you. For me it's comfortable systems based on ArchLinux and the slightly modified Mate desktop. It's not everybody's taste. In fact hardly anybody likes my personal setup. And again, I don't care.
That's the beauty of Linux and what makes it such a rewarding world to compute in. =^.^=
Anyhoo, here ya go to get your copy of LMDE: https://linuxmint.com/edition.php?id=297