Lisa, Lucy, Ella, Amy and Sanja joined me yesterday on our new windsurfing course 5 with wind from South West and 21knots. The conditions were quite smooth. Only Amy got pulled off her board during a bad crossing before last buoy, but couldnt find her board again and had to give up.
Sanja had a problem with the windcompass. Her board had the right wind, but either she forgot to set the send button in it or she switched off the automatic button for sending it by accident. Result was she wasnt registered by the line. I thought i have seen the windsetter message for her, but i guess i must have overlooked it during all the messages in public chat and didnt check it again.
The new wind with that the new start routine was pretty exciting and i was too busy to sail around Ella close to the southern race line buoy that i overlooked Sanja's start time as well and noticed only at the finish that she wasnt registered. I added her result manually.

It was now the third wind we used on our new course 5 with a lot of options for the tacks on upwind legs, gibes on downwind legs and the moments when to hike out and for how long on the high speed legs. We saw our sailors practicing during the week several times and everyone was sure to have the right start routine now.
Lisa pressed by accident ALT+F4 and logged out during Prestart. In her case a unlucky combination happened: she has a gesture on F4, maybe another finger pressed parallel the Alt-key by accident and the conformation mark for "do you really want to quit?" wasnt set and she was off, but she came back and started with nearly 2min delay. We fixedc that with her for the next time during our after race party.
Sanja and Lucy started in the northern half of the start line and used the more speed of hiking first on the first leg, Ella and i started close to the southern start line buoy and hiked out a little later. First option means you seem to be in a good lead and second option means you start slower, but can use the more hiking speed a little longer.
Result was that Sanja was a couple of seconds before me at the first buoy CN and Ella and Lucy in my neck. Amy arrived there fifth after a slower start and Lisa last after her unlucky start.
On the following downwind leg all sailed first to the North except me. The others took the speed from the leg before into the downwind leg, but to reach buoy ON they had to gibe one more time than me who did a 180° turn at buoy CN.
The result this time was that Sanja gained some more lead and Ella and Lucy were still in my neck and Amy in popcorn postion.
With wind South West it is very helpful to turn very close around buoy ON, because you need to pass the northern startline buoy by some meters on the west side (not to cross it too early) to tack in the right moment for buoy CS. If you turn around buoy ON too wide you have to sail later closer to the wind and will be slower.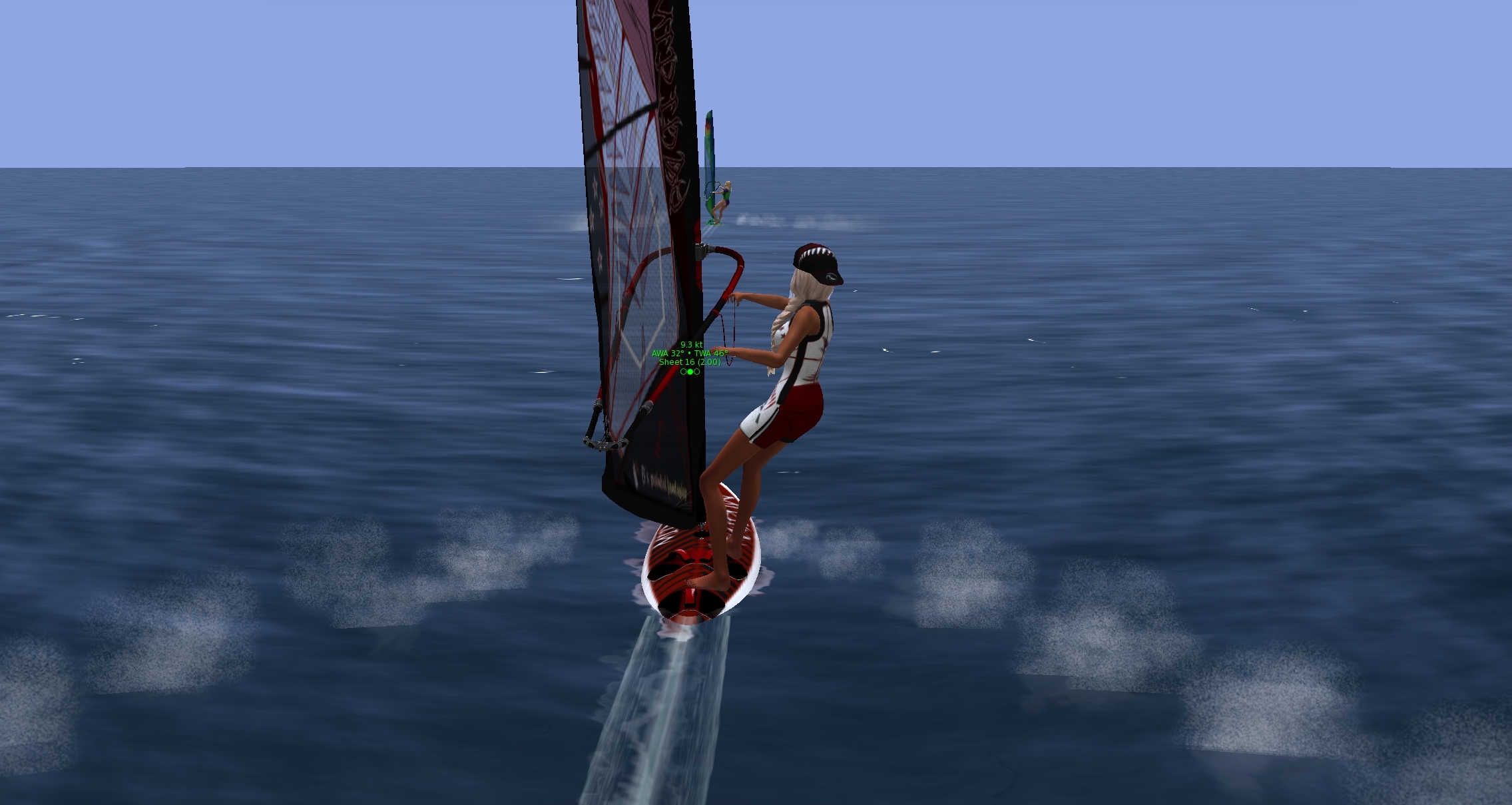 I could manage to sail around buoy ON closer than Ella and Lucy as you can see on the next picture.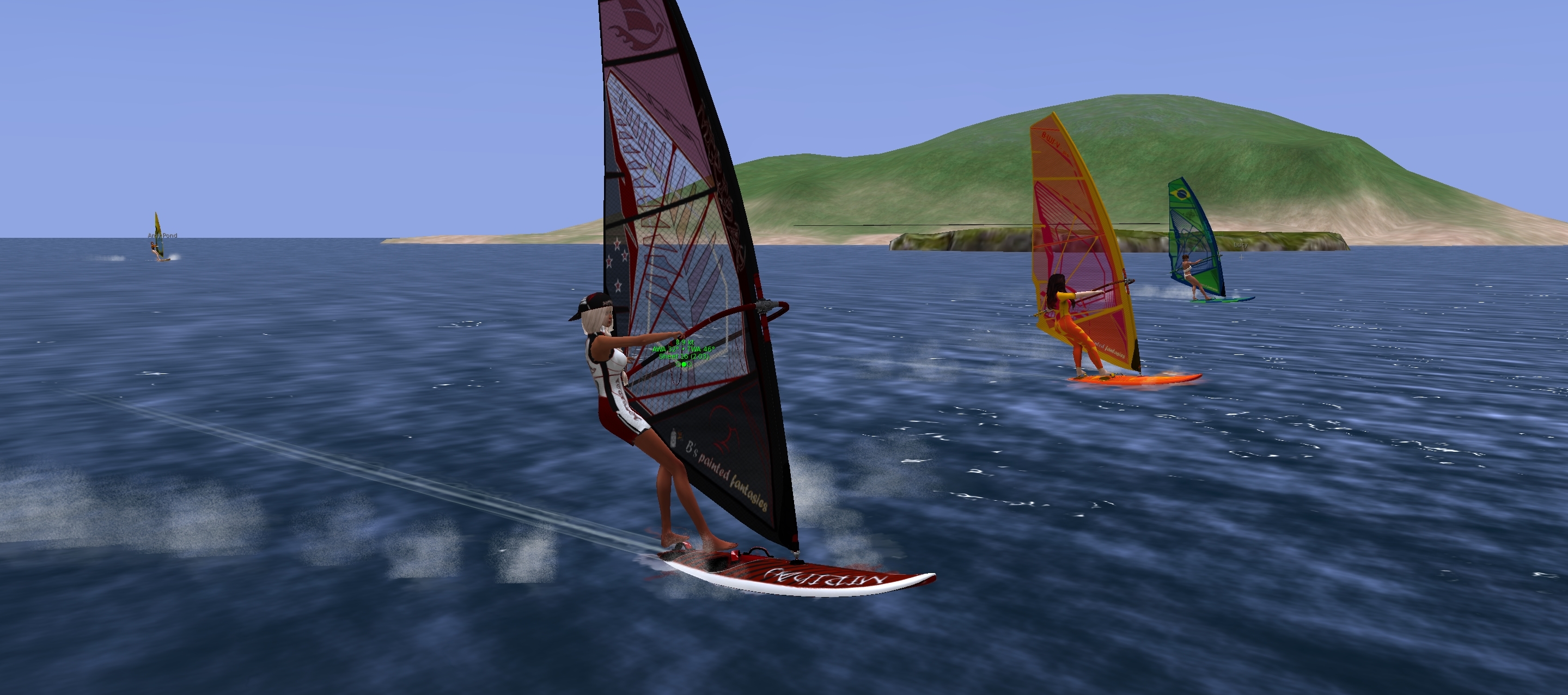 Sanja reached buoy CS first and started immediately after it to hike out and gained speed before Ella, Lucy and i reached buoy CS. This meant she sailed out of our sight. Ella, Lucy and i sailed a bit more to the west before we hiked out as well. That has the advantage we can hike out a little longer on our way to buoy OW and could catch up with Sanja again.
On our way to buoy OW Ella and i could sail away more from Lucy and more from Amy. And what did Lisa do? She sailed still at the end of the fleet, but really fast and caught up more and more with Amy.
Around Degrand Island on our way to buoy CS via buoy IN Ella could catch up a bit with me again and we two with Sanja. Lisa could pass Amy and caught up more and more with Lucy.
After the downwind leg to buoy ON follows an upwind leg back to buoy CN. Here you have the option with a very good turn to take some speed into the upwind leg to the west, but have to tack twice for buoy CN or sail straight South and tack one time less for buoy CN but dont take speed with you into the first part.
I chose the south direction while all others sailed first to the west. But on my way south i met the ones following a bit behind. Well i was on starboard tack while they were on port tack, but the "box" of the board is bigger than what you see on the screen. I cant say if it was Lucy or Lisa and i who were successful to avoid a contact. Amy and i tried it a little later as well, but unfortunately we both chose the same direction to do that, met in the middle and got both stopped to zero. Amy was still on last place and so i didnt say anything and we both continued our race without any penalties.
With this unlucky meeting i cant say if my way to buoy CN was faster, because i reached buoy CN after Sanja and just before Ella. It seemed that Sanja sailed a bit away again and i had Ella for the last 2 legs in my neck again.
I could catch up a bit again on the final leg with Sanja, but she defended her lead into the finish and i could keep Ella behind me:
1. Sanja (no picture) followed by me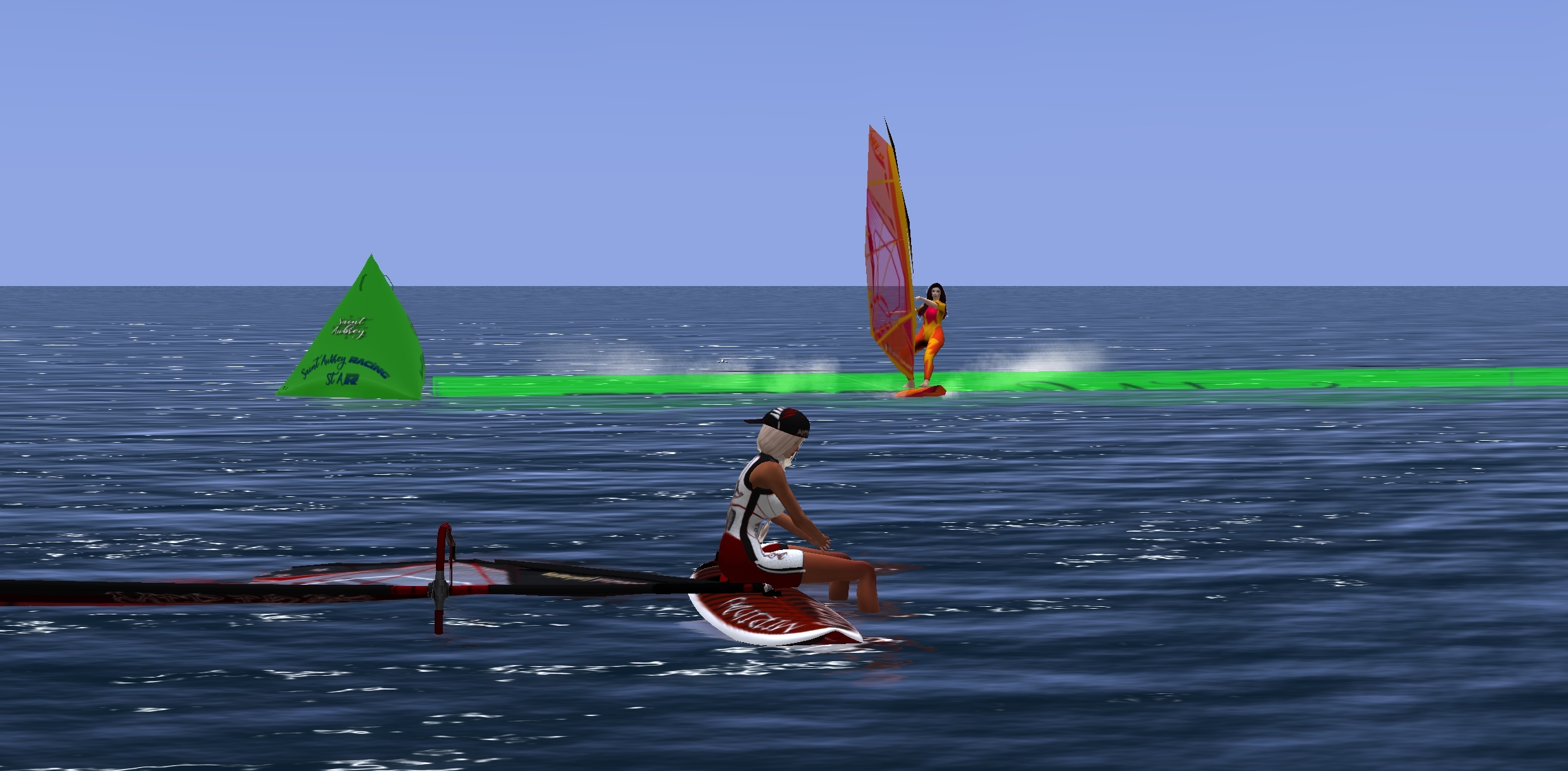 In the meantime Lisa caught up with Lucy and could pass her on the last two legs: See their close finish in the little video:
Bad luck this week again that Amy (5.) was pulled off the board again close to the finish, couldnt find her board again and couldnt finish.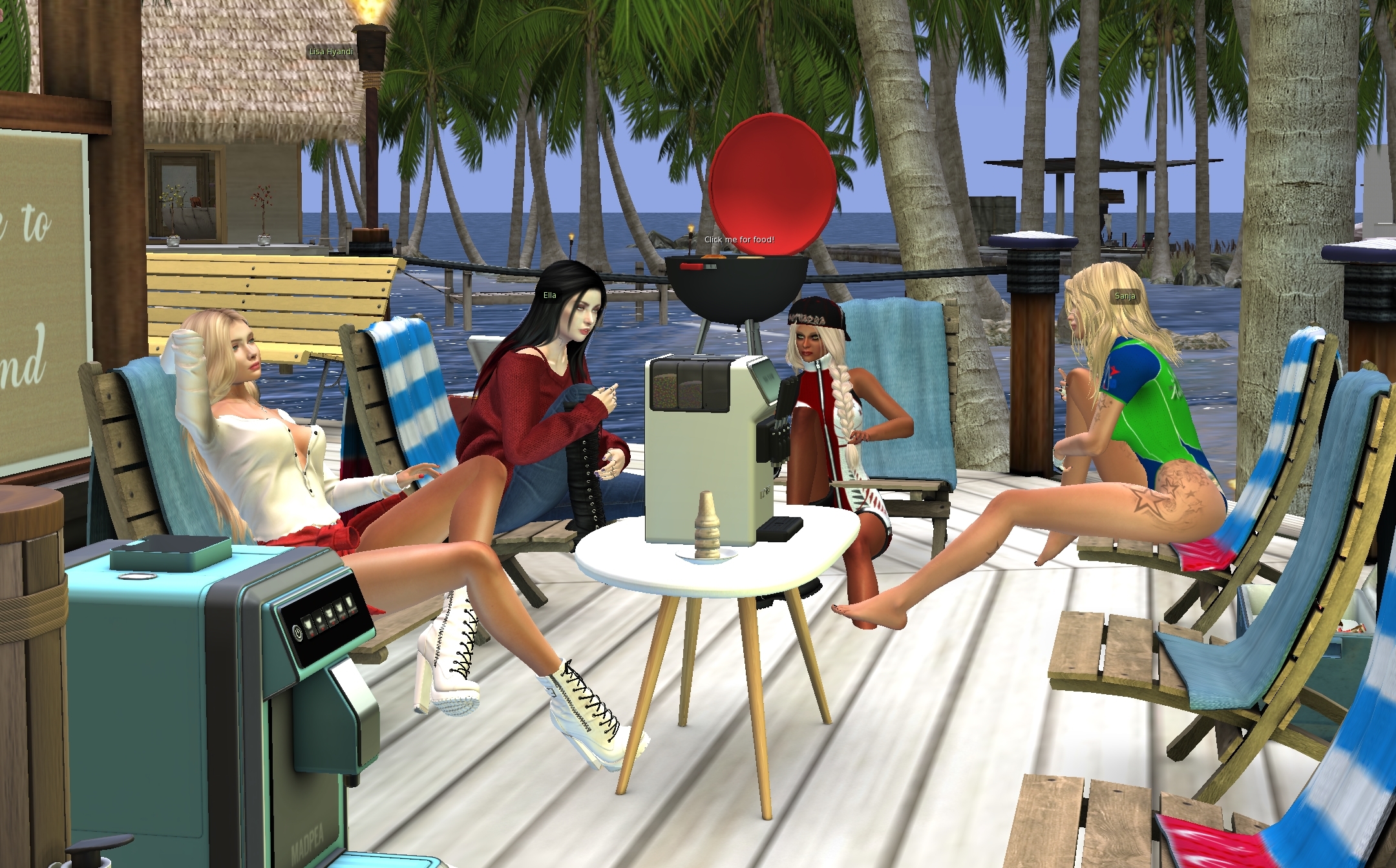 Congrats for a sovereign looking win to Sanja and for a great recover after her unlucky start to Lisa. Over the next months we will all learn more to master the course 5 and i think the races will become more and more exciting.
Here is the result from yesterday:
03: 2022-01-20-St AR – SBR – 5 – SW21:
1: SanjaSH Resident IDBS5fad – Race Time: 0:31:31-8points ->edited manually
2: TgBianca Resident IDBSeb40 – Race Time: 0:31:51
3: eleanorvelvet Resident IDBSbccf – Race Time: 0:32:08-5points
4: Lisa Hyandi IDBS2145 – Race Time: 0:33:47-3points
5: LucyInTheSky Afarensis IDBS3536 – Race Time: 0:33:50-2points
6: Montserrat Naidoo IDBSce61 – Not Finished-1point
Lap Times:
SanjaSH Resident IDBS5fad – Start: 0:00:06 – Last lap: 0:31:25 ->edited manually
TgBianca Resident IDBSeb40 – Start: 0:00:05 – Last lap: 0:31:46
eleanorvelvet Resident IDBSbccf – Start: 0:00:06 – Last lap: 0:32:02
Lisa Hyandi IDBS2145 – Start: 0:01:58 – Last lap: 0:31:49
LucyInTheSky Afarensis IDBS3536 – Start: 0:00:08 – Last lap: 0:33:42
Montserrat Naidoo IDBSce61 – Start: 0:00:23 – Last lap: Not Finished
Standing overall St AR 2022 SeaBossRider Championship (after 3 races):
Sailor-points (number of races)
Sanja-17(3)
Ella-13(3)
Izi-9(2)
Lisa-8(2)
Lucy-7(3)
Amy-3(2)
Stay all safe and healty and hope to see you net week again on the same course and then with wind from North West and 21knots.
Hugs and kisses
Bianca