Let's have it, why not?
Got it? There is no reason why you should still be lingering around on Windows while all the real kool kidz are having fun and enjoying their freedom on Linux.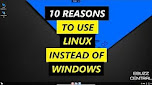 PS: Did you know that Orca is on Linux, too? Yes, she is. So she's a real kool kid. Don't you wanna be a kool kid?