Good morning humperdingers, just found a very confusing article on IOL. It's by Reuters so a bit Americentric but contains a lot of worldwide info:
Latest on the worldwide spread of the coronavirus
Conservative U.S. Supreme Court justices on Friday questioned the legality of President Joe Biden's pandemic-related vaccine-or-testing mandate for large businesses but appeared more receptive to his administration's vaccine requirement for healthcare facilities at a time of surging COVID-19 cases.
EUROPE
* German Chancellor Olaf Scholz and regional leaders tightened the rules for restaurant and bar visits, but shortened COVID-19 quarantine periods on Friday in response to the Omicron variant.
* Britain reported 178,250 new COVID-19 cases on Friday and 229 more deaths within 28 days of a positive test, official data showed.
* France on Friday registered 328,214 new coronavirus cases in the last 24 hours, around 70,000 more than on the previous day but still slightly below the historic record of 332,252 new cases reached on Wednesday, official data showed.
* Romania will shorten the isolation and quarantine periods for COVID-19 positive people, their direct contacts and untested travellers from high-risk countries to varying lengths depending on whether they are vaccinated, health officials said on Friday.
AMERICAS
* COVID-19 hospitalizations in the United States are poised to hit a new high as early as Friday, according to a Reuters tally, surpassing the record set in January of last year as the highly contagious Omicron variant fuels a surge in infections.

* Citigroup Inc staff in the United States who have not been vaccinated against COVID-19 by Jan. 14 will be placed on unpaid leave and fired at the end of the month unless they are granted an exemption, a source familiar with the matter said on Friday.
* Canadian Health Minister Jean-Yves Duclos on Friday warned some of the country's 10 provinces that they needed to do more to fight the Omicron coronavirus variant and prevent healthcare systems from being swamped.
* Mexico's health regulator has granted authorization for emergency use of drugmaker Merck's COVID-19 pill Molnupiravir, President Andres Manuel Lopez Obrador said on Friday.
ASIA-PACIFIC
* India's daily COVID-19 cases jumped to 117,100, a five-fold increase in a week and on course to overtake its previous infection peak.
* Thailand will extend the suspension of its quarantine waiver programme and bring in new restrictions after a jump in new coronavirus cases linked to the Omicron variant
* Japan is to step up restrictions in three regions that host U.S. military bases.
AFRICA AND MIDDLE EAST
* COVID-19 infections continued to disrupt Africa Cup of Nations preparations as Egypt cancelled training and delayed their departure to the tournament in Cameroon while Guinea were forced to leave three players behind at their training base in Rwanda.
MEDICAL DEVELOPMENTS
* COVID-19 hospitalizations in young children have reached their highest level yet in the United States, as Omicron fuels a major surge in cases, but it is not clear yet whether the variant causes more severe disease in young children, the director of the Centers for Disease Control and Prevention said.
* Booster jabs are still providing high levels of protection for older people against severe disease from the Omicron coronavirus variant and there is no need for now for people to have a fourth shot, British health officials said.
ECONOMIC IMPACT
* There is still enough money in state and federal government coffers to help businesses, homeowners and schools get through the latest coronavirus wave propelled by the fast-spreading Omicron variant, White House economic adviser Cecilia Rouse said on Friday.
* The Italian government is preparing new support measures to be approved next week to help companies whose business is being hit by a surge in coronavirus infections, two sources familiar with the matter told Reuters.
Reuters
Noticed how in Africa the only noteworthy newness is about cricket players or sumfink, while in the more developed nations everything is about making money?
Look at France's role model democrat and choice asshole Macron:
"freedoms carry responsibilities that include protecting the health of others." Well said, Macron. But not if you try to push those actions through without parliamentary mandate and methods we usually deem as communist and fascist.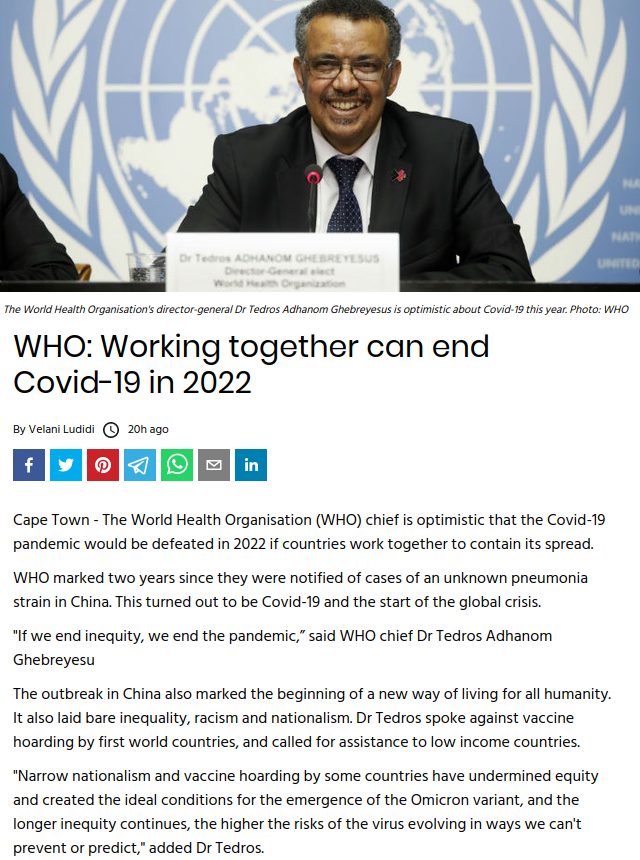 "what we have seen with this fourth wave is that even though the virus was very transmissible and infected a lot of people, the number of deaths has been much lower than what we saw in the previous waves,"
Yes, yes, yes. So what gives, Dr. Lessells?
"That may become the pattern going forward, that see the virus changing and we see new variants, but because of the immunity the impact of the new variants is less than what we saw previously," he said.
Again, where's the problem? Trouble finding new markets to exploit for your corporate overlords or what?
People, you see me at my weakest. Not healthwise, as I'm doing rather good, aside from a slight case of the sniffels, but the overall situation makes me feel helpless. And I hate that! I much rather be in control of my own life and not just a token to be pushed around an uneven playing field. I just had the first blogreader quitting coz I'm a negative influencer or sumfink. 😦
But am I really? I was never anti-vaxxination, and hubby and me will gladly be poked once it's time to fly internationally or cross any border. If only because it's the rulz. Anyway, I refuse to be called an influencer. This is a small private blog, my personal diary kinda.
Afterall I guess the best way to fight the fukn virus is by not getting the fuk infected, and hubby and me are admittedly kinda privileged in that regard. Hubby didn't leave the house since Day One of the lockdown and I only go out for necessities. And when we go on our Namibia tour later this year … I don't know if you've ever been there or seen any footage of it; it's a vast empty space! A bit like the moon. The possibility to get infected or infect any other people trends towards zero. We have bigger chances to be trampled to death by elephants, devoured by lions or die of thirst in the hot desert.
Anyway, where was I? Uh yes, my stance. Honestly, I don't have any. I'm just careful. I won't have any shit injected into my body if it's not 100% proven to immunize me or at least won't hurt me. Ok? And then all the powerhungry political assclowns and Big Pharma and all the profitgeneration. Listen, Sinovac and Sputnik V are proven and have worked wonders. Just ask China's not too small population. All happy and bouncy.
But will they be allowed in the West? Naaaw, no money to make with that stuff. And also we've decided China and Russia are our enemies. So, see, sadly it's necessary to let huge parts of our own voters die, as long as we don't have to buy the vaccine from those commies! But as soon as our own subjects are turning to the streets and fighting for their human rights we shame them into complying by calling them nazis and Covid deniers.
Phuk dat!
Cya latex
^xx^