In Germany people are fed up with gov't as well:
Woah, it's already dark in Bavaria. 😮
I hate everything about winter and I know exactly why we migrated to Africa. 😉 Oh, yes, and a gov't that totally mishandled the Cov-19 pandemic and is put to shame by 3rd world countries is another reason why we are so fukn happy to be out of Europe.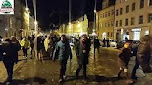 And Düsseldorf too …
… and Hamburg.