Morning Afternoon lovelies
The Dutchies are not as lame as their easterly neighbours, they are protesting against lockdown rules. Live from Amsterdam right now:
LIVE: COVID-19 sceptics rally in Amsterdam to protest against extension of lockdown, despite ban
Read that? Despite ban! That means they are not afraid to do illegal stuff in order to make their point. And since 85% of them are vaccinated gov't can't even use the Covidiots excuse.
Cool, very cool. 😉
And, seen any riot police? I guess the mayor of Amsterdam knows he can't win this fight against his own people.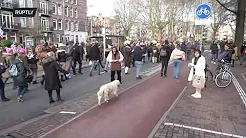 And Germany's neighbour to the south-west is also rather relaxed:
UK is off the restrictions as well. From where we stand it looks like Germany and The Netherlands are the last houldouts in developed Europe. No, not even the countries but only their clueless gov'ts. 😦
That's all I got for you today. The parliament in Cape Town is going up in flames, so Covid has to take a backseat right now.
You people are good to each other, okay?
Laterz
xxoo