No, in Hubby's and mine old hometown people took to the streets as well. I guess there's nothing wrong with fighting the Covid-19 virus – until recently it really made sense – but using fascist methods to make people comply against their will, treating the unvaxxed like Jews … come on! Have you already forgotten 1933 – 1945 and where it got us?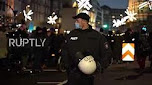 Read the video description?
"dozens of left-wing activists staged a counter-protest."
Huh? I consider myself very left-wing, and for exactly that reason I'd been with the original protest, not fighting against it. Strange times we're living in, no? Left, right, where are we?
Hah, hubs and me, we know exactly where we are: With the free folk of South Africa. And not just for the perfect spring weather. 😉