The racing season 2021 at Saint Aubrey with B22LTE is over and for the very last race we i tried an experiment. A Relay Race.
What is that? Have you ever seen biathlon team races with 4 racer in every team and doing their laps one after another? Yesterday we had 4 sailing teams of 2 sailors with one B22LTE each.
Teams:
Lisa and Rugger
Ella and Nicci
Ester and Aymalie
Amy and Sea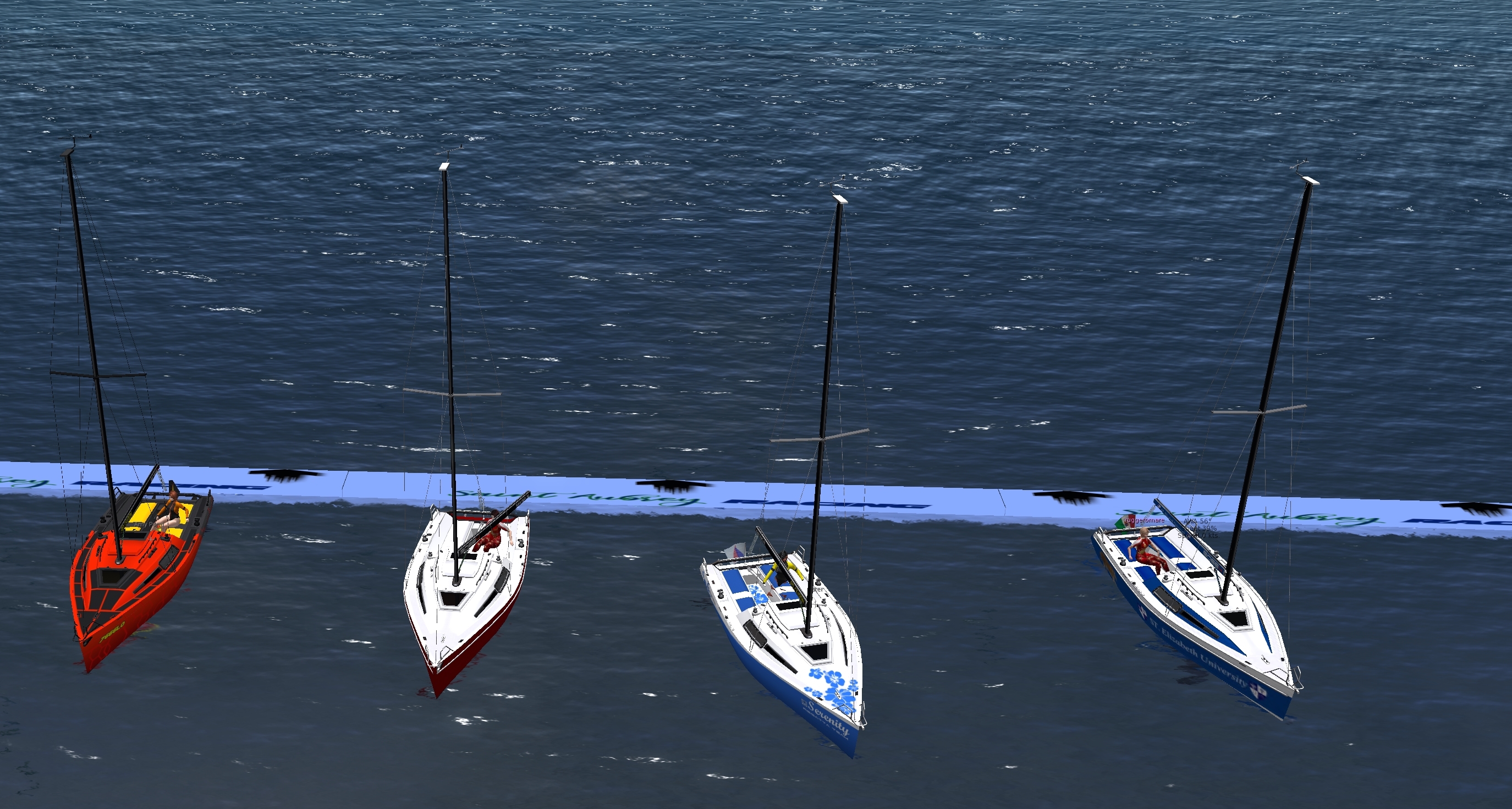 How does this race work?
The first team member will wait for the Prestart of 2:00 min at the race line. And then start after the start beep like in a normal race.
The second team member waits in the marina and after the start is done they rez their boats in the marina, catch the race wind and sail to the "Waiting Area for second team member". There they wait to see their team members arriving for their finish.
When the first team member is coming closer to the finish line the second team member can slowly raise sails, follow their team member towards the line and cross the line for their start AFTER the first team member has crossed.
Ezio moored his boat in the middle of the line after the first start was done. The finishing boats should cross the line north of him and moor just a bit behind the finish line and second team members should start south of him.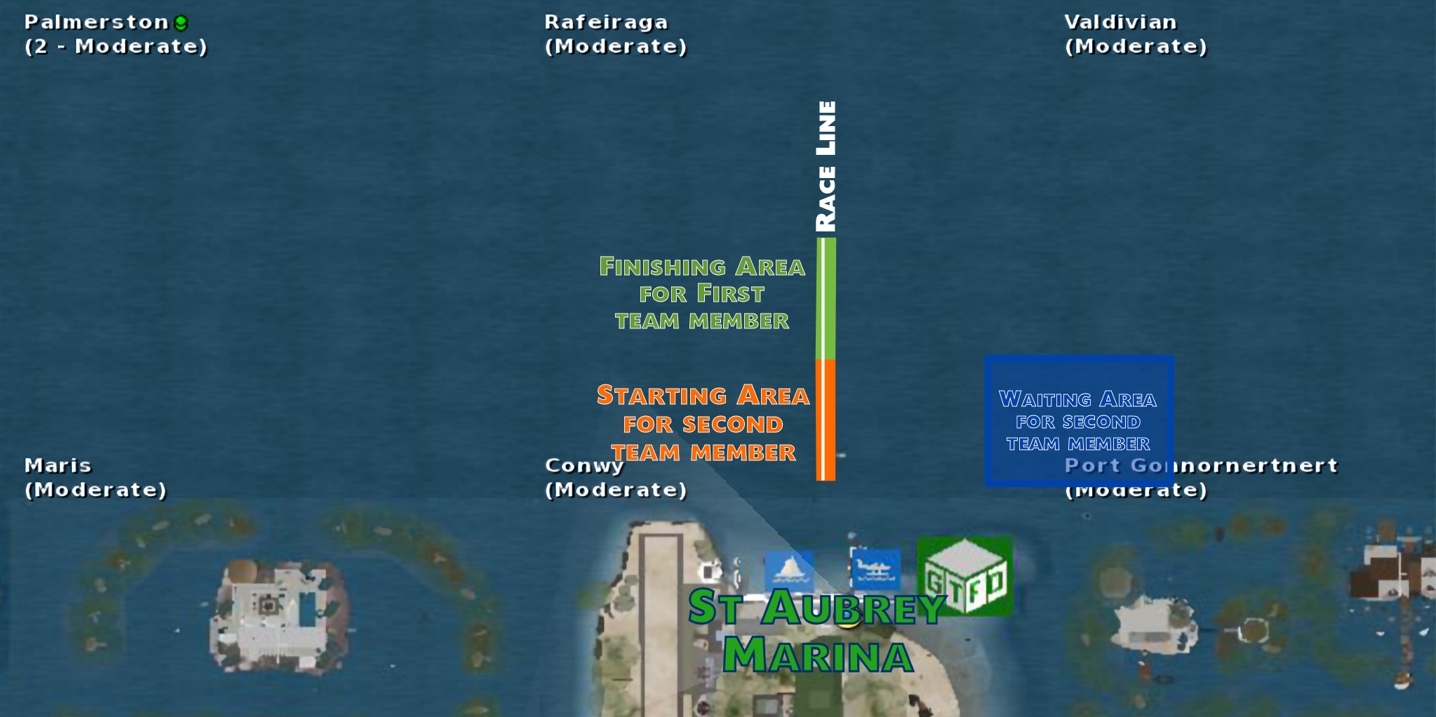 Special Rules:
if the first team member crashes and cant finish the first lap, the second team member is allowed to start right after the last team member of the first group.
If the second team member starts up to 10sec before the first team member has finished the team will get 30sec penalty:
Team Race time = Race time first team member + lap time second team member + 30sec penalty (because second team member cant start a second time)
Some additional tips at the briefing:
Be aware that the first team member will be on an upwind leg for the finish (slow speed) and the second team member will have downwind for the start (high speed).
You can also give the dot of your team member in your Mini map a different color to see him or her better.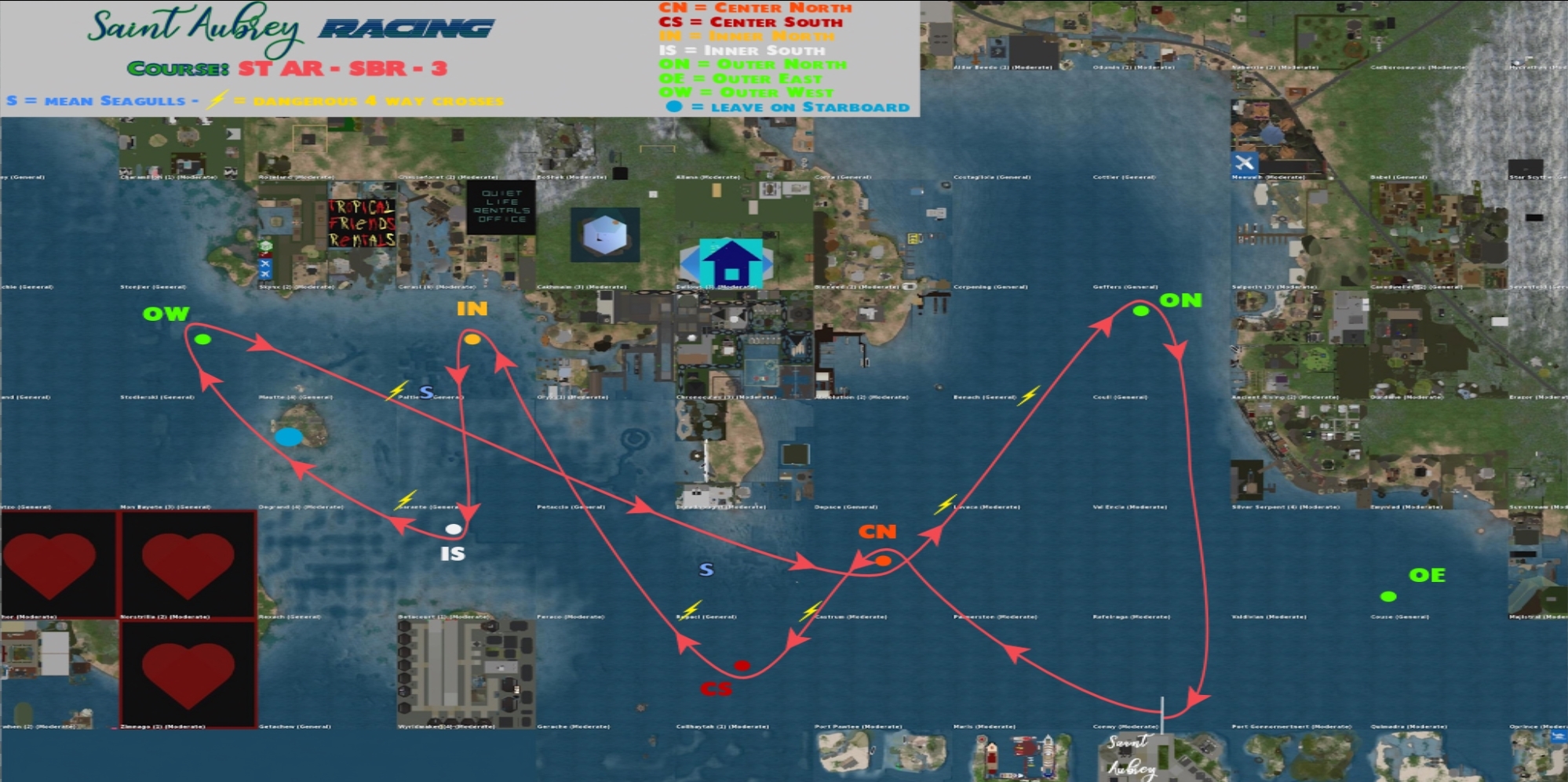 Ester started a little too optimistic and needed to luff hard to avoid to be over early. Ella followed her quite close, but didn't need to luff that hard. Lisa and Amy had the best speed and the right timing and passed Ella and Amy.
The first leg is a short downwind leg to buoy CN with some gibing.
The leg to buoy CS is a short leg best sailed with code.
After buoy CS followed a long downwind leg to buoy IN with different tactical gibes again. Lisa found the fastest route and sailed away from the others. Amy, Ester and Ella stayed very close together and reached buoy IN together.
When you watch the turns at buoy IN you can see who planned the course a little ahead. Ester took the wider turn after the buoy. Amy and Ella invested a bit before the buoy into their turn did them very close after the buoy.
This gave Amy and Ella a better angle to the next buoy IS and they could pass Ester. Lisa used her already safe lead to sail her own race in the front.
The leg around Degrand Island to buoy OW is a downwind leg again. Lisa safely in front and Amy and Ella in her exciting duel sailed a very similar course with nearly the same gibes. Ester sailed on her course with less awa, which gave her more speed but the much longer route. That let her fall back a bit more behind Amy and Ella.
After buoy OW Ester got lost a bit and sailed much too far to the north first. Lisa, Amy and Ella sailed straight to the East from buoy OW and started their long upwind leg to buoy CN with different tacking strategies.
After Ester found her orientation again she tacked early to the South and passed Degrand Island at the West and South side. With this little mistake she fell more back behind the other 3. Lisa, Ella and Amy trusted in their routes.
Lisa reached buoy CN first followed by the Amy and Ella, who were still close together and in their exciting duel.
Ester was still struggling a bit with the course and was already a bit desperate that she will give Aymalie later a lot of distance to catch up. Aymalie tried to calm her and to motivate her to finish the lap at her best.
Lisa, Amy and Ella did it right at buoy ON and sailed first a bit straight to the East, to get the right angle for the finish line afterwards.
While Lisa, Amy and Ella were already on the final leg Ester was still trying to reach buoy ON.
Lisa messaged Rugger on her final leg several times when she will arrive at the finish line. That was an awesome example of team work. Well… if the team partner would have listened. Lisa gave Rugger with her great sailed lap approx 30sec lead. But Rugger was why ever not really concentrated and slept over the whole lead Lisa gave him.
I have explained the handover routine several times, i made an explanation map to show it, we placed Ezio with his boat as a mark between the finish and the start area and i really thought that all had understood it. Thats why i didn't think about a penalty for starting in the wrong Area. Well Rugger after his sleepy start used the short way and crossed the line in the finish area and nearly hit Ella.
I was too surprised to react right and fast enough and to give Rugger a penalty for starting in the wrong area, that i missed the right moment to do that. But it taught me that i will be better prepared for the next time.
The handover of Ella and Nicci was nearly perfect. Nicci crossed the start line 4sec after Ella finished and with full speed. Well done you two. Sea started a bit later after Amy had finished and got passed by Nicci.
The sleepy start of Rugger combined with the better handover of Ella/Nicci and Amy/Sea made this race again an exciting race. The whole nice lead Lisa sailed for Rugger was eaten up and we had an exciting triel again.
Ester crashed shortly before the finish line and her boat finished on a strange course on itself. Thats why we gave Aymalie a start signal via RD call. But this team wasn't yesterday really on the lucky side. Aymalie started 2 min after the others and she was highly motivated to sail her best to catch up with the others, but SL stopped her boat just a couple of minutes later and they gave up. Shame that all the bad luck happened only to this one team.
On the following long downwind leg to buoy IN Sea could pass Nicci and both started to chase Rugger.
Sea and Nicci turned better around buoy IN and accelerate better after the turn than Rugger. That let the two catch up more with Rugger.
On the following downwind leg around Degrand Island to buoy OW Sea could pass Rugger with a faster route and Nicci caught up with Rugger more and more. So they started the long upwind leg back to buoy CN pretty close together.
After buoy OW we saw different upwind strategies again. Rugger tacked away from Sea and Nicci and tried to pass them with this. But Sea could keep her lead and Nicci was later still in Rugger's neck.
It seemed that Rugger sailed on his lap a "male" route, because he sailed nearly on every leg a different route than Sea and Nicci. Or maybe he loved to sail in the female sandwich and this was his main reason to choose his route.
At buoy ON: 1. Sea, 2. Rugger and 3. Nicci.
When you look back at the first sailors you will remember they sailed after buoy ON first to the East to reach the finish line on the East side and to cross it in the right direction.
Here Sea and Nicci tacked very short after buoy ON. Only Rugger tried to invest into his course. But i guess he thought the two speed queens might sail too much away from him and tacked too early as well. He used his windward side to pass Nicci again.
When i tested the course for this event i took first the line to the east and tacked later to the South and the finish line like the first group. I never thought that some one would tack so early.
But that is the second lesson i have learned for the next time. When i watched the sailors on their final leg i could see the mess coming up in the end. Rugger barged Sea just at the northern end of the line and crossed the line first. Sea got stopped to zero by Rugger and Nicci could pass her as well and crossed second.
Well i could say congrats to Lisa and Rugger for crossing the line as the first team. But with all the things that happened during the second lap and things i didn't think of before i would say congrats to all teams for an exciting race event.
The feedback of the sailors was positive and i am glad that all enjoyed it this experimental fun team event.
But be sure i have learned from this as well and will optimize some details for the next time.
Here is the result from yesterday:
Lisa – Rugger – Race Time: 0:43:49
Ella – Nicci – Race Time: 0:43:50
Amy – Sea – Race Time: 0:43:54
Ester – Aymalie – Race Time: Not Finished
Race Times first Group:
Lisa – Start: 0:00:01 – Last lap: 0:20:47 – Race Time: 0:20:48
Amy – Start: 0:00:00 – Last lap: 0:21:20 – Race Time: 0:21:20
Ella – Start: 0:00:00 – Last lap: 0:21:29 – Race Time: 0:21:29
Ester – Start: 0:00:00 – Last lap: 0:23:23 – Race Time: 0:23:23
Race Times second Group:
Rugger – Start: 0:21:30 – Last lap: 0:22:29- Race Time: 0:43:49
Nicci – Start: 0:21:33 – Last lap: 0:22:17 – Race Time: 0:43:50
Sea – Start: 0:21:31 – Last lap: 0:22:23 – Race Time: 0:43:54
Aymalie – Start: 0:23:24 – Last lap: Not Finished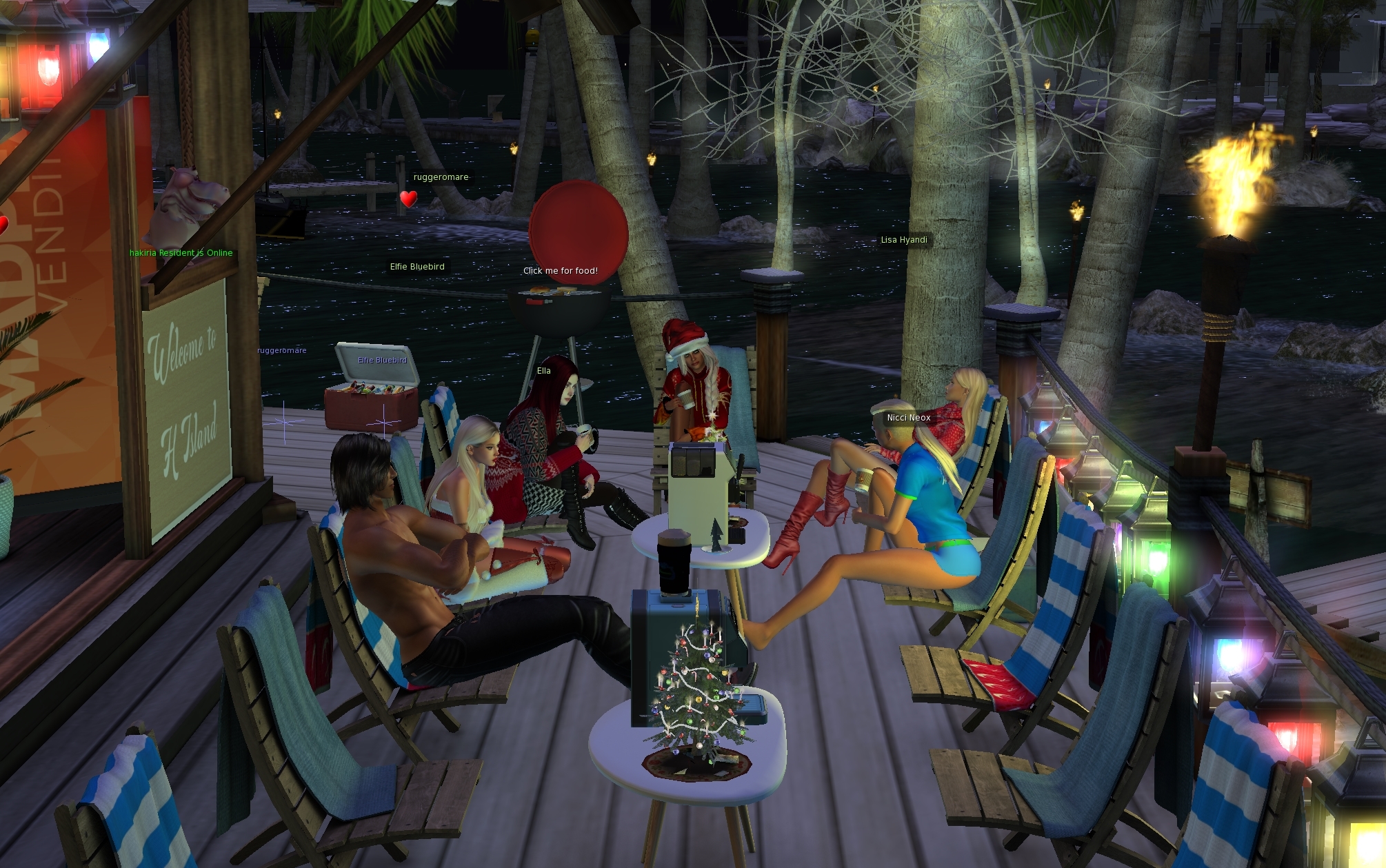 I think the experiment yesterday was a great finish of our race year at Saint Aubrey with Bandit 22LTE.
Thank you all for your support during the year, your ideas for some optimizations, your fair and exciting duels and your videos for my reports Noe and Lucy. You all made these races a pleasure to organize and host.
Now we will have a season break for 2 weeks and will be back with the first race with Bandit 22LTE on January, 4th, 2022, but feel free to use our courses as often as you like when you miss sailing.
Stay all safe and healthy and hope to see you all back again next year.
AND OF COURSE: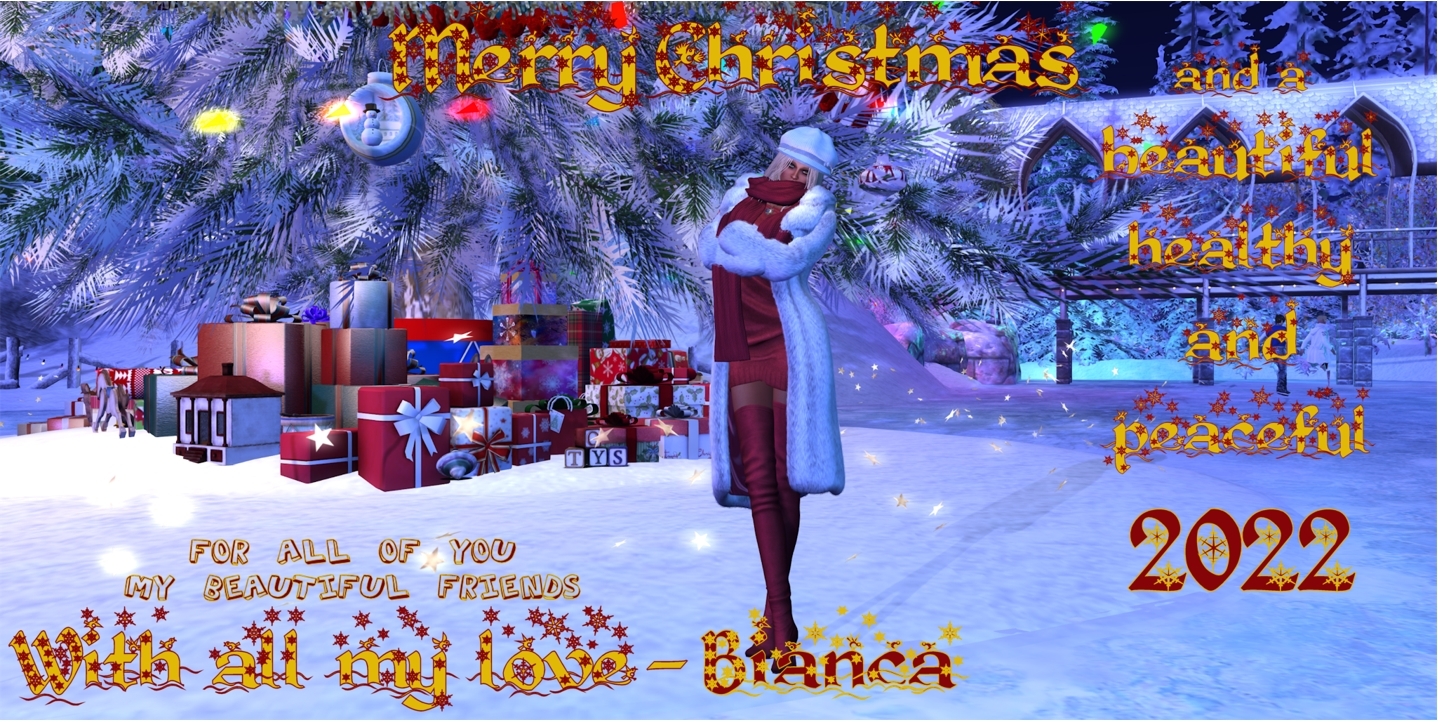 hugs and kisses
Bianca