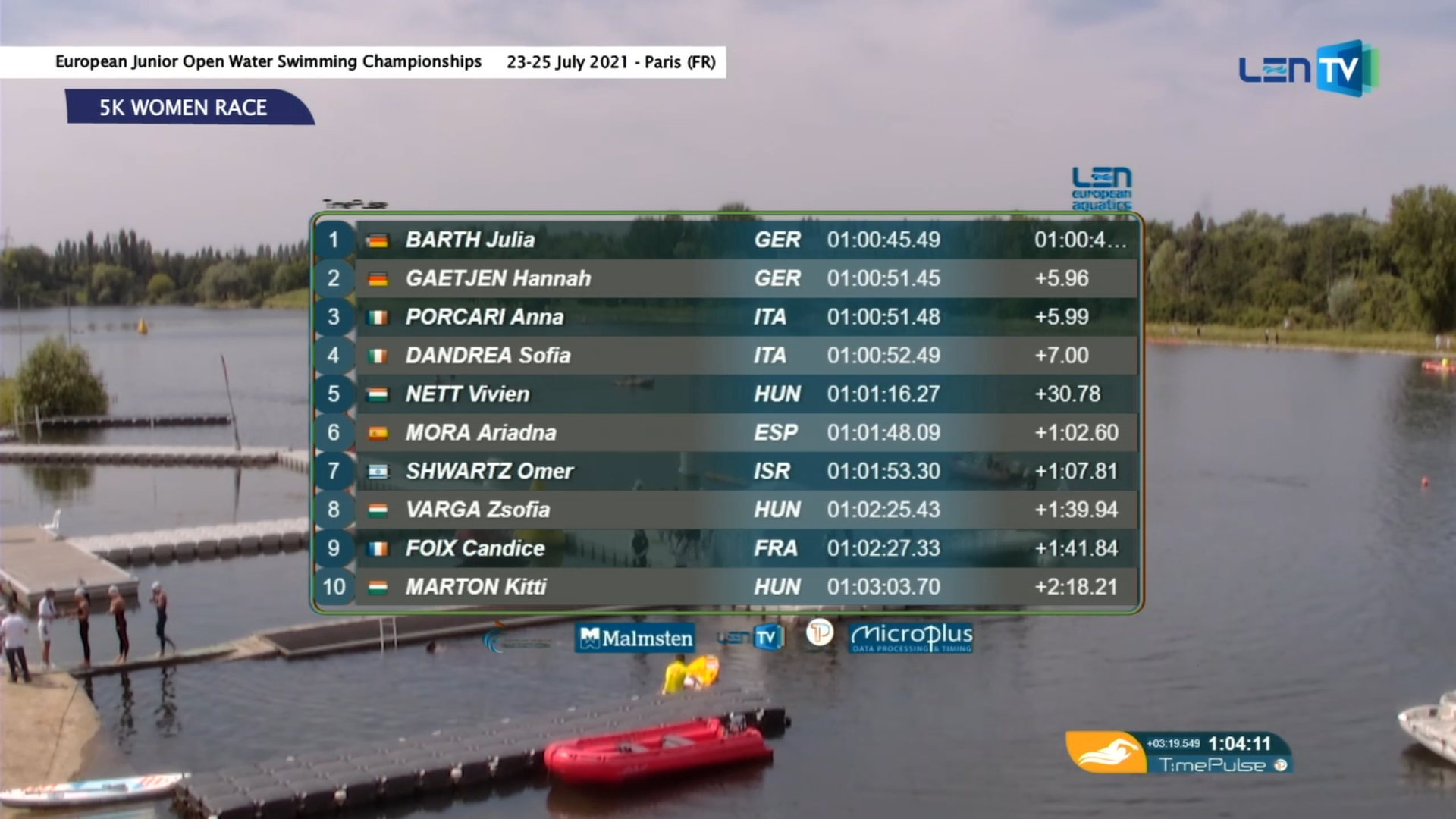 Just won vice European Youth Championship in a sport called not-drowning. 😉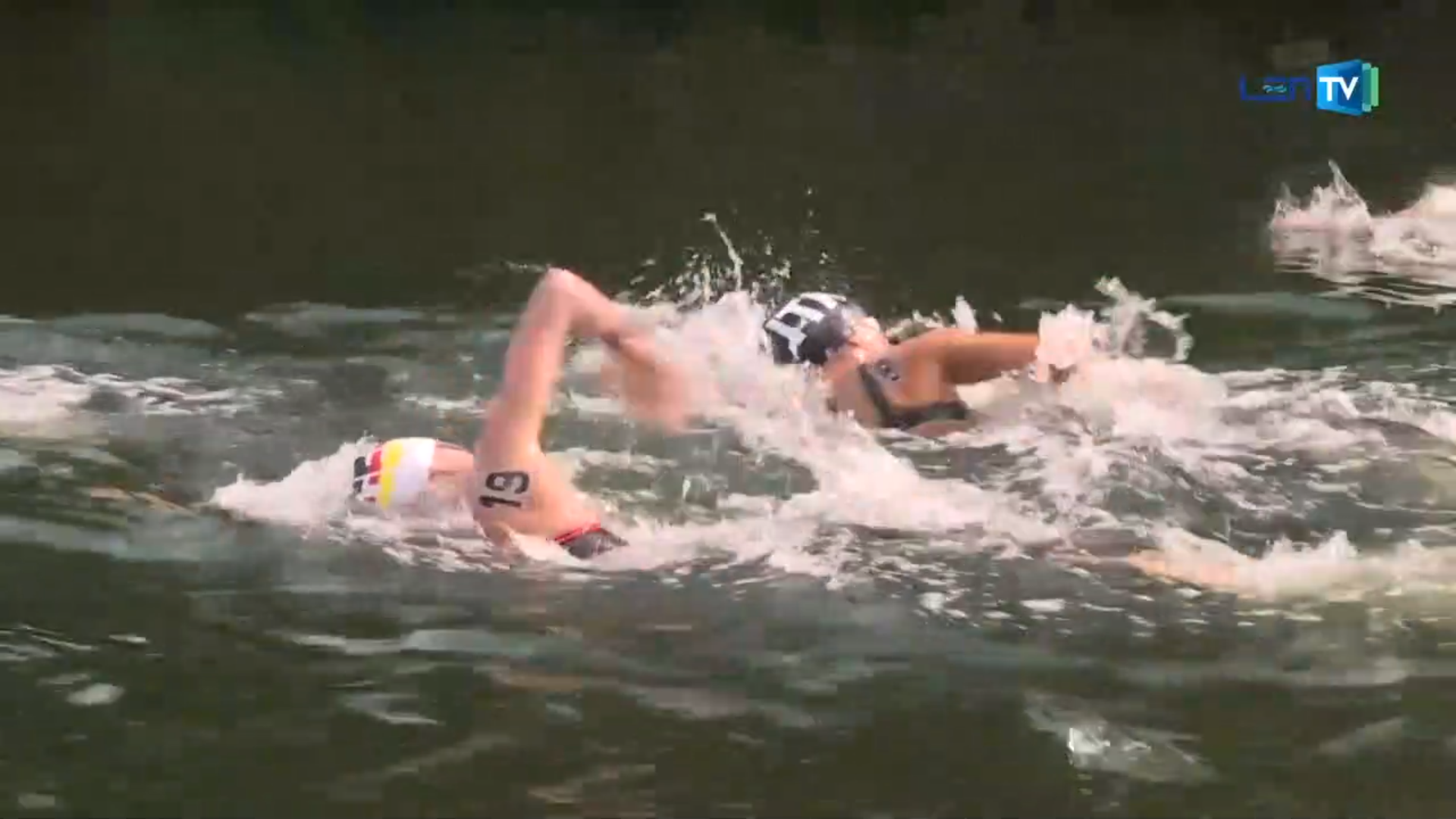 The Hungarian, Vivien Nett, was leading the race for quite a while but obviously timed her race wrongly and spent all her strength too early and was collected like a refuse sack by both, Germgirls and Italibellas.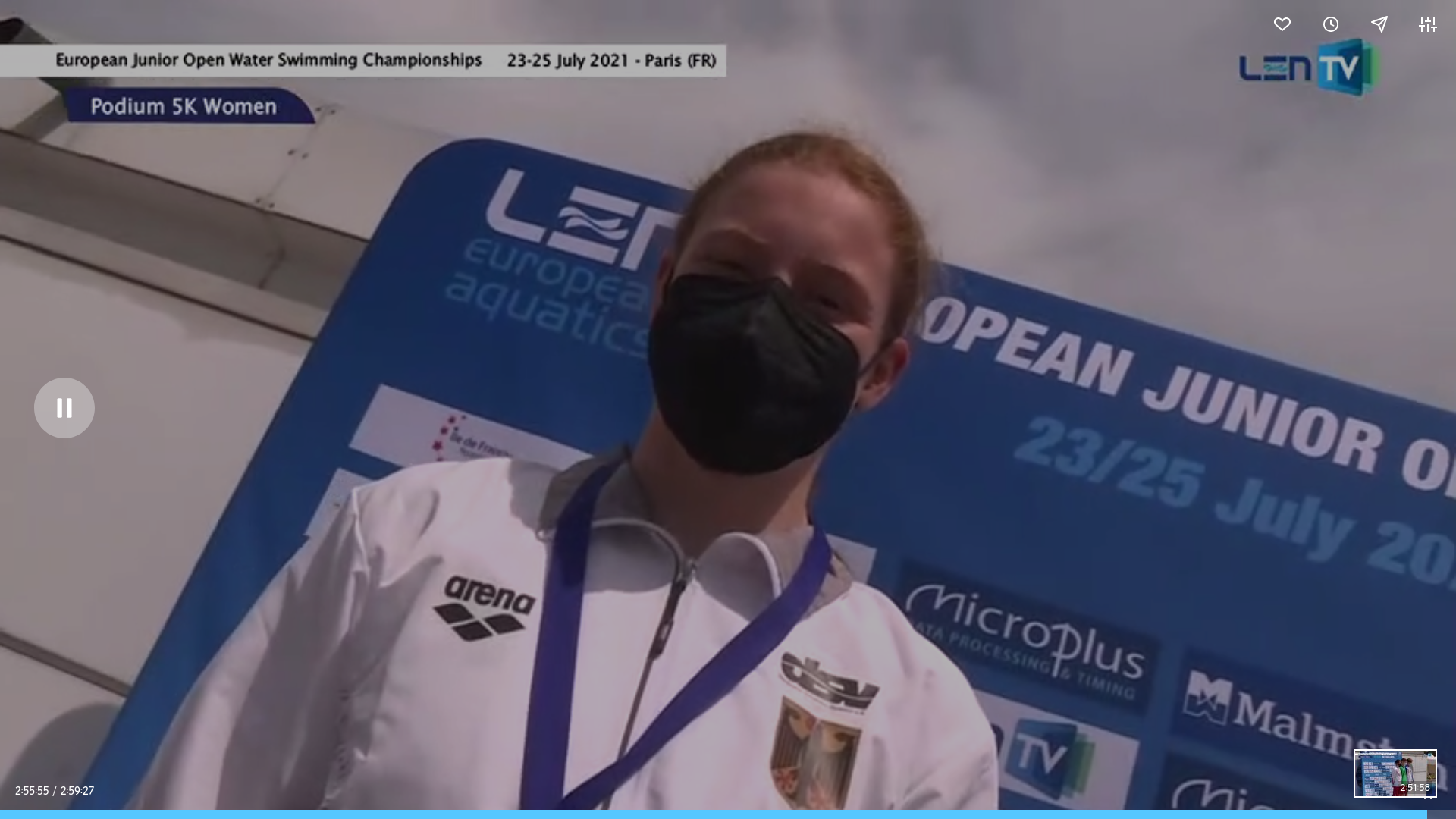 Hannah stayed cool and swam her style and her speed without showing any signs of hectic, just steady as she goes. 5 km isn't a sprint and takes more than an hour, even for those fast girls. There is no occasion for intermittent sprints and other gameplays … just swim steady and fast and end up on the podium.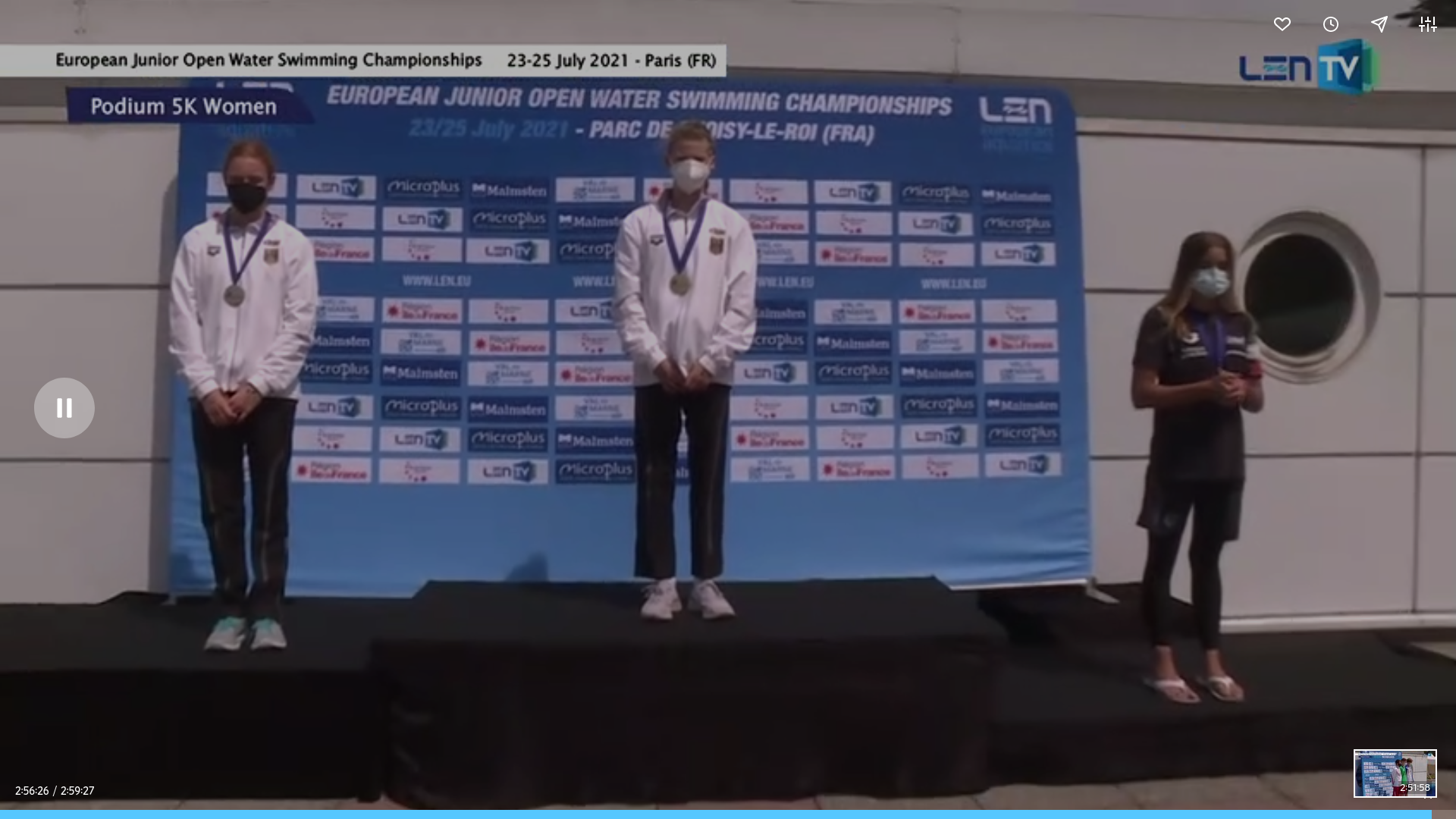 The location was a little lake in Paris/France. Looked like ideal swimming conditions to me. But then, after the race: Not even for the TV and press they were allowed to take their masks off. 😦 And they had to grab their medals from a little basket and hang them around their necks by themselves. Really now? These girls just swam 5 clicks as if it was nothing! Super duper healthy and fit model athletes! I don't think any of them are infected. What we see here is pure virtue signaling. 😦 Covid deniers won't be any more clever after seeing the girls wearing their masks so boldly … and the girls? I feel sorry for them being treated that way.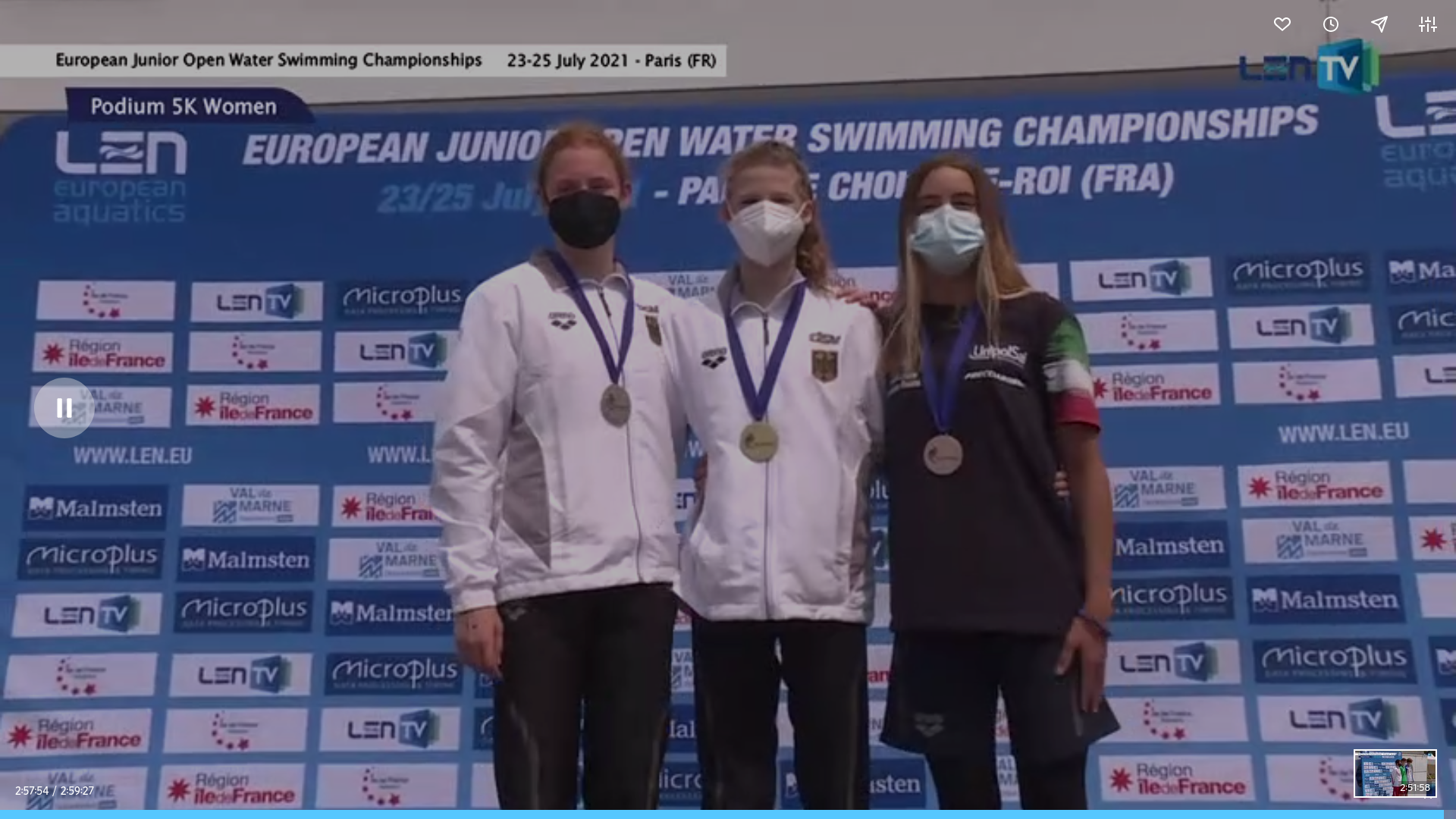 I still don't get it: 5 klicks! Not rowing, not sailing, not paddling but swimming. The most uneconomical way to ever move humans across any length of water. And these stupid girls are doing it for fun! 😮 I mean, I swam with the best when I was young; never as a sport tho, but as a beach bunny and sports sailor I had a life-guard qualification. But I would drown, you hear, just fuxn drown and be dead, after 1 km. But I usually die of boredom long before I reach the 1,000 meter mark. And our niece, the silly teenager, just swims 5 klicks … in a competition! For fun! 😮 Phuk me. 😮
Oh did I tell you Hannah is the second-fastest junior long distance swimmer in Europe? Are we proud of her? We just watched her full race, over an hour of nothing but bobbing swim caps and floundering arms … you wouldn't believe how proud we are! 🙂 Oh, and I know for a fact that our Hannah can also swim speedily in pools. And after that she won bronze with her team in the 4×1.25km relay. Happy happy joy joy.