One more video from the interwebz:
I don't know this specific guy or his channel but it seems he's an Arch Linux fan. Let's just watch the video and see what we can gain from it.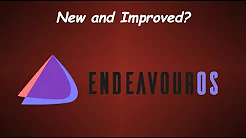 I guess I need to mention it again since none of the YT reviewers bothers to tell us: EOS is a rolling release distro! You don't need to reinstall it if you have it already running on your computer. Most of the improved stuff you've got already with the latest updates, the rest is just an improved installation process … useless since we have the system already installed since months and years.
After installation of this new ISO you'll end up on the same nifty system. Ok, got it?