4 hours before the race i asked LL at the support chat to restart our whole B22 course, because this area wasn't restarted for quite a while. I gave them a list of 28 sims and they did it. It seemed that the race was for all pretty smooth.
Ella, Lucy, Lisa, Julie, Amy, Nicci (with crew Michelle), Viv, Erin, Rugger, Victor and Juicy came out yesterday to race our normal B22 course with North West wind and 21knots. Only Erin crashed yesterday and i think it was on the second last leg after she hit the dangerous cross there. Shame.

The course passes between buoy ON and CN 2 private sims, which have been very laggy in the past. This is the reason i made 2 marks at the corner of these sims to help every racer not to enter them. It worked pretty well so far.
Now 50% of one of the 2 sims, Dreadnought, is on sale and this 50% are water at the moment. Thats why it can be interesting to cut that corner. But there are some shallows in the middle of Dreadnought's southern boarder and they can stop you to nearly 0 and you never know when this sim will change again by terraforming, buildings or added scripts.
I mentioned this point at the beginning of the briefing and we all agreed that no one will cut that corner.
Viv joined us 3 min before the start and she missed the discussion about this agreement. So i told her just the result of it and she agreed as well. But later she cut that corner by about 10-15m and because of missing the discussion before she ran into the shallows, was slowed down a lot and lost her little advantage again. Thats why i let her continue without a word.
Viv and Amy were a lot to early at the start line and had to turn around to come back in time. But in the meantime the fleet with a better timing arrived the line and Viv and Amy had to let them all pass and follow them.
It seemed that Juicy lagged a bit at the start. You see on the start video that Lucy could just sail through Juicy's phantom boat, which is an indicator for lag. If it wasn't that he would have fouled Lucy by barging. But in this case Lucy could continue and Juicy didn't get a penalty.
Julie, Lucy, Juicy, Erin, Ella and Rugger crossed the line first and as a close group, followed a bit later by another group with Nicci, Victor and Lisa. At the end Amy and Viv started.
The fleet spread a bit after the start, because of slightly different angles to the wind.

But all met pretty close together again at buoy CS. It looks on the next picture a lot more messy as it was. All left enough room for their neighbors and all turned around the buoy without hits.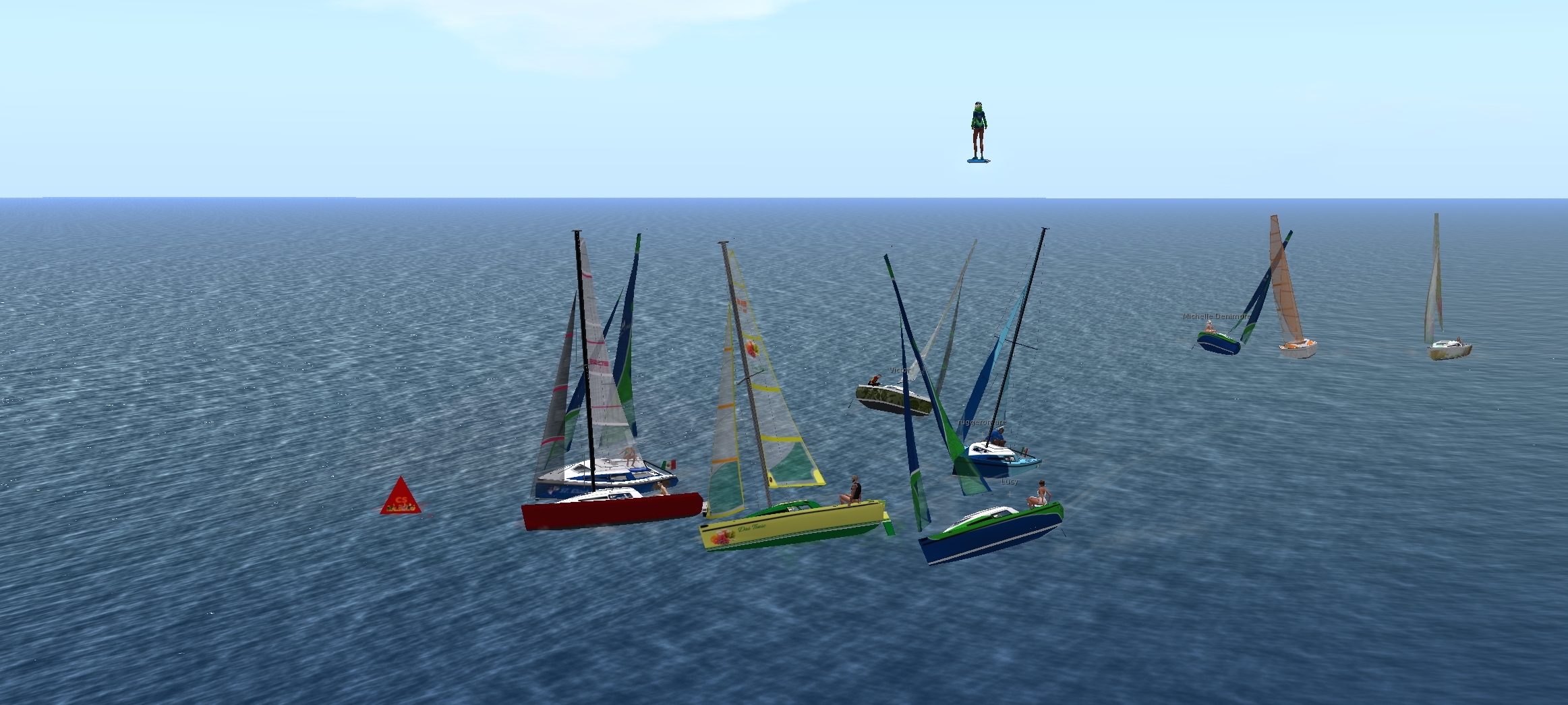 It looks on the next picture a bit messy again. Julie seem to turn the buoy just a little to sharp and Viv was already on the very inside. Poor Nicci was like the beef patty in the middle of both. But it went a lot better between all 3 than it seemed to be on the picture.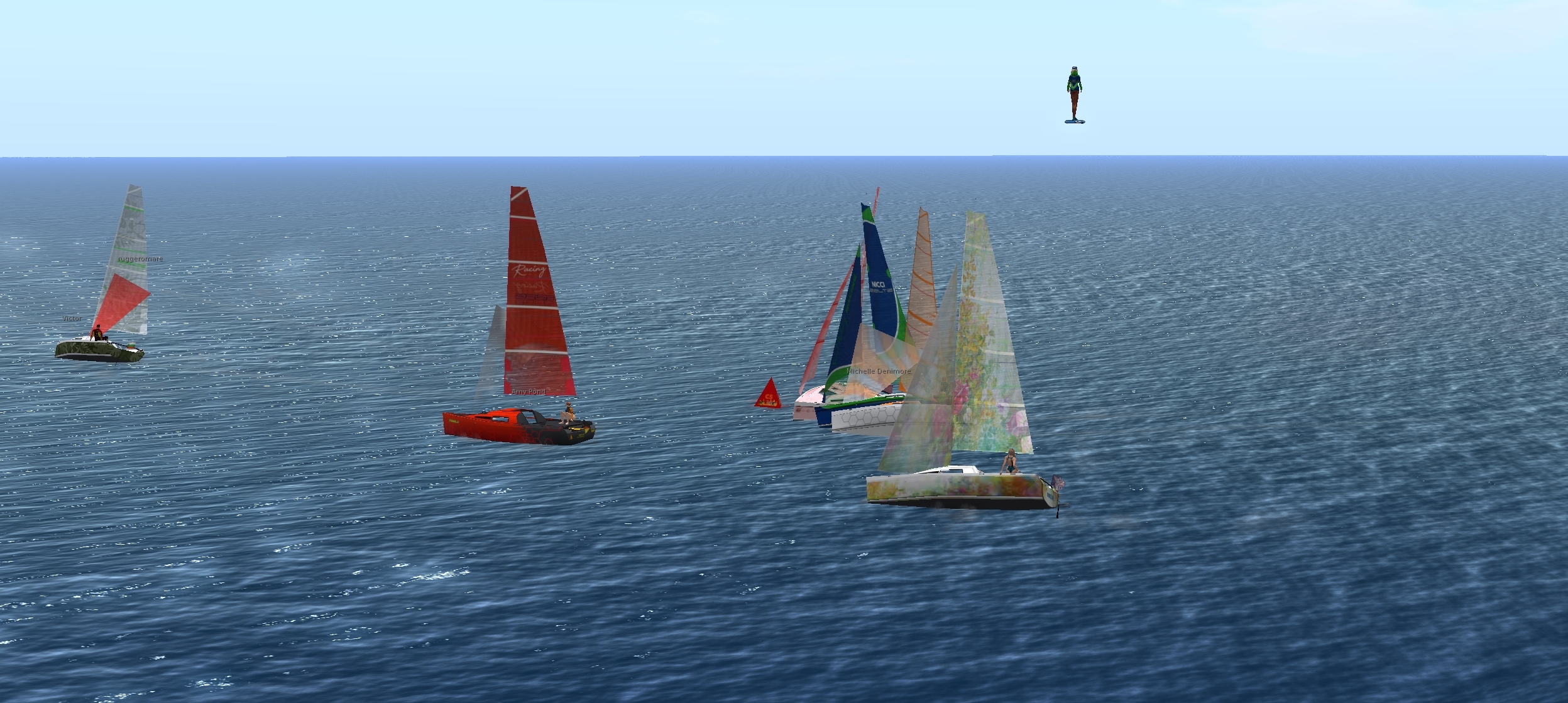 The following leg to buoy OE is a downwind leg and gives many options for wind shadow games. Ella, Juicy, Lucy and Rugger managed that best, stayed close together as the leading group and reached buoy OE first.
Lisa got passed by Victor. Amy and Julie sailed a bit away from Viv, Erin and Nicci.
After buoy OE you can either go a little North and take the speed from the downwind leg before to get a better angle on the following upwind leg to buoy CN or can do a 180° turn directly to buoy CN, but with a lot closer angle to the wind. Ella and Lisa decided for the north option while Lucy, Victor and Rugger did the 180° turn.


Ella found the fastest route to bouy CN and reached buoy CN first. Rugger and Lucy could sail a bit away from Victor and in the background you can see the leeward-windward duel of Viv and Lisa.


Ella took her advantage of being first around buoy CN and extended her lead along the rest of the course slowly meter by meter.

Lucy passed Rugger on the leg to buoy ON again and from now on they sailed like twins with several position changes until buoy IS.

Julie sailed away from Lisa, Amy and Victor and reached buoy ON 4th. But the 3 (Victor, Lisa and Amy) behind her had an exciting duel.
It must have been too exciting for Victor, because he missed buoy ON and passed it on the wrong side. That wouldn't be a problem normally, but Lisa and Amy turned around buoy ON in the right direction and Victor ran straight into both and stopped them to ZERO.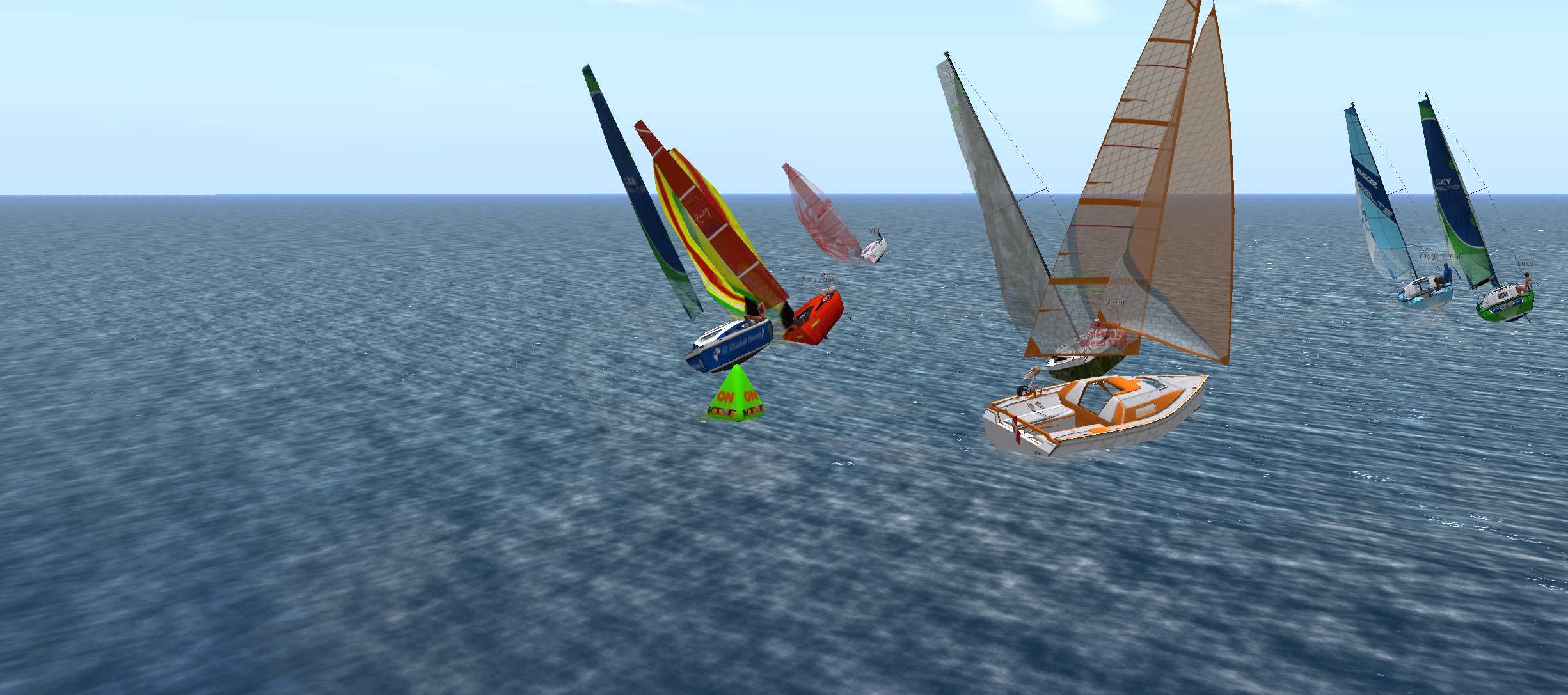 On the following reach and upwind leg all the way to buoy OW i had to fly around a lot to watch all the close and exciting duels. That is the reason i forgot to make pictures. But it was good, because Victor nearly stopped close to Degrand island Nicci with a port tack foul and got his next penalty. The other duels were sometimes very close but all fair.
From buoy OW until the finish line this course with wind from North West has a very long high speed part and the fleet spreads out a bit normally. Then it is hard wait at some points to make more pictures and miss the leaders and their finish. So i decided rather to make the finish pics.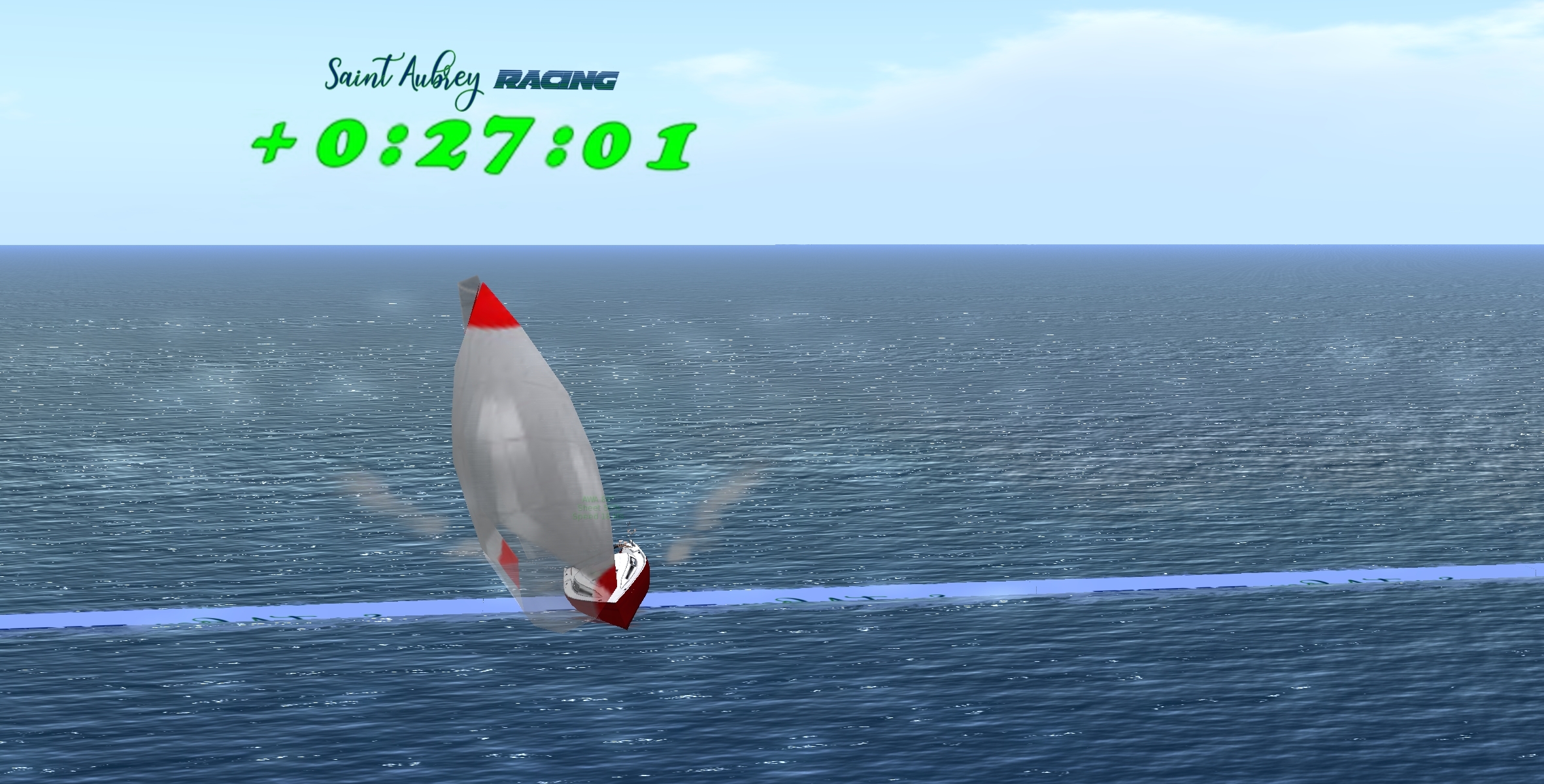 Remember our dueling twins, Lucy and Rugger? They were still close together at buoy IS. But there Rugger did (why ever) a 180° turn instead of just a 90° turn and Lucy left him behind. Lisa, Julie, Amy and Viv could pass him as well.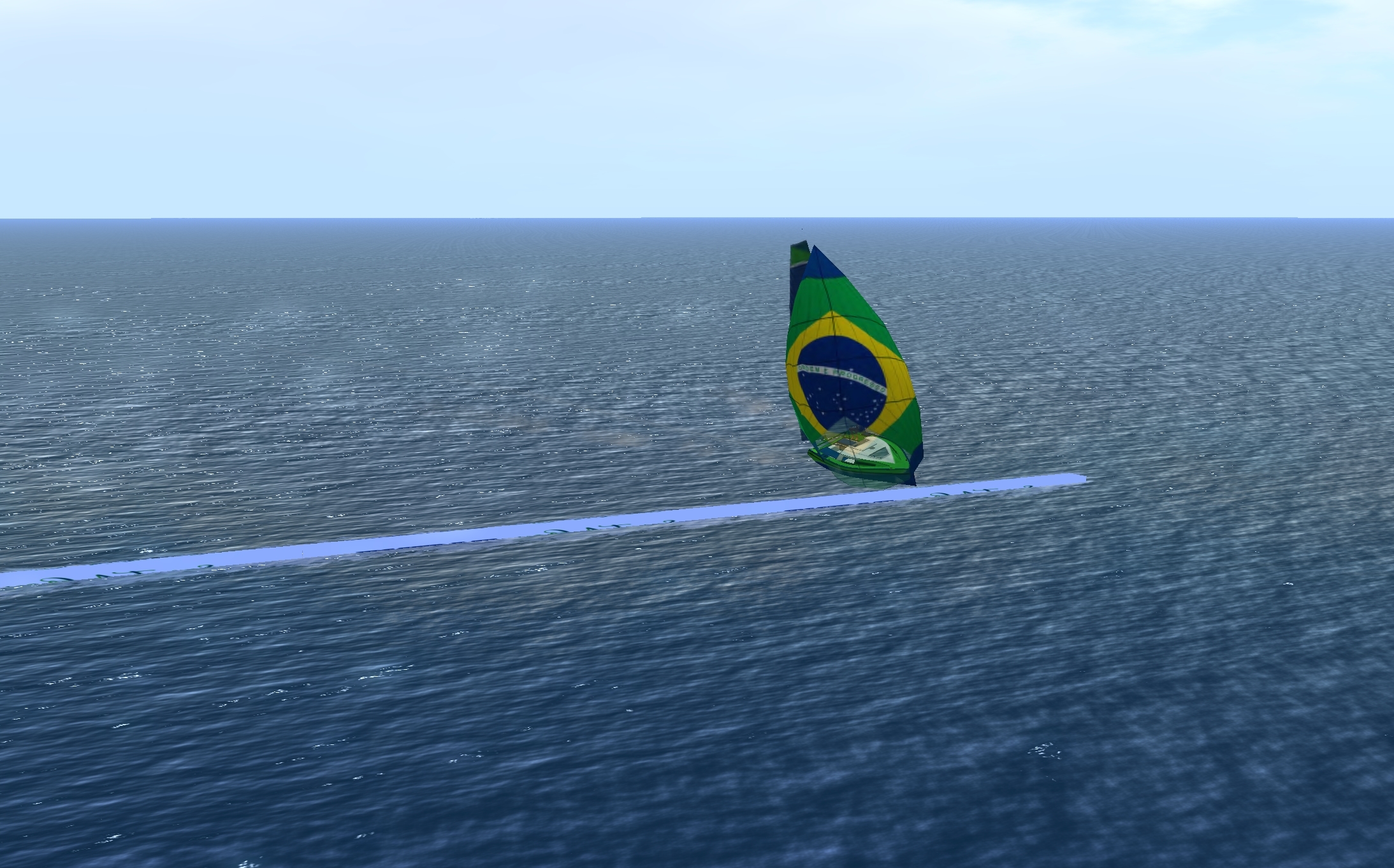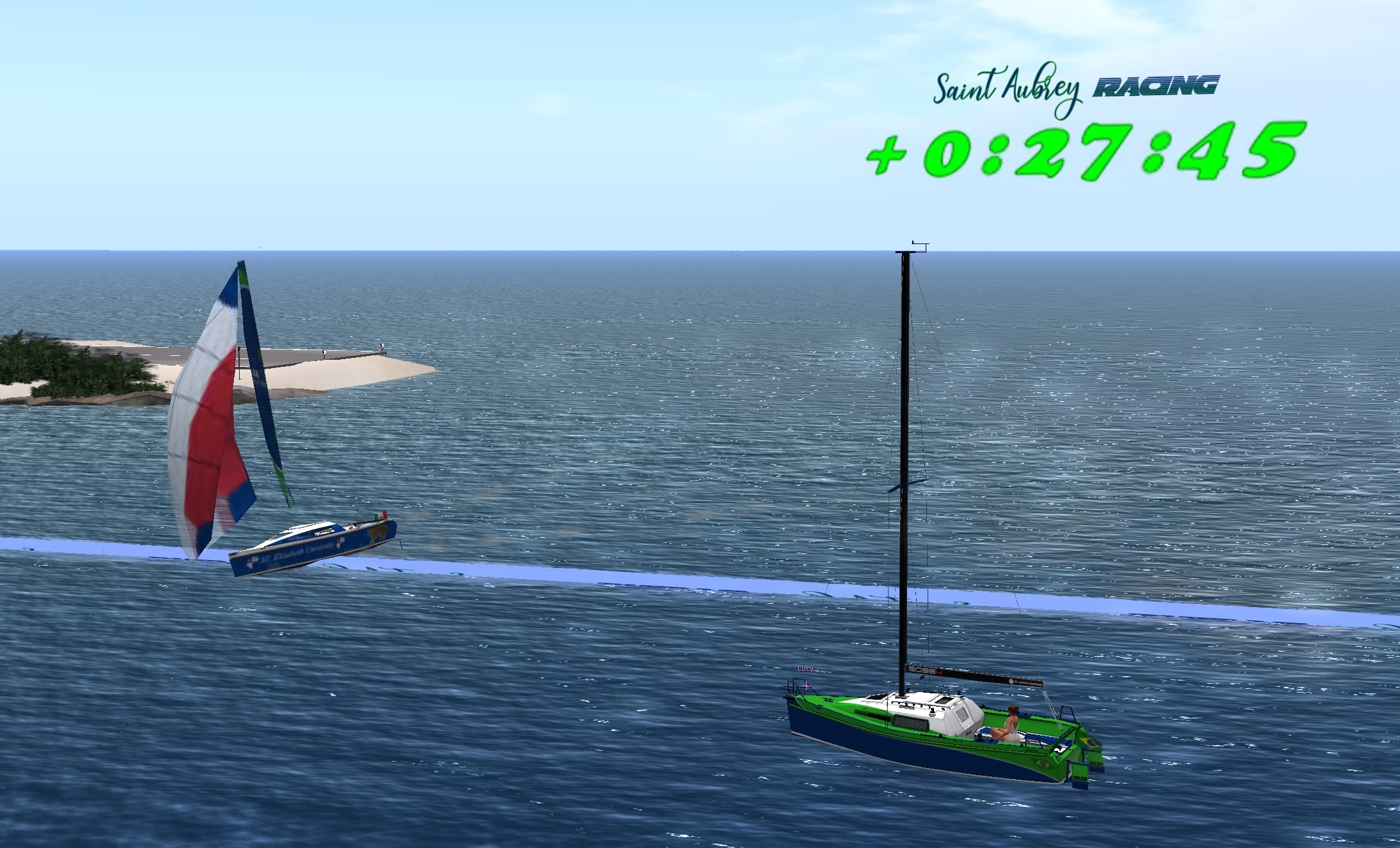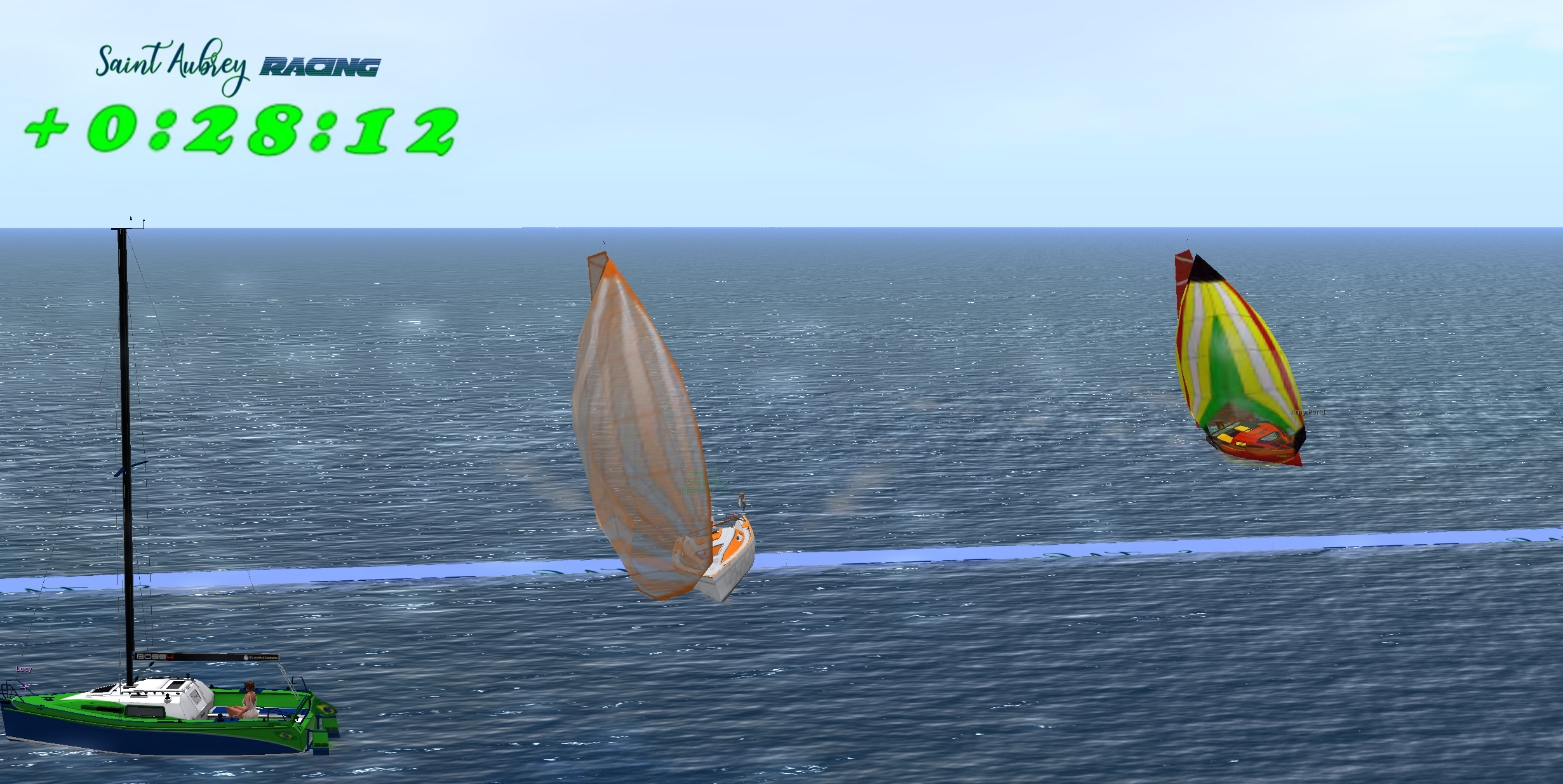 The next picture should have been actually the finish picture of Viv as 6th. But for some unknown reason she missed the line in the last moment. Lucy and i shouted she better cross it for a result. She did but fell back behind Rugger and Nicci and "finished" 8th.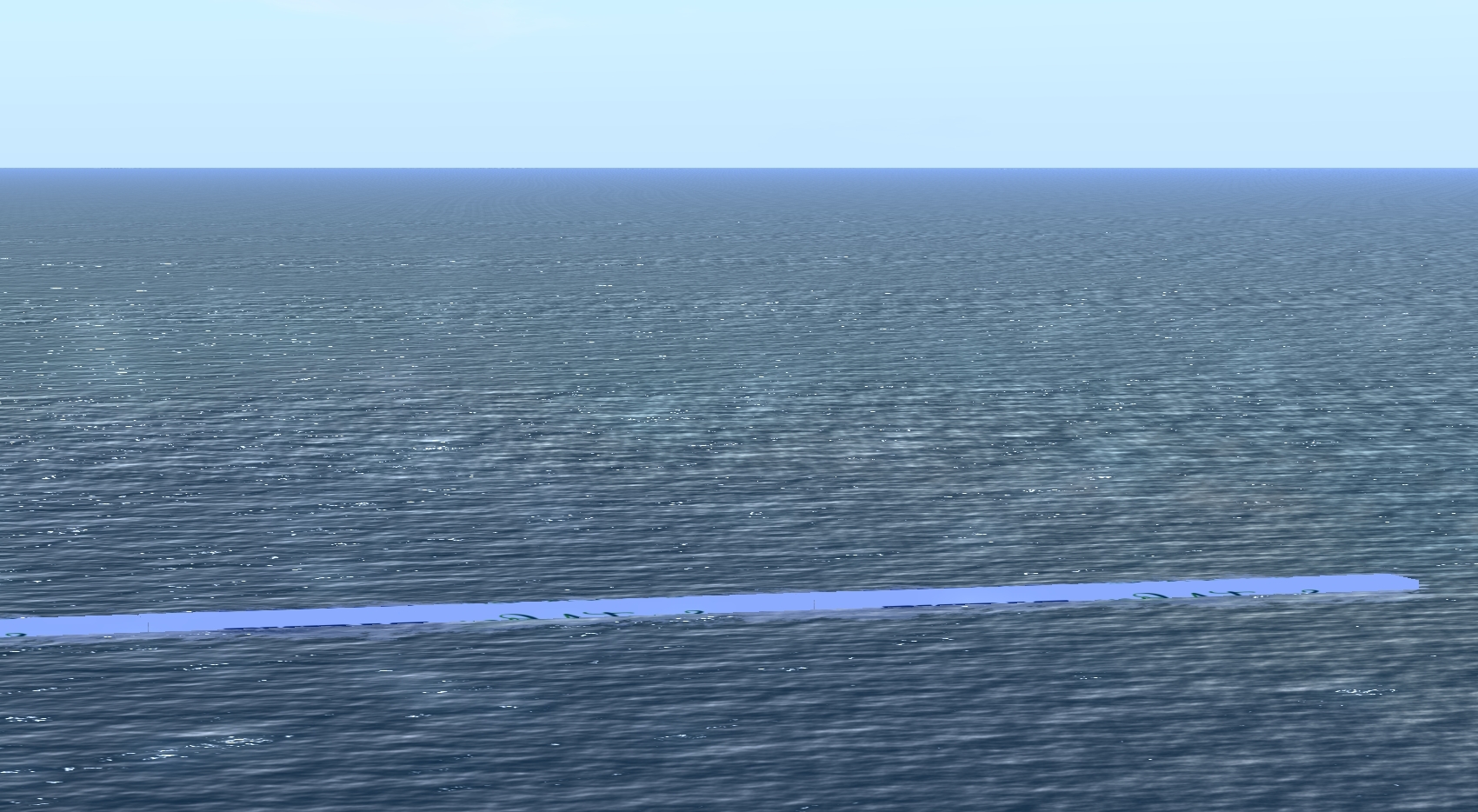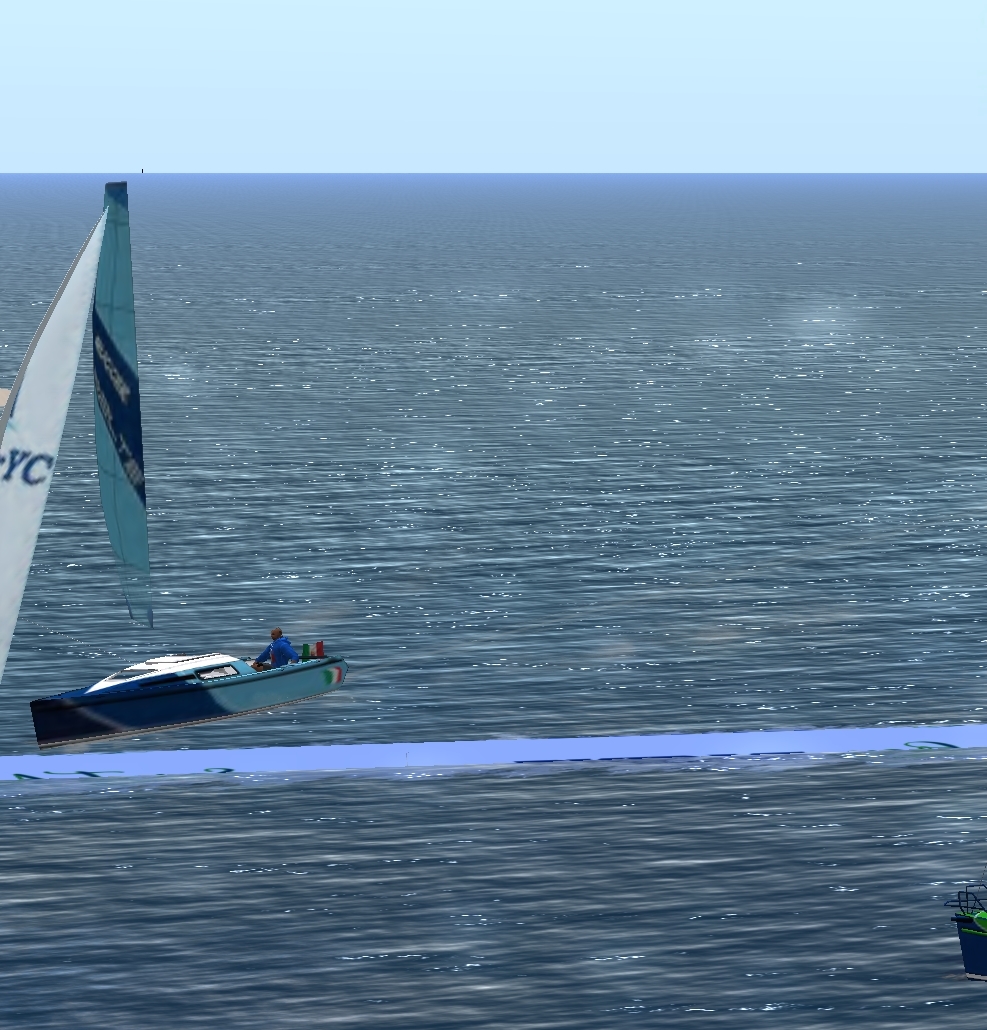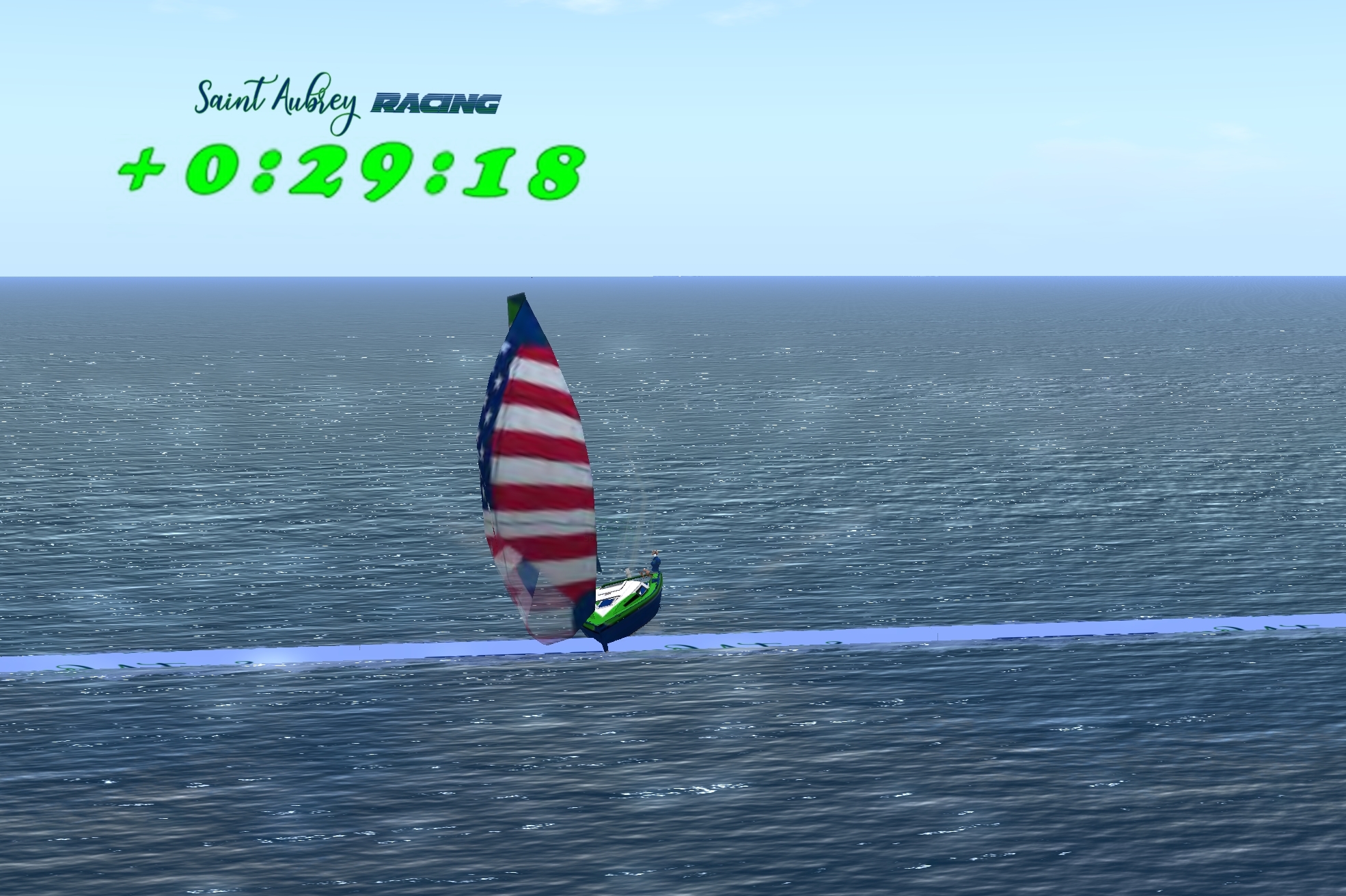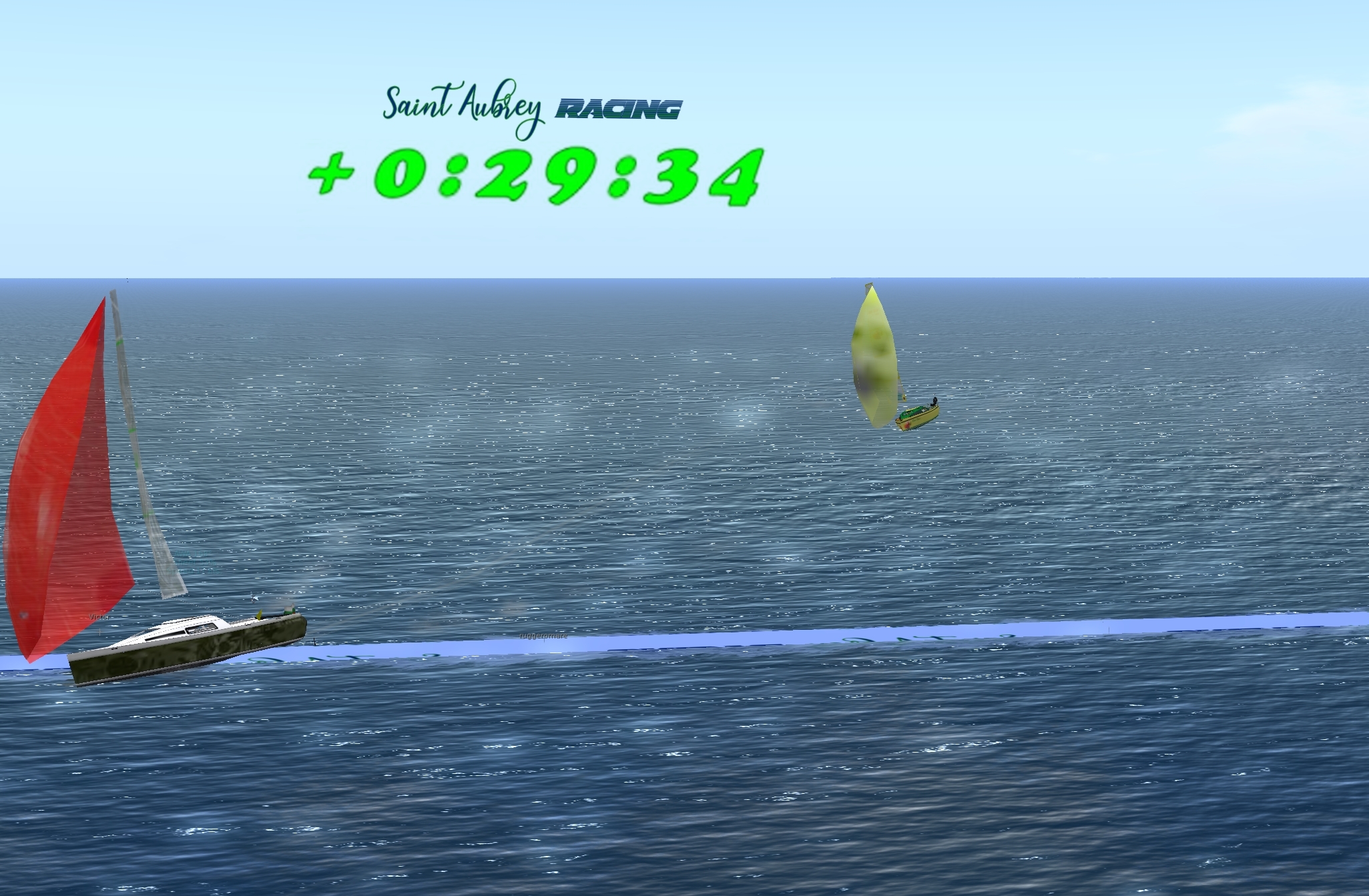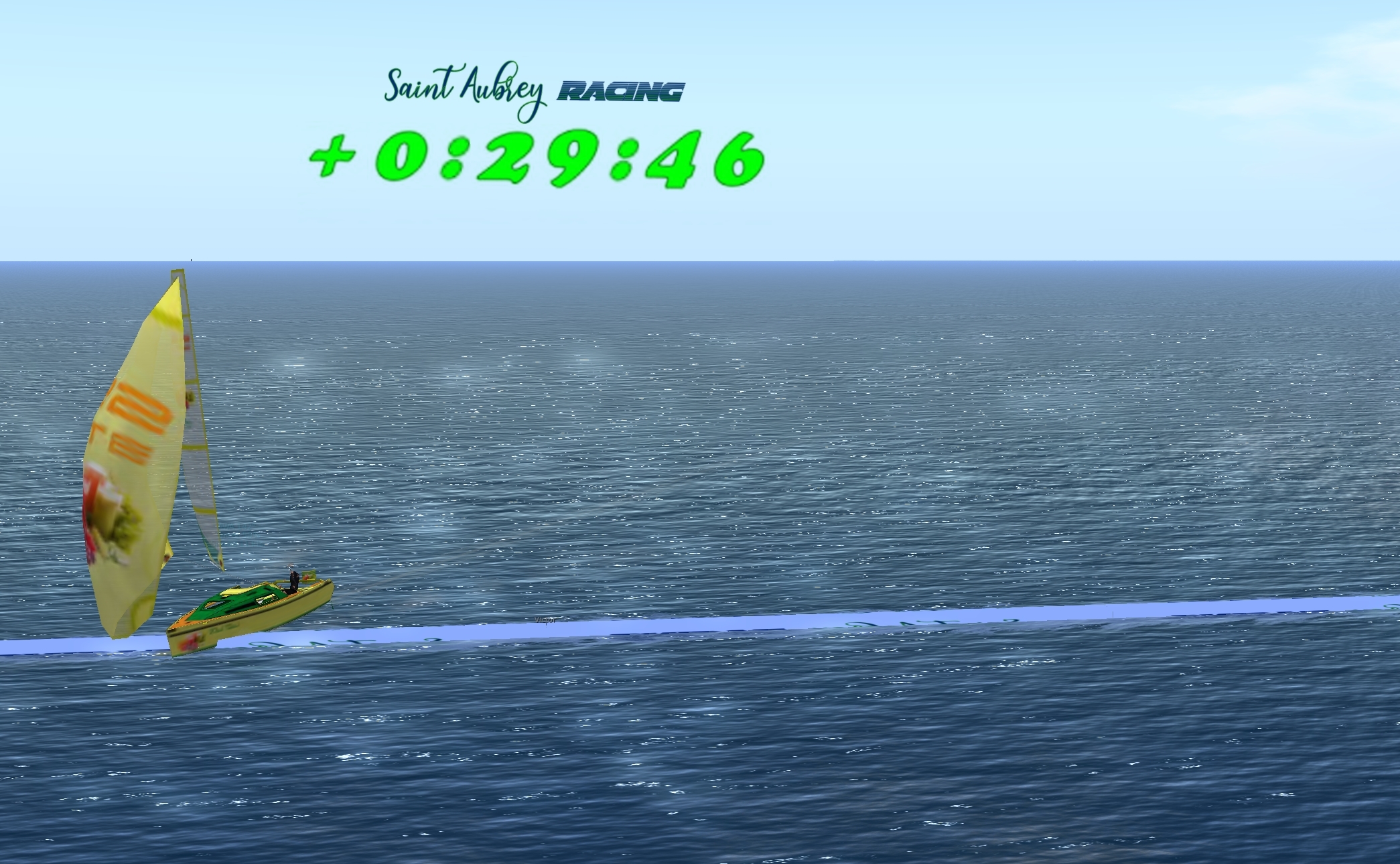 We all went to the Tiki Bar for a relaxed cold beer and some relaxed chats. Some jumped then to the Star Race at NYC and the rest of us were animated by Juicy to dance and celebrate Ella's first win of a race at Saint Aubrey.
Congrats Ella.
We saw heaps of exciting duels and position changes and a great fleet of 11 boats. It was exciting to watch this all race long.
Here is the result from yesterday:
Race 28 2021-07-20-ST AR- B22LTE-1 – NW21:
1: eleanorvelvet Resident BSbccf – Race Time: 0:27:01-14points
2: LucyInTheSky Afarensis BS3536 – Race Time: 0:27:29-11points
3: Lisa Hyandi BS2145 – Race Time: 0:27:45-9points
4: JulieRoyale Resident BSdd96 – Race Time: 0:28:11-8points
5: Montserrat Naidoo BSce61 – Race Time: 0:28:14-7points
6: ruggeromare Resident BSf78d – Race Time: 0:29:00-6points
7: Nicci Neox BSa594 – Race Time: 0:29:18-5points
8: vivipezz Resident BS42d3 – Race Time: 0:29:26-4points
9: vsemionov Resident BSfe23 – Race Time: 0:29:34-3points
10: juice651 Resident BS1cc4 – Race Time: 0:29:46-2points
11: clairehunt Resident BSfe0f – Not Finished-1point
Lap Times:
eleanorvelvet Resident BSbccf – Start: 0:00:09 – Last lap: 0:26:52
LucyInTheSky Afarensis BS3536 – Start: 0:00:03 – Last lap: 0:27:26
Lisa Hyandi BS2145 – Start: 0:00:18 – Last lap: 0:27:27
JulieRoyale Resident BSdd96 – Start: 0:00:02 – Last lap: 0:28:09
Montserrat Naidoo BSce61 – Start: 0:00:26 – Last lap: 0:27:48
ruggeromare Resident BSf78d – Start: 0:00:09 – Last lap: 0:28:51
Nicci Neox BSa594 – Start: 0:00:12 – Last lap: 0:29:06
vivipezz Resident BS42d3 – Start: 0:00:33 – Last lap: 0:28:53
vsemionov Resident BSfe23 – Start: 0:00:13 – Last lap: 0:29:21
juice651 Resident BS1cc4 – Start: 0:00:01 – Last lap: 0:29:45
clairehunt Resident BSfe0f – Start: 0:00:08 – Last lap: Not Finished
Standing overall St AR 2021 B22LTE Championship (after 28 races):
Sailor-points (number of races)
Lisa-251(23)
Moon-191(26)
Lucy-142(25)
Reni-136(17)
Adeli-121(13)
Nicci-98(25)
Rugger 92(23)
Ella-78(19)
Amy-68(14)
Jenna-65(7)
Nicole-60(9)
Erin-54(13)
Viv-42(6)
Laured-34(9)
Balut-32(7)
Juicy-29(14)
Cilian-19(8)
Erika-19(8)
Deacon-18(3)
Victor-14(2)
Sea-14(6)
Daenery-12(1)
Julie-8(1)
Sirius-7(1)
Massimo-4(1)
Emileigh-4(2)
Flapio-4(3)
Alya-3(2)
Vlad-3(2)
Delphine-2(1)
Shadow-1(1)
Rolo-1(1)
Cate-1(1)
Alvar-1(1)
Stay all safe and healthy and hope to see you all again next week on our reversed B22 course again and then with wind from North East and 21 knots.
hugs and kisses
Bianca