Morning, peepels of the interwebz
I just wanna link to one article today in my Corona Diary. And it's not even about Covid-19 as such but more of a socio-political piece about what kind of assholes we allow to breathe our good, healthy air.
Read this and weep: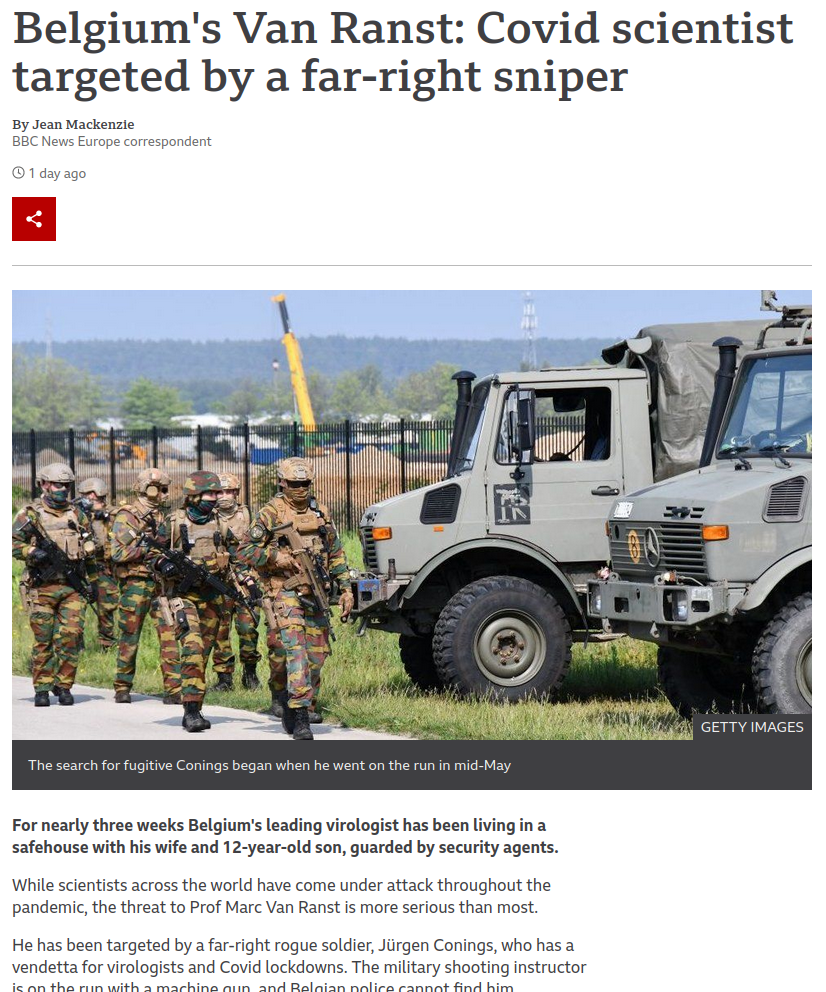 "The threat was very real," Prof Van Ranst tells me from his safehouse, as he relives the night he and his family were moved into hiding on 18 May.
"The ex-soldier, heavily armed, was on my street for three hours, right in front of my house, waiting for me to arrive home from work."
That night police say Jürgen Conings left his barracks with a selection of heavy weapons, and headed straight for the virologist's home.
Marc Van Ranst usually returns from work around the time the man was waiting for him. But on this occasion he came back early and was inside with his family.
"Unfortunately, he's a trained sniper with heavy armour, military-grade material and weapons. So, these are the kind of people that you would prefer not to have hunting you," he told me wryly.
'Not scared, just careful'
We had been planning to speak over Zoom, but hours beforehand I was warned we could not show his face in his current surroundings. He cannot go outside or even get close to the windows: this is how serious the security services are in keeping his location secret.
Despite the threat to his life, and the oppressively strict circumstances he's now living in, the virologist who became Belgium's most public figure in tackling the Covid pandemic is remarkably calm. He even manages a joke about working from home, even though he admits this is taking it to extremes.
"We're not scared, we're just being careful. And my 12-year-old my son Milo, he's pretty brave about it.
"It is pretty surreal, but knowing is better than not knowing, because at least I can take these precautions. The thing that makes me mad is that my son has been inside for almost three weeks. That, I really hate."
Who is the man on the run?
Belgian authorities have described Jürgen Conings as a very dangerous man who wants to use violence.
He was already on a terrorist watch list in Belgium because of his extreme right-wing political beliefs. When he disappeared from his barracks, a note left no doubt that virologists were his target.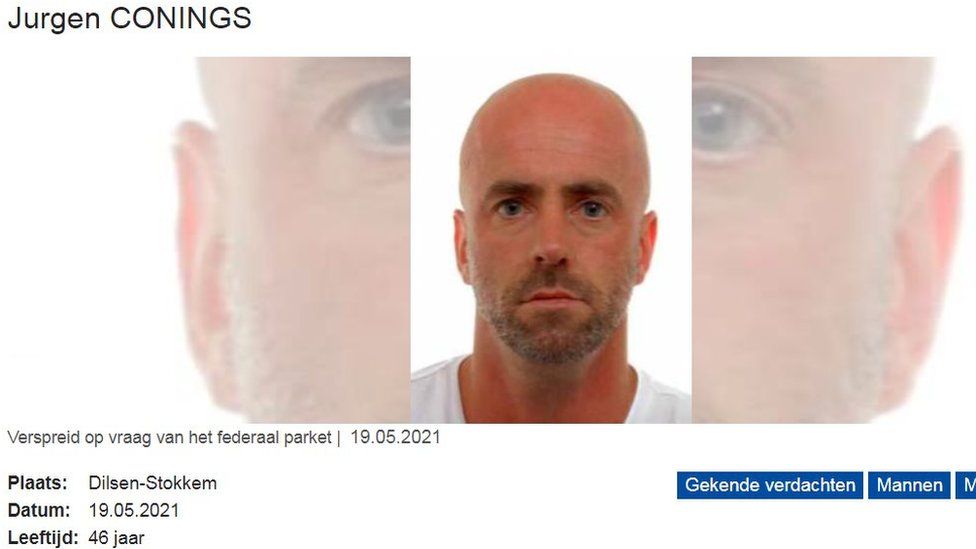 "The so-called political elite and now also the virologists decide how you and I should live," it read. "They sow hatred and frustration. I cannot live with the lies."
In a time when it is easy to blame the bearers of bad news, Prof Van Ranst sees some inevitability to his surreal situation.
"If you're on television a couple of times every day for months on end, people get sick and tired of you. That's unavoidable," he says. "There are a group of people that hate science and hate scientists. Very often they are scared and uncertain."
In the days that followed Jürgen Conings' disappearance, a support group was created for the ex-soldier on Facebook. Before being closed down, it had attracted nearly 50,000 members. It's this group that worries Prof Van Ranst more than his assailant.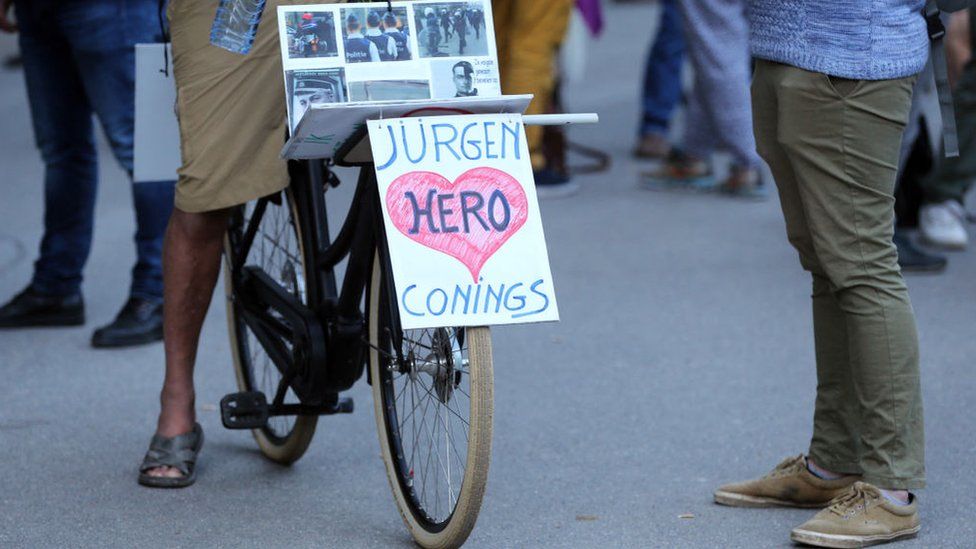 He even challenged one group of Conings supporters late at night on the Telegram messaging app, later accepting it was not necessarily the smartest thing to do. But it does reveal just how angry he is.
"These are real people, who really think this man is a hero and that I deserve to die. They are people, living in your neighbourhood, who wage bets on exactly when and with how many bullets he will murder me," he told me.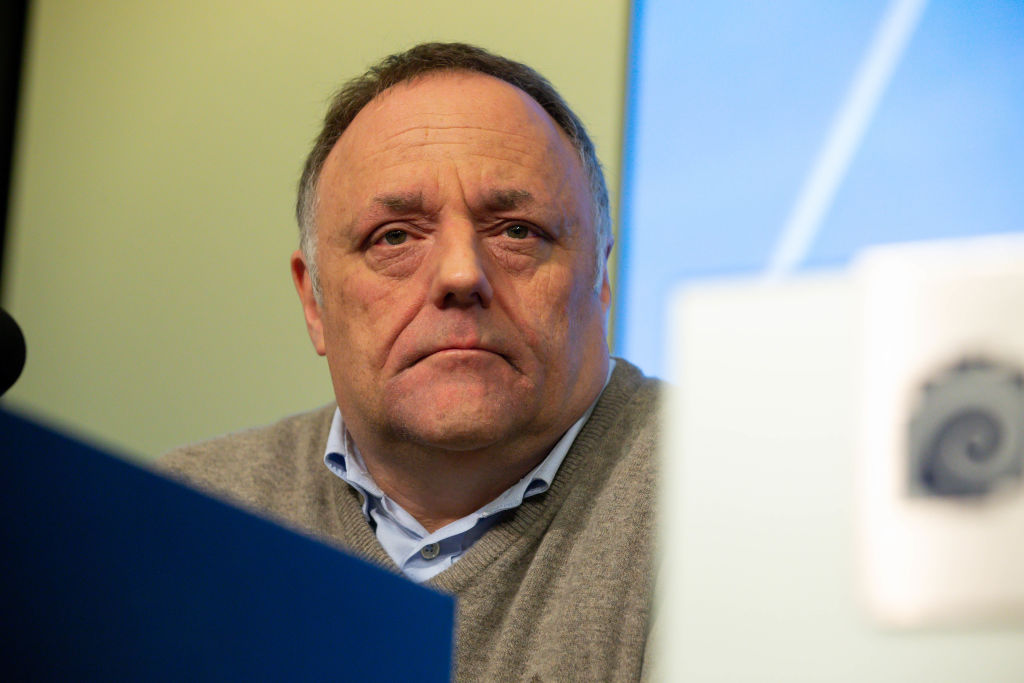 Getty Images
Just because I'm sitting in a safehouse doesn't mean I'm going to allow myself to be silenced
Marc Van Ranst
Virologist, 27 May on Belgian radio
Belgian police are now embroiled in a full-scale manhunt.
Hundreds of officers, helicopters and military trucks have combed acres of land, but they appear no closer to finding him. At one point a big national park near the Dutch border was sealed off as part of the search.
'Nothing to say'
Authorities have admitted they do not know where he is, and that there has been no living sign of him since the day he disappeared. They accept he could even be in another country now. In one note he said he was prepared for a deadly battle with police, and he may no longer be alive.
They admit that mistakes have been made in the investigation so far, and that questions need to be answered about how a military man on a terrorist watch list was given access to a weapons store.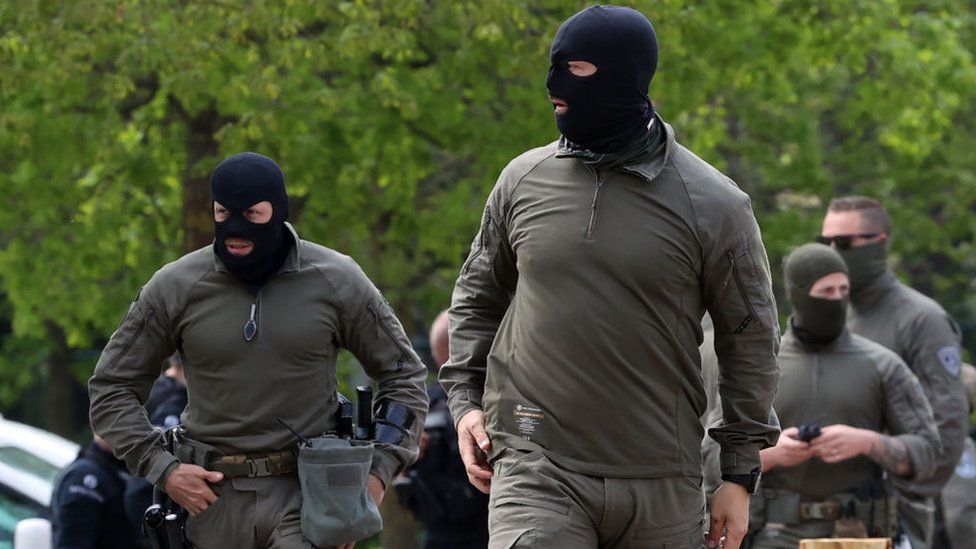 This provides little comfort to Prof Marc Van Ranst, who remains hostage in his safehouse.
"I think you can hide pretty much forever if you really want to. There are many ways to disappear, especially if you leave the country."
When I ask if he has a message for the man who is hunting him, his answer is blunt.
"I have nothing to say to him. Why would I want to have a conversation with a person that hates me and wants to kill me?"
---
Ok … I have so many questions now.
Since when is stealing weapons and trying to kill a scientist the correct path to take when you have doubts about your govts's policies?
How come a right-wing extremist (imagine almost on US Republican level), and on the terrorist watchlist. becomes a soldier in your military? We all know soldiers are often right-wing fascists, by heart anyway, but please keep them under control. Or better: Kick 'em out!
How can such a suspect guy have access to a weapons and munitions depot, and walk right out of the barracks … uncontrolled and unhindered?
Why didn't I never trust in NATO?
I still haven't found out how to do captures for images in WordPress since they changed it a couple days ago, so here's the link to the original story: https://www.bbc.com/news/world-europe-57358492
I have quite enough now. Not only of the fuxn virus but much more of my "fellow" so-called "human beings".
Of course not of you, dear readers. I trust you won't freak out and you won't run amok and won't let your fascist tendencies show in public. I hope to see you here in this blog much and often!
Laterz
xoxo