Indaba, my children and listen to what the grand poobah had to say to us at last night's family meeting:
Yes, yes, arrival of the 3rd wave is imminent and we're all on high alert! But … the actual measures that were taken are rather half-heartedly and undercooked. From tody on we're back to lockdown Alert Level 2, which is the second strongest. But it is an Adjusted Level 2, which for most of us doesn't mean any changes and also won't cause any unrest in the business class.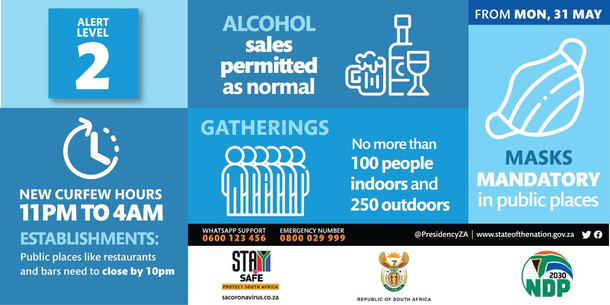 Ramaphosa said the recent surge was due to social gatherings, where people were not observing health protocols like wearing masks, social distancing and limiting the number of people attending gatherings.
He announced that a curfew will be imposed from 11pm to 4am.
Restaurants and bars will close at 10pm.
Gatherings will be limited to 100 indoors and 250 people outdoors.
Funerals are restricted to 100 people and night vigils and after tears are not allowed.
The president reiterated that it is mandatory for everyone to wear masks covering their nose and mouth at all times when in public. It is a criminal offence not to do so.
If you test positive for Covid self-isolate at home for 10 days, he said.
So let me try to get that straight: President Ramaphosa and his cabinet are aware of the fact that the recent surge was caused by undisciplined assholes but they are not really doing anything to keep those assholes from doing stupid shit.
Curfew from 23:00 – 4:00 because at all other times Covid-19 isn't contagious.
Gatherings of up to 100 ppl are no mass spreader events.
But we must wear masks at all times when in public. WOW, that's a totally new, totally rad concept. If we only had thought about this a bit earlier, like a year ago or so.
And self-isolating when Covid-19 positive? Really? Why? And for 10 days? That long??? Everybody knows Covid-19 has left your body after 3 – 4 days, and from then on you can mingle again.
I mean really now. Hubby and me are admittedly the most boring and unsocial people on earth, so for us nothing changes with the new restrictions. I can still meet the mechanic and his minions, go on elaborate shopping trips and to the gym. It's easy if you just keep social distance, wear your mask and accept every spritz of hand sanitizer offered to you.
I hope you people are doing the same, pandemic fatigue or not. So we all will survive this shit unscathed and in good spirits.
Cya a bit laterz
xoxo