Maybe you wanna try it? Jesse Smith concludes: "In the end I was really happy with Manjaro, it is both up to date and pleasantly boring to use." Pleasantly boring? \o/ Fukn YAY! \o/ In the end we wanna be entertained by YouTube, Second Life, and maybe even by Thar She Blows!, and we entertain ourselves creating content, not by a demanding attention whore of operating system. Manjaro isn't half as geeky as many n00bs think but a really friendly and luxurious Linux distro. Jesse Smith tested it with the KDE Plasma desktop but you'll find Cinnamon and Mate and a whole bunch of other desktops as well.
Anyhoo, here's Jesse Smith's review for DistroWatch:

Manjaro Linux 21.0
Manjaro Linux is an Arch-based distribution for x86_64 computers which features a graphical system installer (provided by Calamares) and pre-configured desktop environments. The latest snapshot of this rolling release project is Manjaro 21.0 which upgrades the default kernel to Linux 5.10 LTS.
Depending on which desktop edition of the distribution we choose to run we will get to see different new features and improvements. The Xfce edition upgrades the desktop to Xfce 4.16 and offers fractional scaling, as well as the ability to pause and resume file transfers in the Thunar file manager.
The KDE Plasma edition runs Plasma 5.21. The application menu offers two-pane navigation of program launchers. This release also reportedly ships with a new Plasma System Monitor tool and a settings module called Plasma Firewall for blocking unwanted network connections. The Plasma desktop's Wayland support has also been updated.
Manjaro's GNOME edition makes it possible to move application launchers and sort them into folders. GNOME 3.38 can run on multiple displays, each with their own refresh rate. The GNOME edition also offers parental controls through the user account manager.
I decided to try Manjaro's KDE Plasma edition which is a 2.7GB download. Booting from the provided media brings up a menu offering to start the distribution with open source drivers or non-free drivers. Either option loads the Plasma desktop.
Plasma features icons on the desktop for opening a PDF of a user guide and for launching the system installer. The guide includes detailed instructions for obtaining and installing Manjaro along with helpful screenshots. Across the bottom of the display we find a thick desktop panel. On this panel are buttons for opening the application menu, quick-launch buttons for the Dolphin file manager and Firefox, and a system tray.
Shortly after Plasma loads a welcome window appears. This window provides us with access to release notes, on-line documentation, and support forums. There is also a button for launching the distribution's installer.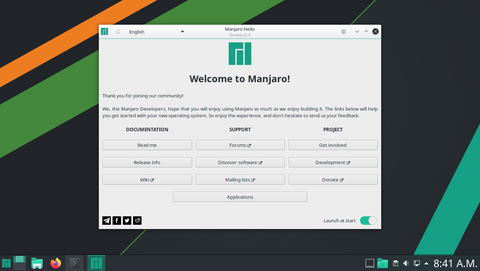 Installing
Manjaro uses the Calamares system installer. Calamares provides a friendly graphical user interface which walks us through selecting our language from a list and picking our time zone. The installer correctly guessed my keyboard layout and locale information after I picked my time zone. When it comes to partitioning, Calamares can automatically take over available disk space or walk us through a friendly, manual partitioning tool. The automated option defaults to setting up an ext4 filesystem for Manjaro and no swap space. There is a drop-down box on the guided partitioning page which allows us to switch between having no swap, a swap partition, or a swap file. I opted to use the swap file.
Calamares concludes by asking us to make up a username and password and then copies its files to the hard drive. When it is finished it offers to restart the computer.
Early impressions
My new copy of Manjaro booted to a graphical login screen. The login screen shows the date, available user accounts, and shutdown options. The release announcement mentioned Plasma was making progress in supporting Wayland. However, when I signed into my account I was greeted with Plasma running in an X.Org session. There does not appear to be any way to switch to a Wayland session from the login screen. When I signed into my account the Plasma desktop session loaded. This session seemed very much like the live session, with the notable exception that the desktop icons had disappeared. The welcome screen was still present though.
Each time I logged in a pop-up notification let me know there was an active network connection. Manjaro's default desktop theme is unusually bright, featuring black text on a white background. The desktop's title bars and window borders are white. Scroll bars are grey. This made it hard for me to make out some screen elements and window borders as they all tended to blend together. The desktop wallpaper, panel, and application menu use an opposite, dark look. These elements use white text on a black background. These polar opposites in theme style gave the desktop a slightly inconsistent appearance which can be adjusted through the KDE System Settings panel.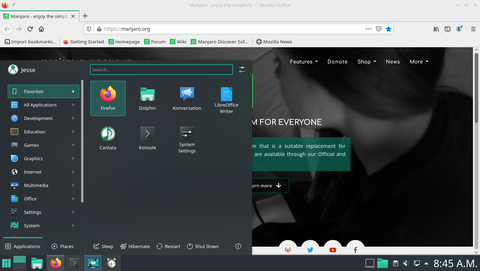 In the welcome window I mentioned earlier there are two buttons which relate to software management. One button is labelled Discover Software and it opens the Firefox web browser. We are shown a single page that lists approximately 1,200 applications, shown in alphabetical order. Each application is displayed with its name and an icon. We can click a button to see a screenshot and command line instructions for installing the application using the pacman package manager. Or we can click an Install button and be prompted to run a package installer from the browser. I tested the Install button a few times and found it works, though there are five steps to go through. We need to confirm we want to open the download link, choose which application to run to handle the link, confirm optional dependencies, input our password, and confirm we really want to download the package. This is a little cumbersome, but it does work.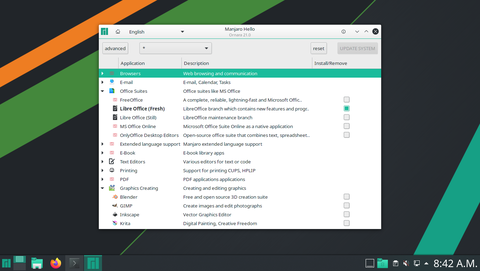 The second approach to software management the welcome window provides is found by clicking the Applications button. This opens a page inside the welcome window. We are shown a tree list of software categories (16 in total). These categories include titles such as Video, Chat, Backups, Office Suites, E-mail, and Browsers. We can expand the category trees to see a handful of items in each section, usually one to six items are shown. Items already installed have their named displayed in bold font. We can install new items by checking a box next to the name of an application and then clicking a button labelled "UPDATE SYSTEM" at the top of the window. I liked that the welcome window allows us to find and install multiple popular applications all at once.
Hardware
I began testing Manjaro in VirtualBox. The system dynamically resized the Plasma desktop to fit the VirtualBox window. The distribution generally ran smoothly, but was a bit slow at times. In particular, Manjaro was a little slow to boot and notably slow to sign into Plasma. After the desktop launched, Plasma was responsive and everything ran well.
When I switched to trying Manjaro on my laptop, boot times improved and login times were greatly reduced too. Plasma was quite snappy on my laptop and ran well. All of my laptop's hardware was detected and used properly with no issues.
One feature which did bother me though was Plasma would automatically dim the display after five minutes of inactivity, even on AC power. This meant any pause to read or study something would result in the desktop going dark. Later I also found the screen would lock quickly too, also after about five minutes. These short time-outs might make sense on a mobile phone or tablet that needs to save power, but they're irritating on a laptop or workstation running on an AC connection. These features can be adjusted or disabled in the System Settings panel.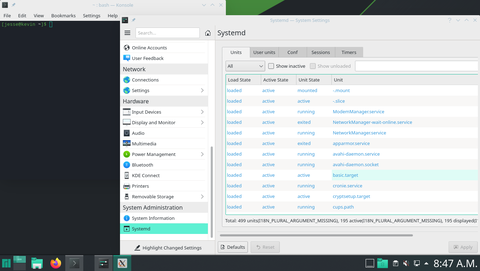 Manjaro used a medium amount of memory, about 550MB to sign into Plasma. The distribution is a little larger than average on disk, using 7.5GB of space, plus a little extra for a swap file on my setup.
Applications
Manjaro ships with mostly familiar open source applications, many of them part of the KDE family. The Firefox browser is installed along with the VLC multimedia player, and the K3b disc burning software. The Konversation chat client is present along with the Cantata music player. There is a launcher for the Steam gaming portal and KDE Connect for communicating with mobile devices.
The Okular document viewer is present along with the Calibre e-book manager. There is a tool called AppImageLauncher Settings which adjusts how AppImage bundles integrate with the rest of the system.
The KDE System Settings panel is included to help us customize the look and feel of the desktop. There are a lot of options to be found in the System Settings tool and fortunately a search feature is included. Timeshift is installed for us to help manage backups and snapshots, though Timeshift is somewhat limited in its utility on the default ext4 filesystem. The Dolphin file manager is present along with the new system monitor mentioned in the release announcement. The system monitor does a nice job of presenting an overview of the system's disk, memory, processor, and network resource consumption.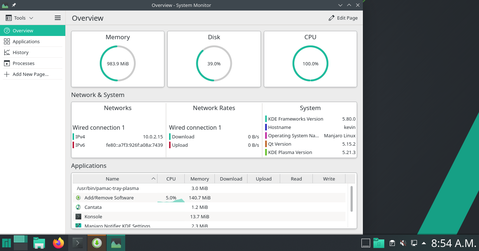 Exploring further we find manual pages for command line utilities and the systemd init software. Version 5.10 of the Linux kernel is installed for us.
Manjaro includes some additional command line aliases which I usually do not encounter on other distributions. Most of these are fine and perhaps useful, but a few conflicted with my usual command line parameters or caused different programs to be run than what I had typed and I found that frustrating until I removed the extra aliases.
Searching the application menu for any program which was not already installed would bring up a launcher which, when clicked, would open the Pamac software manager. Pamac would then give us the option of downloading the missing application. I like this feature as it allows us to skip the steps of clearing the original menu search and launching the software centre instead, then searching for the application we want. It's a small, but useful time saver.
The project's release announcement mentioned a new tool called Plasma Firewall. I could not find this new utility in the application menu or in the System Settings panel. Searches for "firewall" returned no results in either location. The Plasma application menu would offer to download a firewall for me, though it turned out to be the standard firewalld utility.
Software management
Software management on Manjaro is primarily handled by Pamac, which is referred to as Add/Remove Software in the application menu. Pamac features three tabs: Browse, Installed, and Updates. The Updates tab displays new versions of software and allows us to install these new packages. The Installed tab lists applications already on the system which we can remove with a button click. The Browse tab displays groups of software.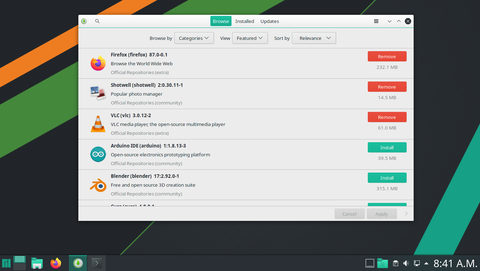 Which grouping of software we see in the Browse tab is controlled by a drop-down menu. We can then use another drop-down to select the sorting preference. For instance, we can look at Featured items in order of size, or view multimedia software in alphabetical order. This works pretty well, with Pamac displaying lists of applications with their icon and we can click a button next to items we want to queue for installation. Once we have built up a queue we can click a button to download everything we selected.
Pamac worked well for me. I stumbled a little while trying to find some applications, particularly alternative web browsers. I found that e-mail clients and web browsers are grouped in the Productivity category.
Apart from Pamac and its underlying package manager, pacman, Manjaro also includes support for Flatpak and Snap bundles out of the box. The Flatpak framework is set up with access to the popular Flathub repository, making it quick and easy to get access to portable packages.
Other observations
Once when I was trying to unlock the screen after being away from the keyboard for a while, the session seemed to crash, logging me out. I signed back in to Plasma and the desktop was entirely black with no panel, no wallpaper, and no icons. There was just a mouse pointer and the welcome screen. I was unable to click or right-click on anything and had to force a logout. After a restart I was able to sign back into Plasma and continue as before.
I tried using the Cantata music player. Cantata detects my collection of music, though it fails to play MP3 files. Attempting to play a file resulted in an error indicating there was a problem contacting the music daemon and that it may be misconfigured. Using another media player worked without any problems.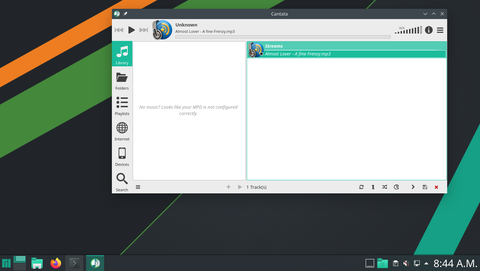 Conclusions
Manjaro is often viewed as a desktop variant of Arch Linux with some added utilities and some extra testing for packages with the aim of improving stability. I feel that Manjaro not only lives up to this reputation, but surpasses it. Getting Manjaro set up, getting it configured the way I like it, and using it for common day-to-day tasks all went smoothly. The distribution is pleasantly easy to use, the Plasma desktop is both highly flexible and responsive, and all my hardware worked well with this operating system.
The Pamac software manager has sometimes given me trouble in the past, most notably last month with the Peux OS distribution. This time around Pamac worked very well, offering a smooth and friendly experience.
I really like the way searches for missing programs in the application menu return launchers to open the software centre and display the page of the program we want to run. This may seem like a small feature but it's one I will use a lot the first week with a new system.
I did run into one problem with the Plasma desktop apparently crashing after the screen was locked. This happened just the once and I couldn't reproduce the issue. Otherwise Manjaro was pleasantly stable.
One complaint I had this week was that some of the features mentioned in the release announcement were absent from the default install. The improved application menu and system monitor tool were present and were breaths of fresh air, as advertised. Kudos to everyone involved with those. However, there was also mention of a firewall tool which seems to be missing (or not showing up in my searches of the application menu and System Settings), and one of the key features was better Wayland support. However, there doesn't appear to be a Wayland session available by default. I could install it, but if it's an optional add-on then it seems overkill to mention it in the release announcement as a key new feature.
Apart from those minor concerns, Manjaro provided a solid experience. The installer is easy to use, the welcome screen and documentation are pleasant and friendly, the distribution offers great performance on physical hardware, and there are some nice bits of polish and convenient features included. I like the little conveniences in the application menu, I like how quick and easy Pamac is to use, and I liked how customizable Plasma is. I did spend some time early on getting rid of applications I don't need and installing items I do use on a regular basis, but these were mostly personal preference switches. In the end I was really happy with Manjaro, it is both up to date and pleasantly boring to use.
Hardware used in this review
My physical test equipment for this review was a de-branded HP laptop with the following specifications:
Processor: Intel i3 2.5GHz CPU
Display: Intel integrated video
Storage: Western Digital 700GB hard drive
Memory: 6GB of RAM
Wired network device: Realtek RTL8101E/RTL8102E PCI Express Fast
Wireless network device: Realtek RTL8188EE Wireless network card
Visitor supplied rating
Manjaro Linux has a visitor supplied average rating of: 8.4/10 from 1020 review(s).
Have you used Manjaro Linux? You can leave your own review of the project on our ratings page.