Daenerys (with crew Tamara), Kim, Ian (with crew Serena), Larry (with crew Katie), Moon, Sirius (with crew Angelie) and Vlad came yesterday for the Offshore race at Saint Aubrey. A new wind was blowing yesterday from South East with 18knots. This wind means more tacking on the upwind legs with our course "St AR – I-Mocca – 1".
The weather conditions were pretty sunny with only local rain showers for Kim, who could come back the first crash but not after her second one and didnt finish.
Vlad, pretty new on this boat and with racing started very optimistic, but he got lost on the course and gave up.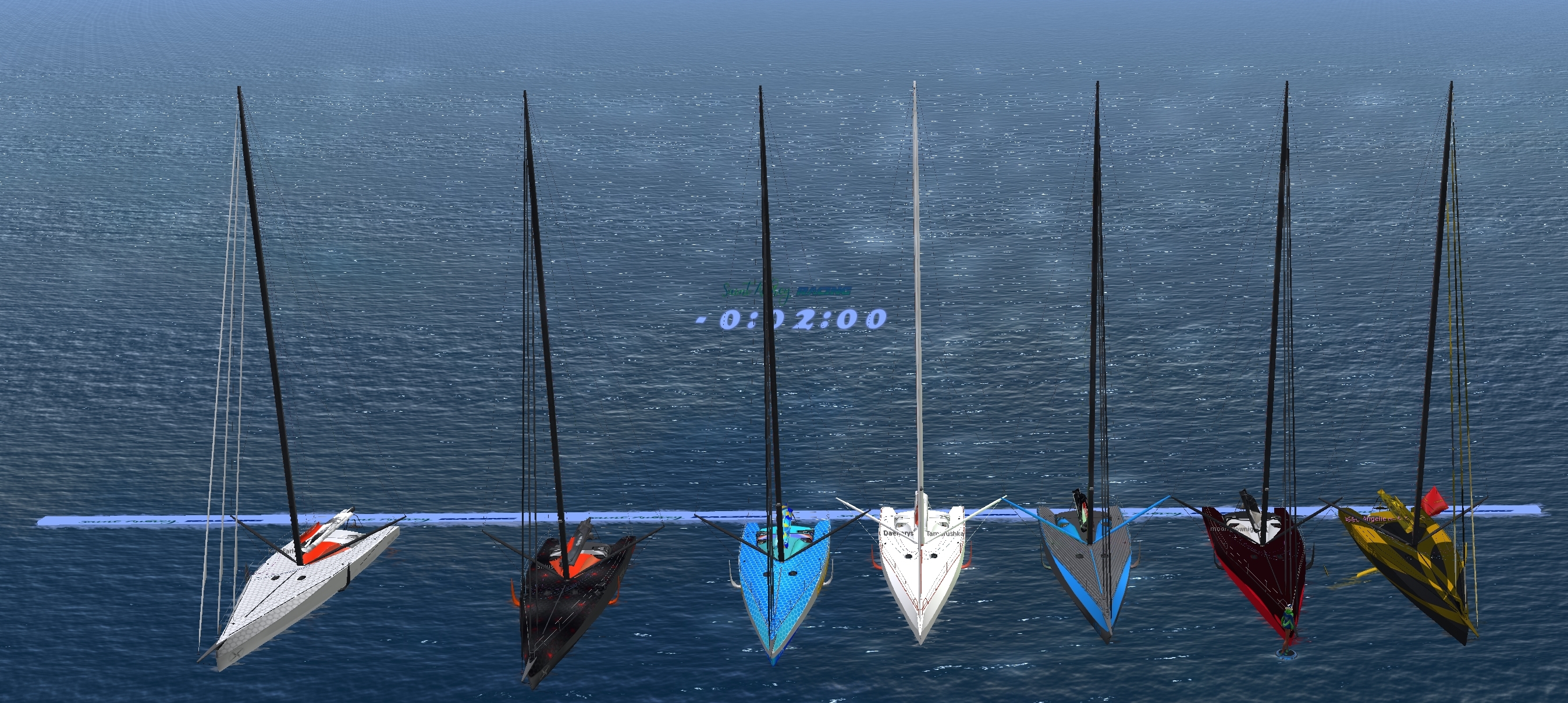 Our race line has to be rezzed from St Aubrey to let it reach far out into Conwy. But only the part in Conwy will register the boats. Because of this i added a red buoy to the line to show everyone where the register zone of the line ends.
The start looked first pretty close, but all boats spread out and turned back fair to the line. Ian started best and nearly perfect, followed by Larry, Moon, Sirius and Daenerys. Kim and Vlad started later and followed the fleet.
With the best start Ian reach first the buoy OE to start the first long reach leg first.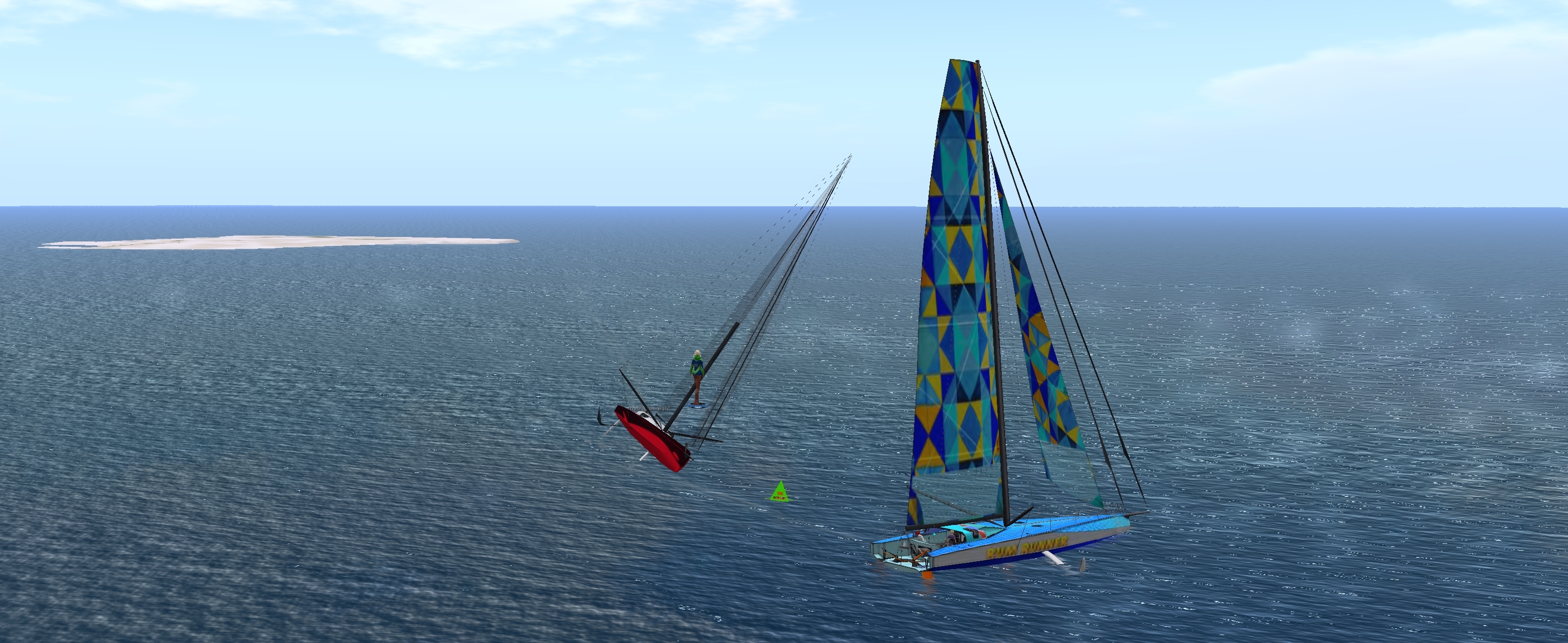 Daenerys caught up with Sirius on the first leg and Sirius gave fair enough room for Daenerys at the first buoy. Daenerys passed Sirius with a smaller turn at buoy OE.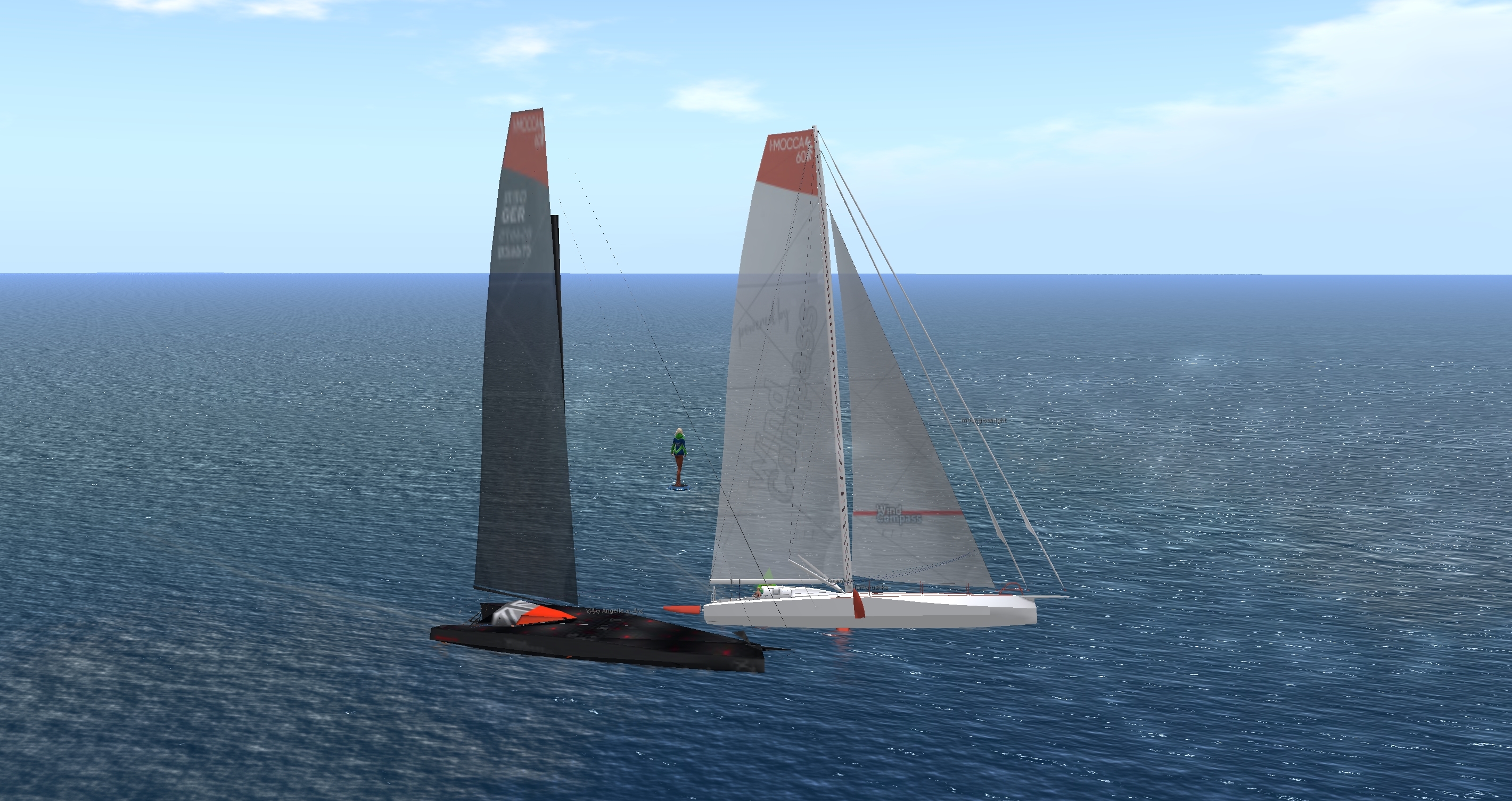 Kim went a little wide at the first turn, but accelerated fast afterwards and passed Sirius on the following reach leg. Maybe Sirius thought he did a mistake at the buoy OE or had issues and moored. But i havent seen a foul of him and still dont know why he moored.
Ian and Larry sailed away from the fleet on the first long reach and downwind leg to the Lighthouse. Daenerys could pass Moon on the way to the Lighthouse and followed the two leader with a bit distance. Kim, Sirius and Vlad followed them. Unfortunately Kim crashed on the way and Vlad started to get lost after the fleet was too far in front of him.
The fleet has spread out already on the way to the Lighthouse and i had to fly a lot forward and backward to watch them. Adeli helped me watching the end of the fleet and Justin helped with the few tourist boats we had along the course. Thank you two for that. All moored tourists could be passed safely without problems.
Because of the spreaded fleet we had some meetings of boats who were on the way to buoy ON and the faster ones were coming back from buoy OE already.
This boat needs a lot of concentration and so it happened that there happened some starboard-porttack fouls. But all did fair their "mooring" penalty and continued afterwards.
The sailors kept their positions after the Lighthouse, tried their best to catch up with the one in front of them, but those could manage to stay in front. So see the finish of the remaining boats in Hakiria's video.
Congrats to Ian and Serena for a nearly perfect race with an awesome race time and congrats to all others to finish this long race with the new wind.
Even with the long legs on this Offshore course it seems to give the crewed boats an advantage with perfect turns and sail changes.
We had some boats practicing the course with this new wind and it looks like the crewed boats can have an advantage of about 1 min compared to the best single sailed times. But this is only a feeling i got watching them all during the week. It is really hard to make a good handicap factor in these days.
1. we would need comparing times for all 4 winds and
2. we cant be sure of no technical sl issues in these days.
Thats why i will watching the next races and then see what we can do about handicaps.
Maybe more sailors will find a crew member, train with them a bit and we can have mostly crewed boats in this race serie.
Here is the result from yesterday:
R6: 2021-04-25-St AR – I-Mocca – 1 – SE21:
1: IanPixel Resident BSc92d – Race Time: 0:35:27-9points
2: Naked Rumrunner BS8c62 – Race Time: 0:37:21-6points
3: blondij Resident BSc2e7 – Race Time: 0:37:56-4points
4: moonglownight Resident BSbf2e – Race Time: 0:42:48-3points
5: Sirius Rosca BS6b75 – Race Time: 0:47:41-2points
6: Kim Farleigh BS9c6d – Not Finished-1point
6: vlad708 Resident BSb48a – Not Finished-1point
Lap Times:
IanPixel Resident BSc92d – Start: 0:00:05 – Last lap: 0:35:22
Naked Rumrunner BS8c62 – Start: 0:00:19 – Last lap: 0:37:02
blondij Resident BSc2e7 – Start: 0:00:40 – Last lap: 0:37:16
moonglownight Resident BSbf2e – Start: 0:00:22 – Last lap: 0:42:26
Sirius Rosca BS6b75 – Start: 0:00:29 – Last lap: 0:47:12
Kim Farleigh BS9c6d – Start: 0:01:06 – Last lap: Not Finished
vlad708 Resident BSb48a – Start: 0:01:21 – Last lap: Not Finished
Standing overall St AR – NYC 2021 I-Mocca60V2.8 (Championship) (after 6 races):
Sailor – points(number of races)
Ian – 42(6)
Daenerys – 31(4)
Moon – 22(6)
Larry – 21(4)
Jenna – 10(2)
Nicole – 7(2)
Kim – 8(4)
Sirius – 7(4)
Sea – 2(1)
Viv – 1(1)
Massimo – 1(1)
Vlad – 1(1)
Juicy – 1(2)
It seemed that all enjoyed the race, the after race beer and the after race chats yesterday and stayed quite a while together at the St Aubrey marina.
Next week we will be at NYC again and do 2 shorter courses at Blake Sea. Look for the notices at the end of the week what courses will be planned.
Stay all safe and healthy and hope to see you again next week.
Hugs and kisses
Bianca