Viv, Kim, Ian, Larry with crew Katie, Sirius with crew Angelie and Moon came to our Offshore race at Saint Aubrey on our course 1 with wind from NE and 18knots.
Normally i talk here about general weather conditions, but with the experiences of last weeks races at Saint Aubrey and on Blake i get more and more the feeling it is more a "self made" problem by the server management of LL. Different user will get different reactions from SL with the same boat on the same sim in the same race. And that is really unfair for races and people get more and more frustrated during the last couple of weeks.
The start looked quite normal yesterday with Viv and Ian having the best starts.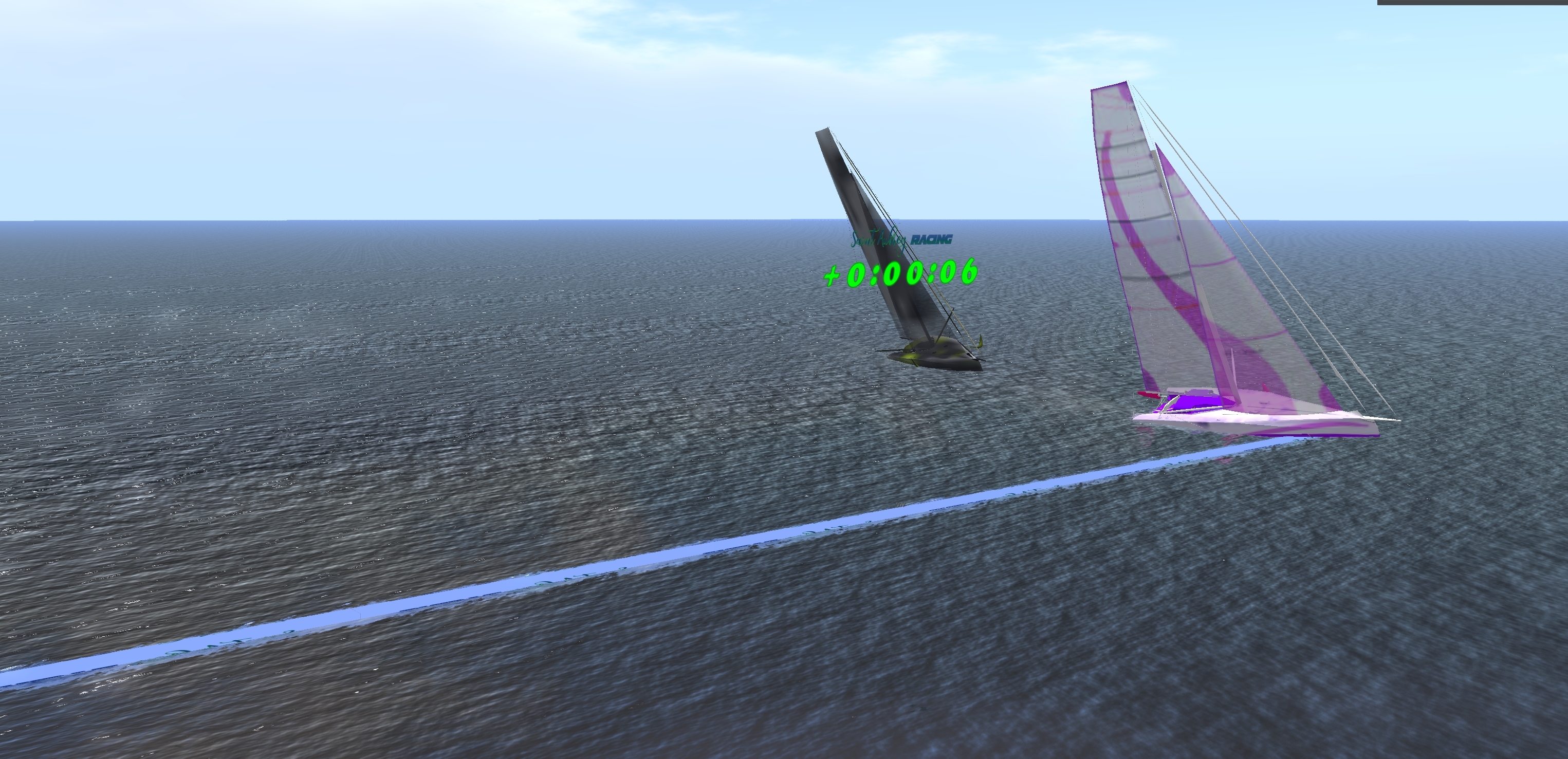 Moon, Sirius, and Larry started just a bit later followed by Kim.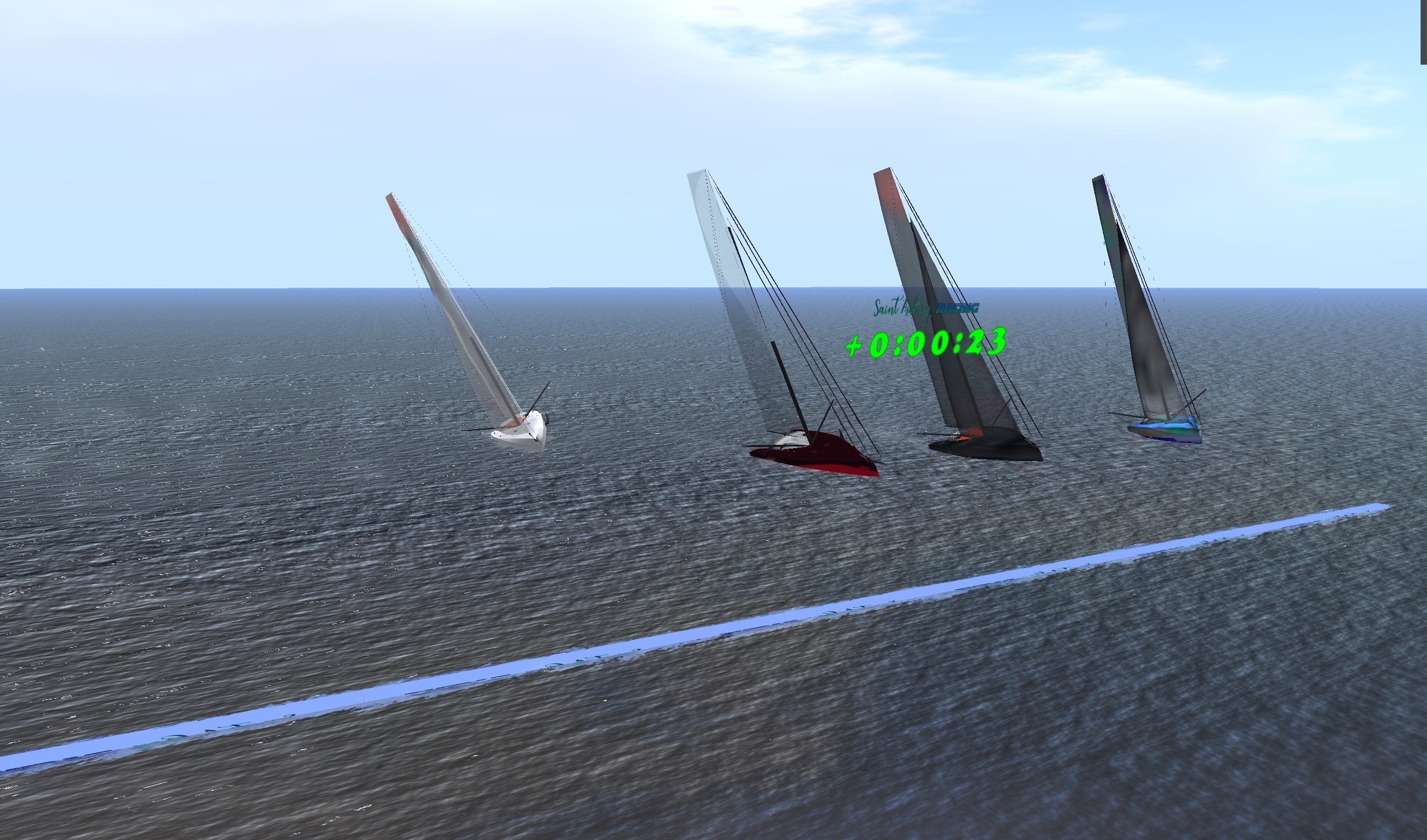 But then the first trouble started. Viv and Ian got stuck quite long at the first crossing after the start. I saw them first flying on my screen and then standing still for some time after they landed again. The others didnt have these issues and passed the two best starters.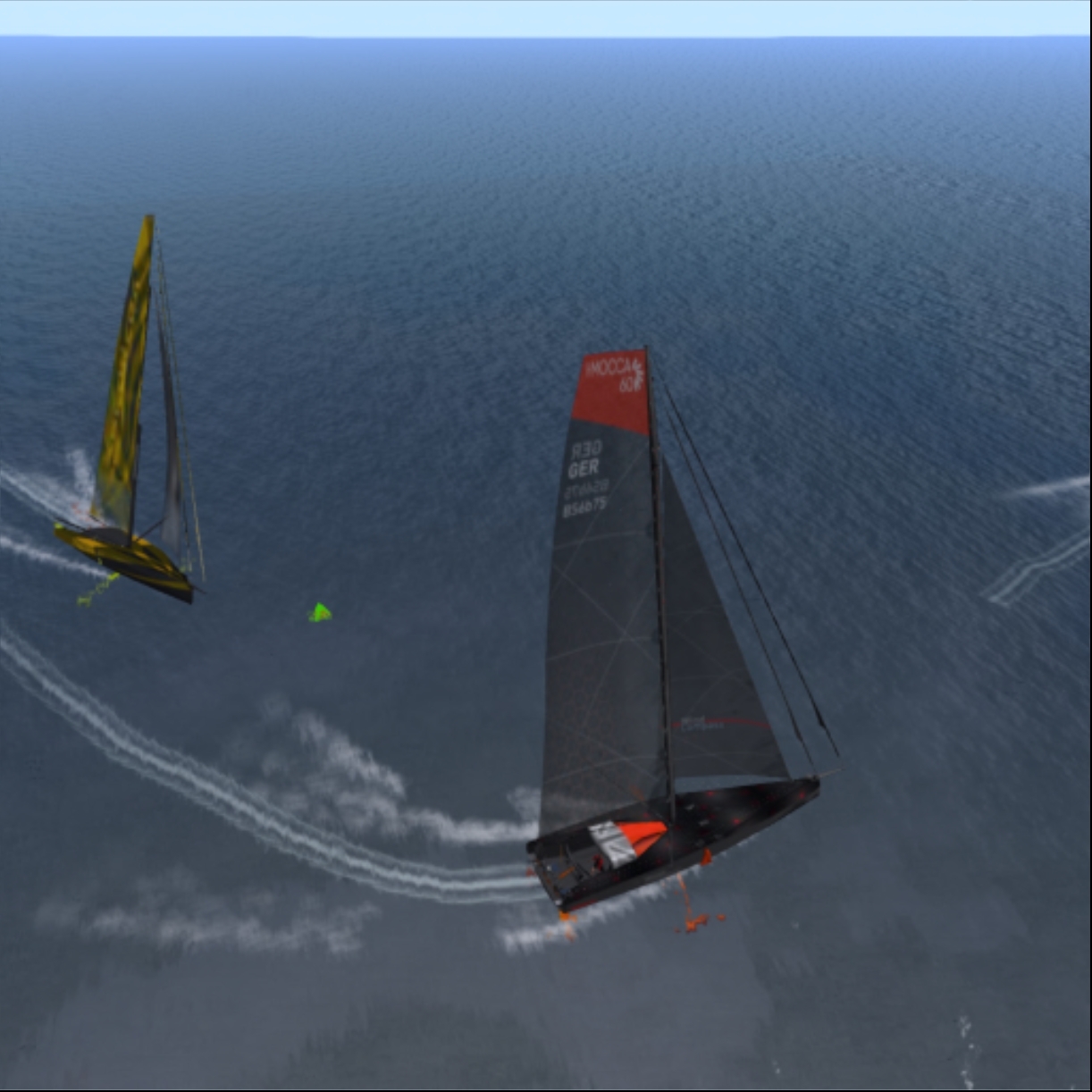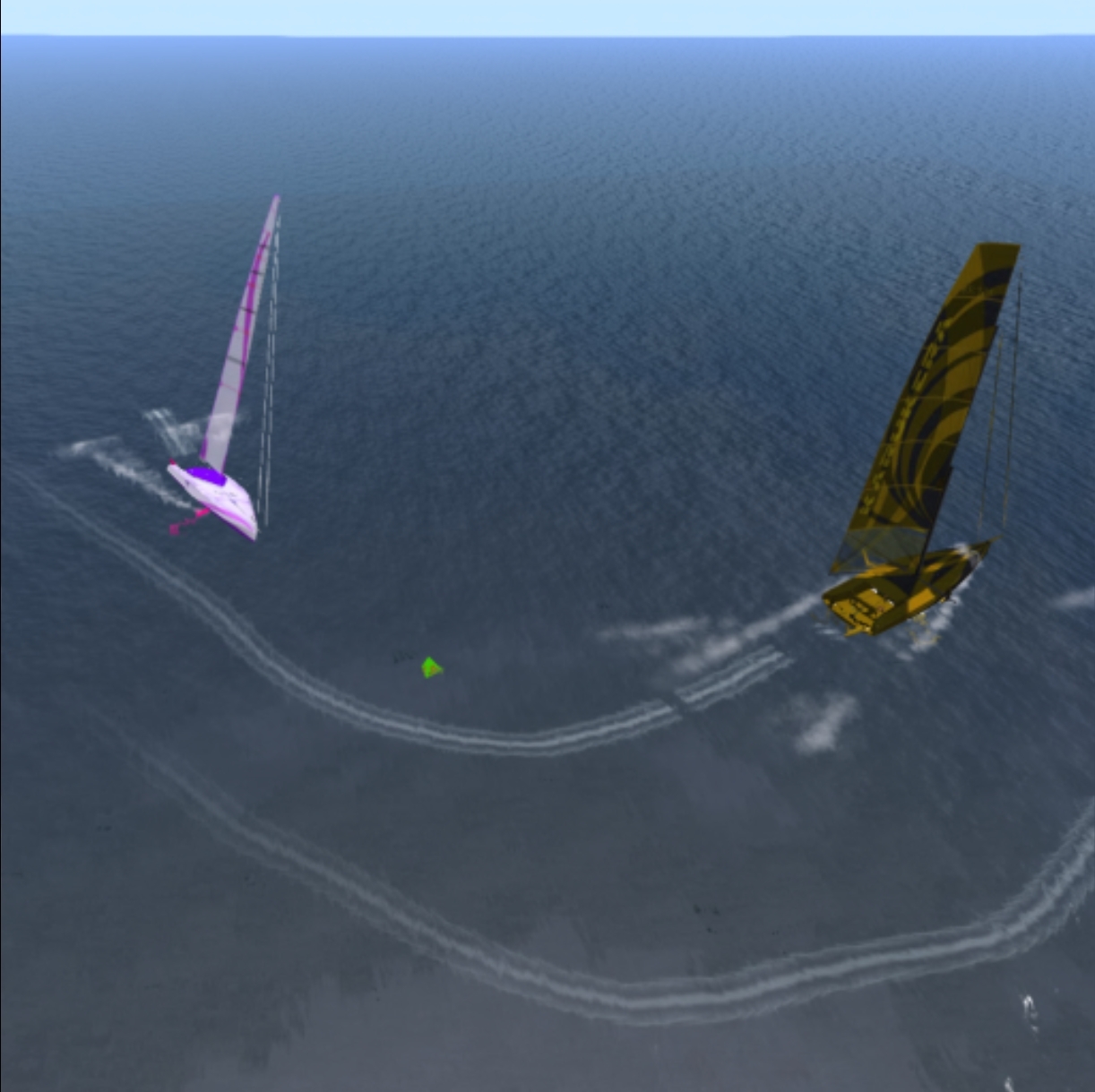 Ian started his chase after buoy OE and passed really quick Sirius and tried to catch up with far leading Larry. Larry was still leading before the lighthouse and had a good course around it. His "personal lag" at the last crossing before the lighthouse it let him run into the lighthouse while he had no control of the boat. Ian had no issues there and passed him easily, took the lead and sailed away from Larry.
Kim could pass Sirius and Moon on the way to the lighthouse. But Moon started a comeback after that and was catching up later with Kim again.
Viv started a nice combeack after buoy OE, passed Sirius nicely on the way to buoy CS and caught up with Kim more and more. But then her next crash happened entering Degrand and after coming back a little later another crash happened to her again. She gets more and more the feeling that this area doesnt like her.
I think you can understand now why i cant mention general weather conditions anymore.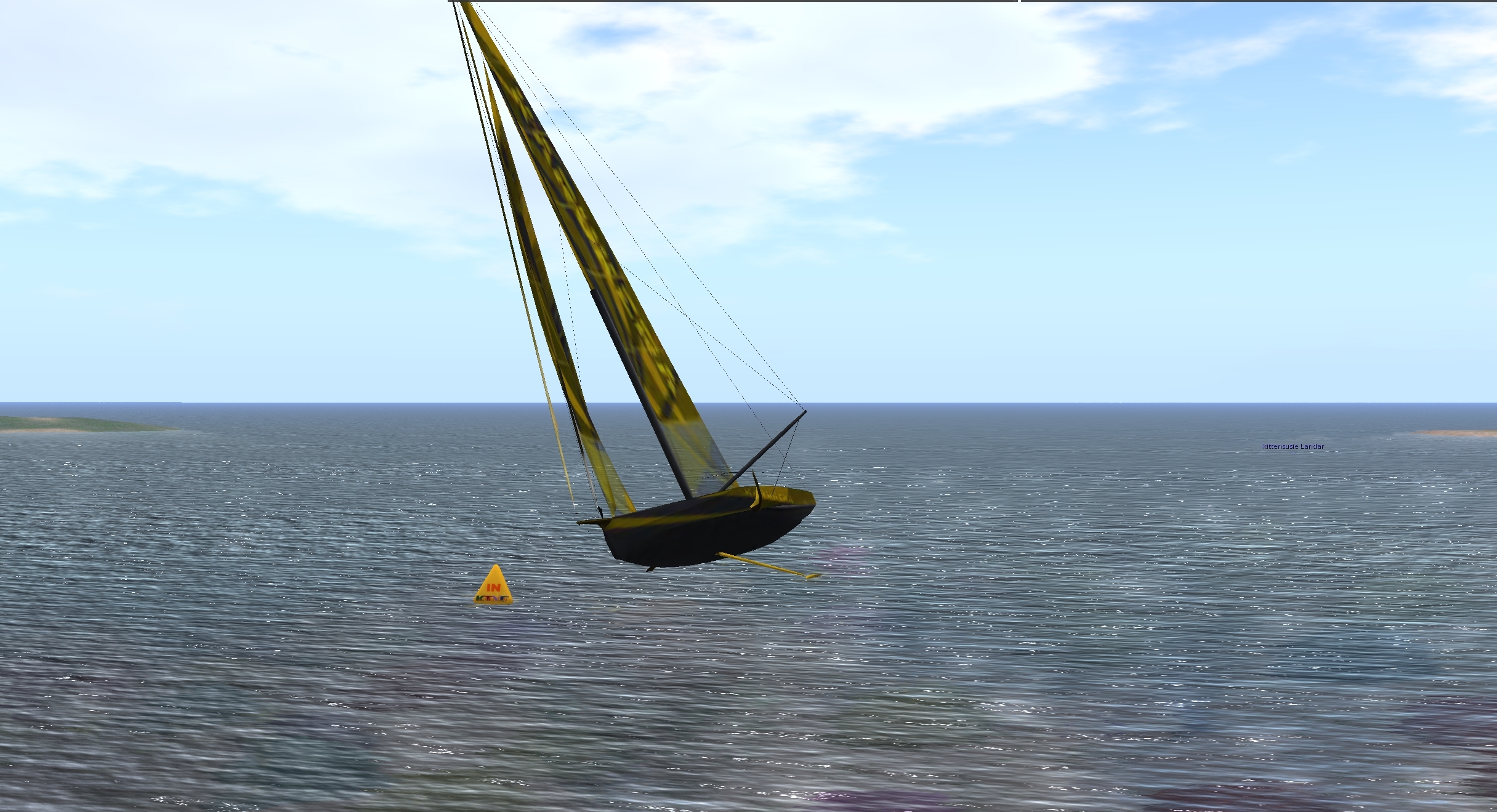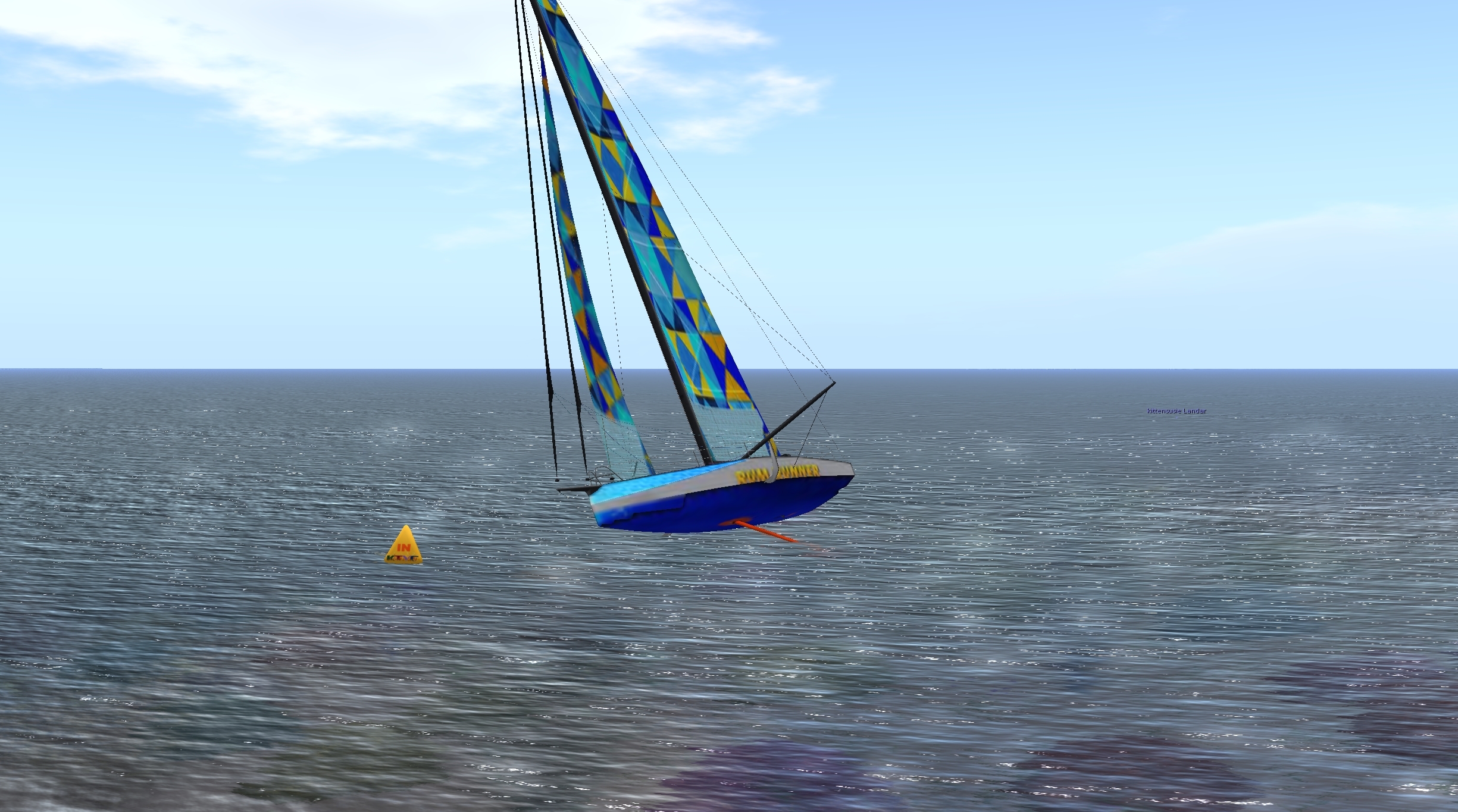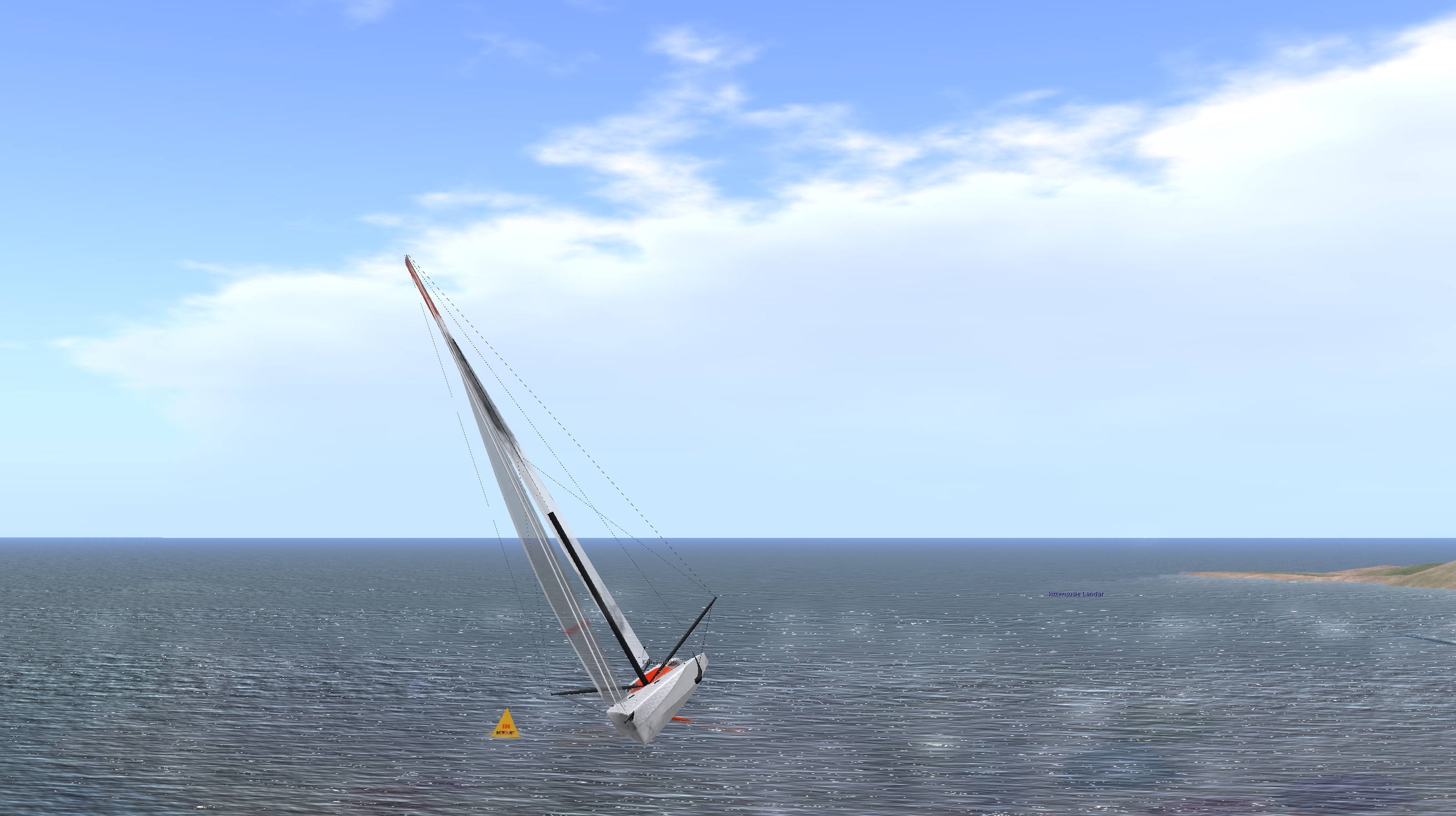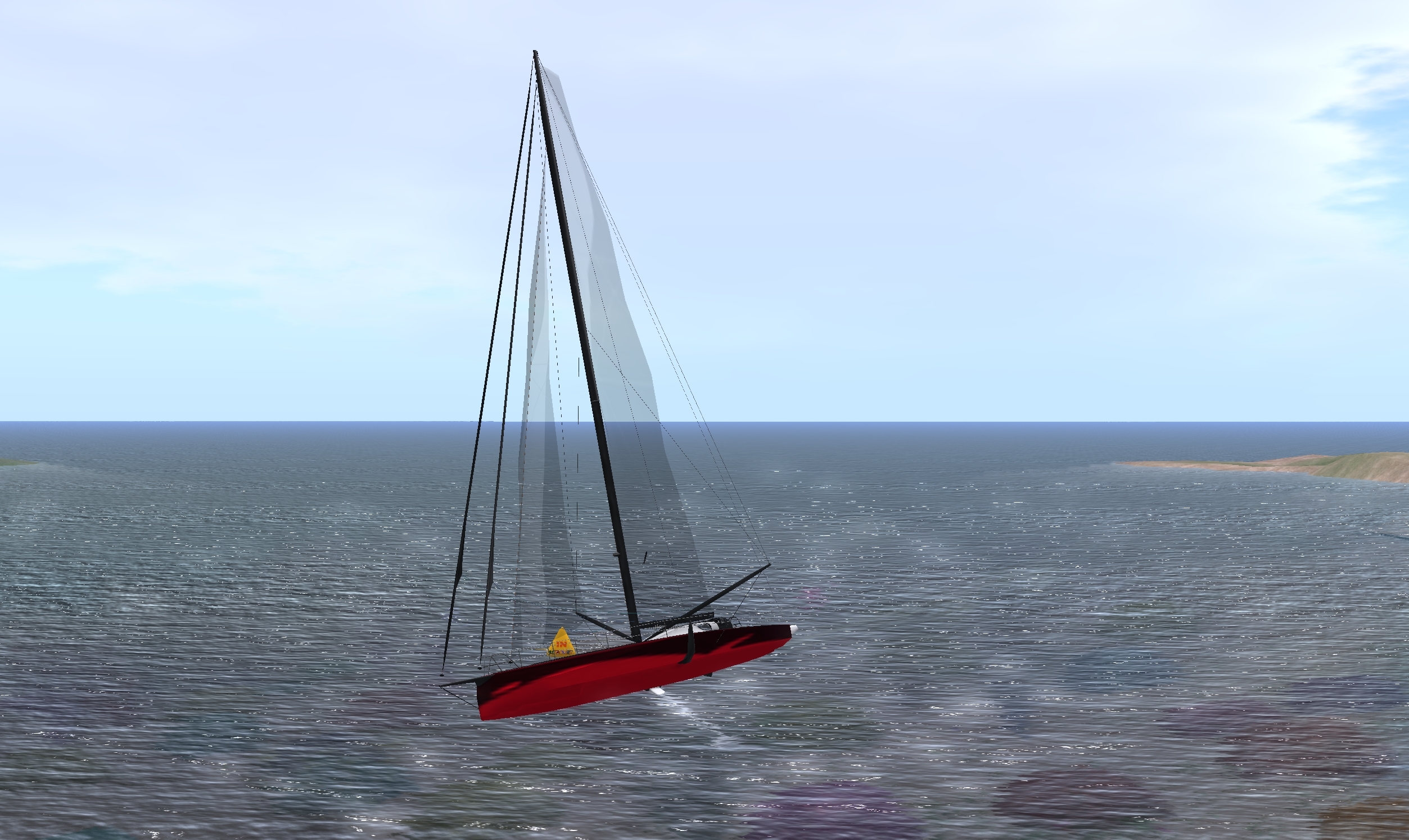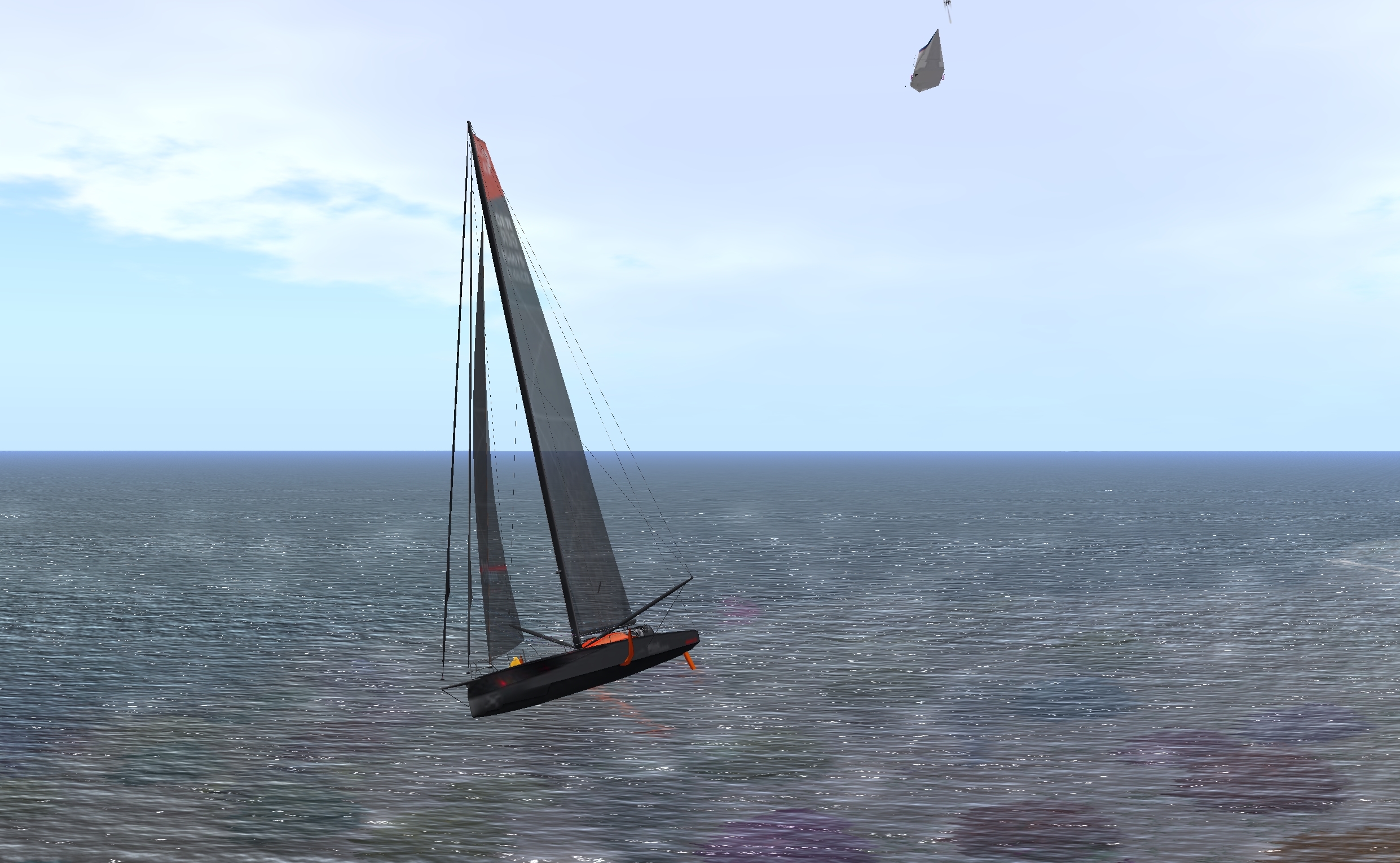 Ian and Larry were safely leading the race and saved that until the finish line. But behind them Moon started a great catch up with Kim and came slowly closer and closer.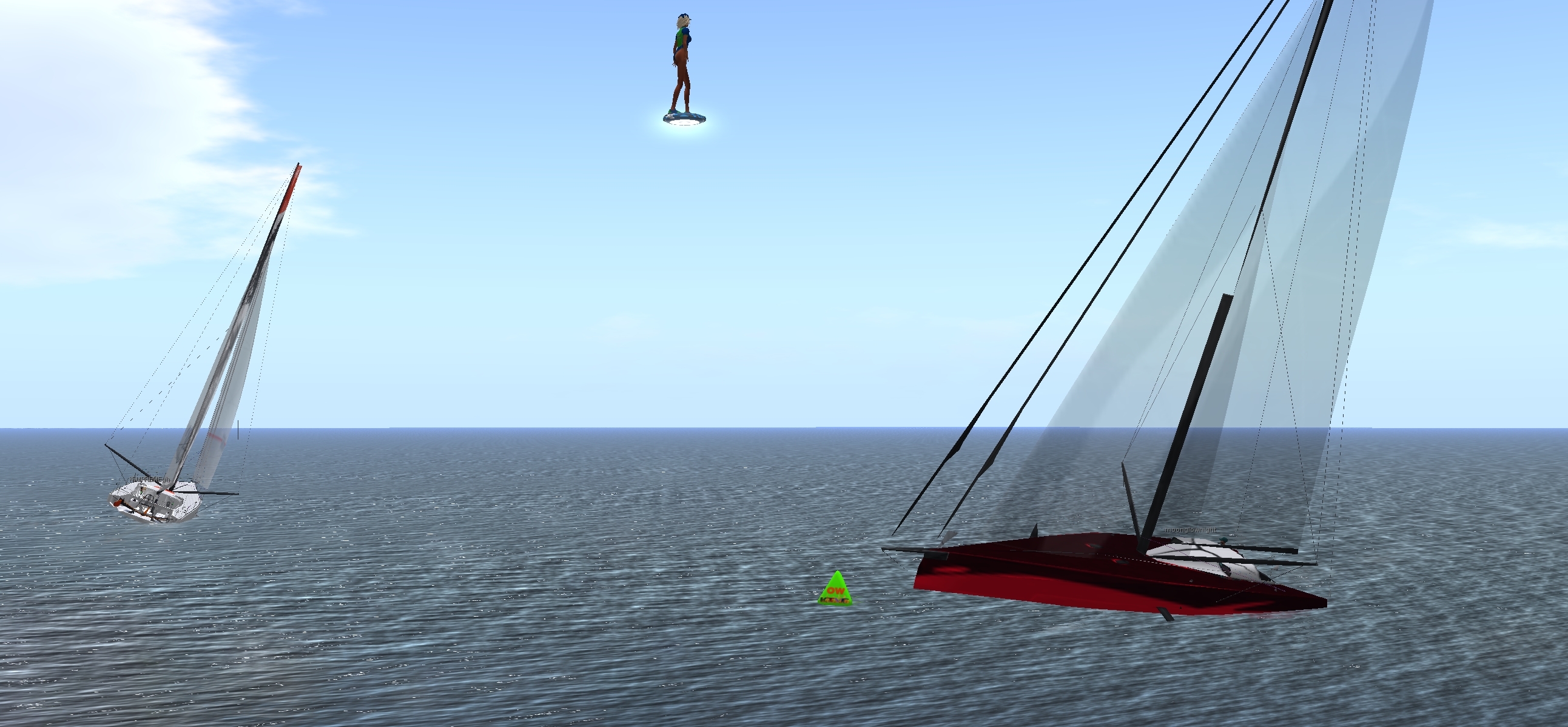 Both sailed all the way to the last buoy OE in an exciting duel and Moon raised the pressure slowly on Kim and as it looks she resisted and didnt make a big mistake.

I saw them both tacking around the last buoy OE and it seemed that Kim would save her lead to Moon into the finish.
But shortly after buoy OE is a dangerous sim cross and Kim found that unfortunately.
Hitting a sim cross in these days is much more dangerous than it was before all went into the cloud. While it was safe in the past to pass a sim cross by 5-10m you need now minimum 20-25m. This can be watched with the chat circle on minimap but it can be still overlooked in exciting races.
Kim crashed on that and shame she couldnt get her reward for her great race by crossing the finish line.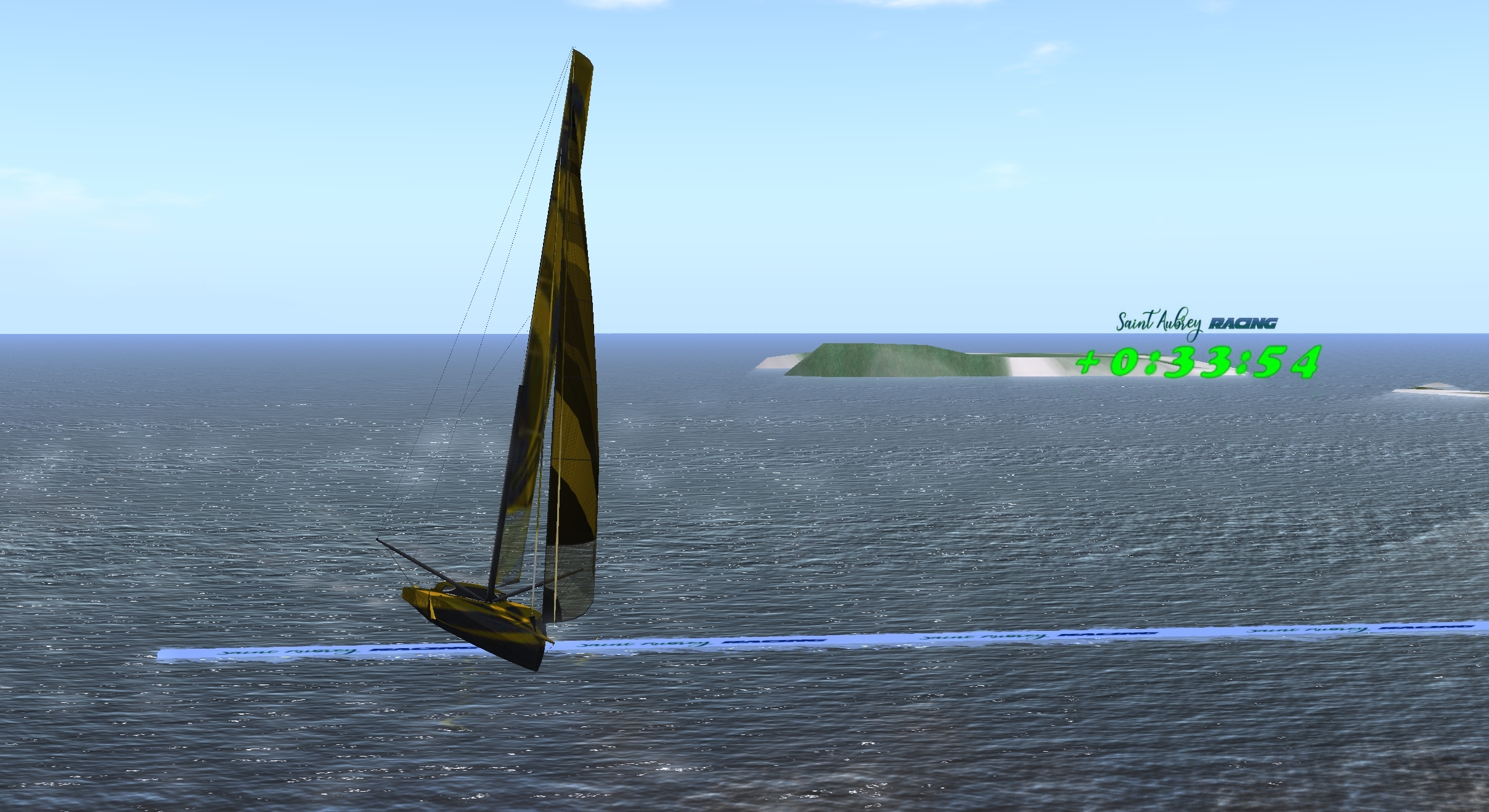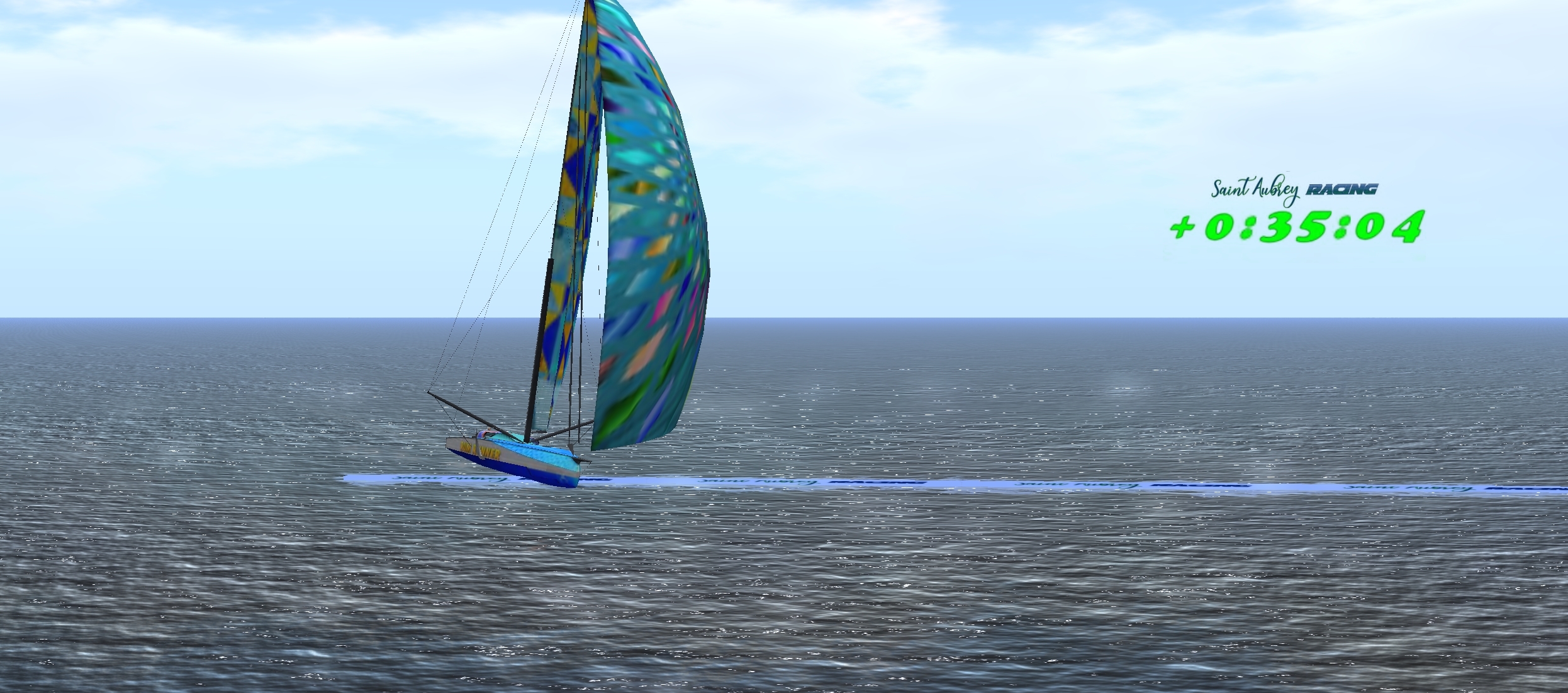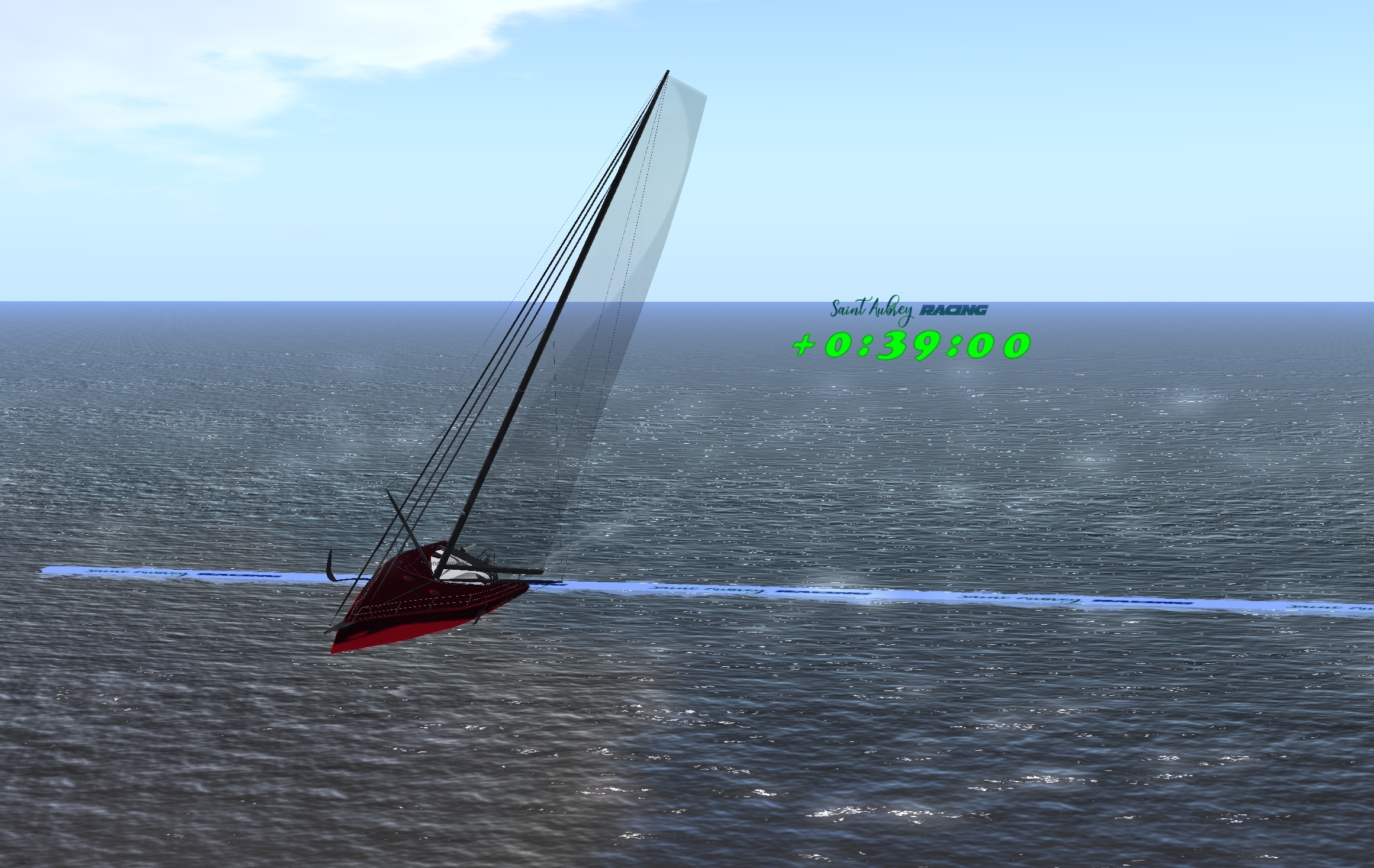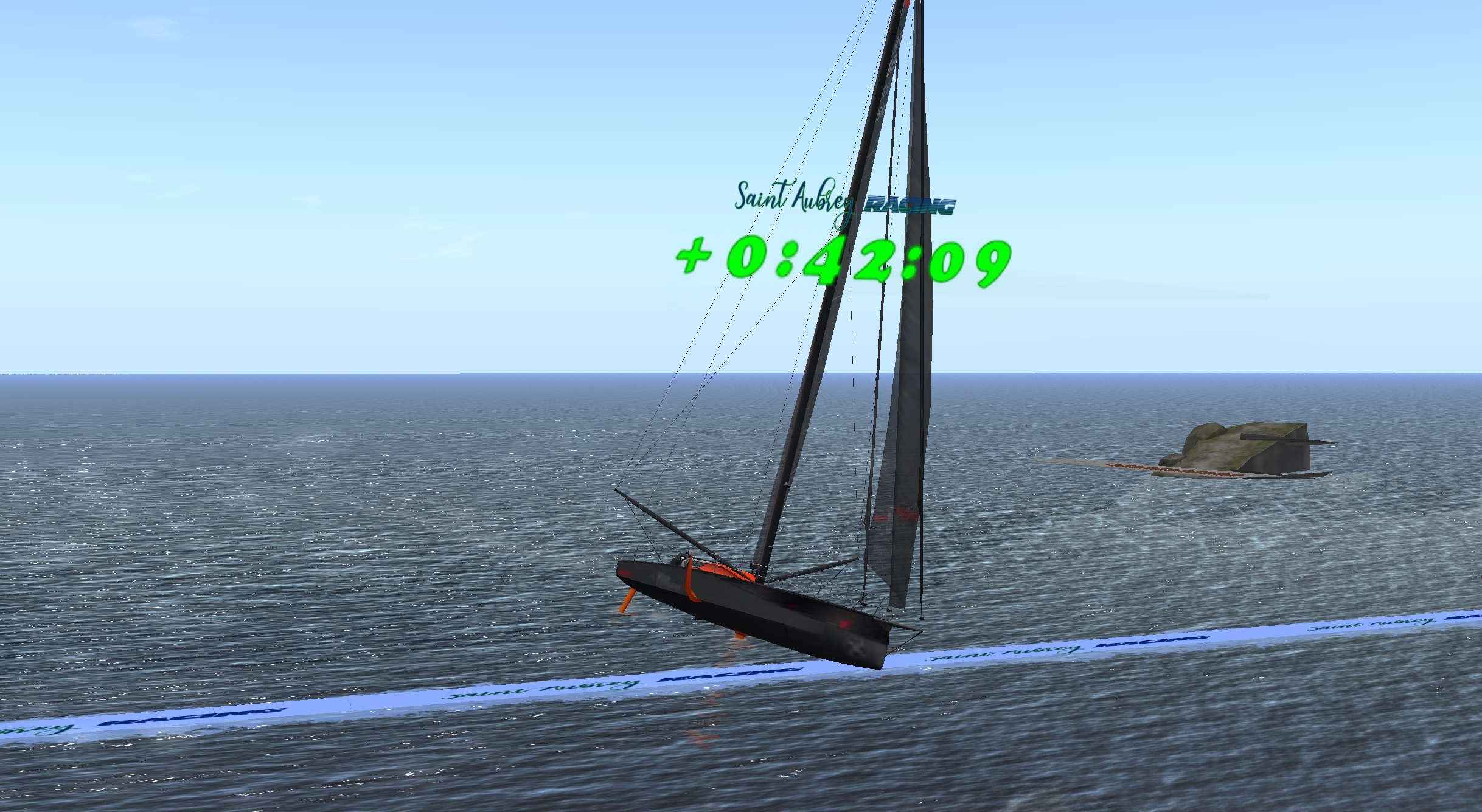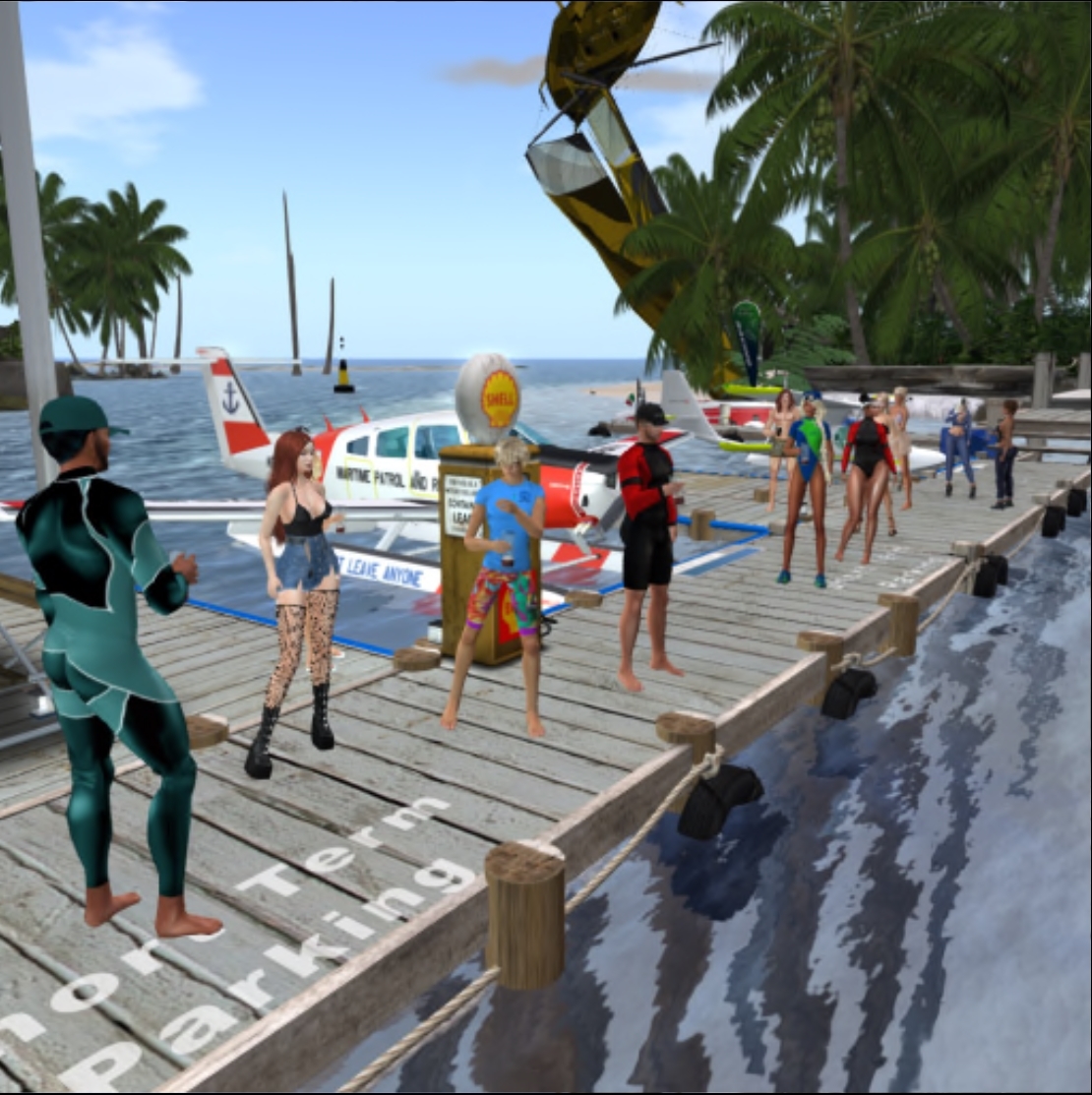 Well, its a shame that SL is influencing the races like this more and more, because our races at St Aubrey and at NYC have a great potential for lots of excitements and lots of fun for all racers. But i get more and more frustrated feedback at our after race chats. We can think of all kind of variances to make the races more interesting, but when you get controlled by a poor server management and all these unfair technical problems for only single racers then it kills slowly all the fun for the racers and the organisers of races.
Btw see Ians boat flying in the background of our after race party.
Besides all this congrats to Ian for winning the race, Larry, Moon and Sirius for finishing and really sorry for Viv and Kim for crashing.
And here is the result from yesterday:
R3:2021-04-11 – St AR – I-Mocca – 1 – 45-18-V2:
1: IanPixel Resident BSc92d – Race Time: 0:33:53-8points
2: Naked Rumrunner BS8c62 – Race Time: 0:35:04-5points
3: moonglownight Resident BSbf2e – Race Time: 0:38:57-3points
4: Sirius Rosca BS6b75 – Race Time: 0:42:09-2points
5: vivipezz Resident BS42d3 – Not Finished-1point
5: Kim Farleigh BS9c6d – Not Finished-1point
Lap Times:
IanPixel Resident BSc92d – Start: 0:00:13 – Last lap: 0:33:40
Naked Rumrunner BS8c62 – Start: 0:00:30 – Last lap: 0:34:34
moonglownight Resident BSbf2e – Start: 0:00:30 – Last lap: 0:38:27
Sirius Rosca BS6b75 – Start: 0:00:28 – Last lap: 0:41:41
vivipezz Resident BS42d3 – Start: 0:00:06 – Last lap: Not Finished
Kim Farleigh BS9c6d – Start: 0:00:39 – Last lap: Not Finished
Standing overall St AR – NYC 2021 I-Mocca60V2.8 (Championship) (after 3 races):
Sailor – points(number of races)
Ian – 26(3)
Daenerys – 18(2)
Larry – 15(3)
Jenna – 10(2)
Moon – 9(3)
Nicole – 7(2)
Sirius – 5(3)
Viv – 1(1)
Kim – 1(1)
Juicy – 1(2)
In 2 weeks we will use a new wind at St Aubrey: South East and 18knots. That will give you all more chances for tactics on the upwind legs and i would suggest you try it sometimes before our next race at St Aubrey and see how that will work.
Next week we will be back at NYC on Blake.
Stay all safe and healthy and hope to see you all back next week.
hugs and kisses
Bianca