Mornin' Sluts!
How y'all doin'? As you might have gathered from the title, today marks the 365th day in locky downy (of sorts). At least here in SA; other countries were probably earlier in lockdown, many followed later. Well, for us here at the Cape, for hubby and me, we went into lockdown exactly at midnight of the 26 March 2020.
Yes, the world switched to something competely different back then, even though I didn't notice at first since we didn't have any reason to leave the house right away. Of course the world became quieter, an almost eerie atmosphere was in the still air. But only when I left for some (essential!) shopping I noticed how much our environment had changed. Empty roads, no people in sight anywhere, closed shops and stores, social distancing, blocked shelves in the few opened stores, all the tape on the floor telling you where to go and where to stop …
That was my first day venturing outside of our complex during the lockdown, many more were about to follow. These days, hardly a year later, I don't even think about Covid, just instinctively grabbing my mask when I leave the house. It's all become a routine … the new normal?
What also has set in by now is a general fatigue, nobody's interested in anything Covid-19 anymore. Remember in the beginning when on TikTok and YouTube every other creative published more or less funny videos about Corona? Remember Sophie Ellis-Baxtor's kitchen disco?
But we also had fun with a bit more serious entertainment:
All those big and small events made the first couple weeks of Lockdown less of a punishment and a chore but more of a happening, a global artistic endeavour!
Nowadays we know where and where not to take off the mask, we think we know with whom we can have unmasked contact … since they, same as us as, are still not showing any signs of being ill. And we're totally forgetting that they could've had been infected just an hour earlier. 😮 No, really, do you know where your blog gurly spent her time since the last entry to this diary? So better take care!!!
Anyhoo, whatever, here are the news of the day from South Africa:
I guess altogether, for an African shithole, and multiple mega spreader events, the people of SA showed great masking and distancing discipline. Greater outbreaks happened in the townships, as was to be expected. But we've seen enough rich whities getting hospitalized and dying as well.
Don't get me wrong, please, I know 52,602 death are exactly 52,602 too many but it could've become so much worse!
And if we were to listen to these weirdo cultists the numbers would be much higher indeed: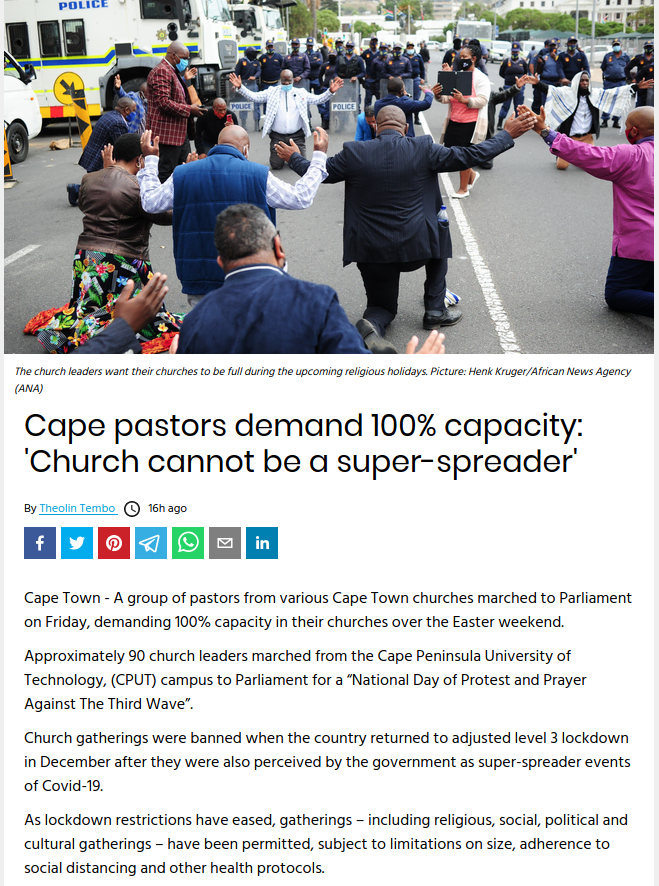 Enuff of that shit, I'm feeling the fatigue, too.
You dinky doodles have a good day. Take care, don't lower your shield, don't get sloppy in your Covid routines, keep distance, washy washy, sanitize, eat your veggies and all that jazz. Peepel, you know the virus will die out sooner or later. It can't go on forever, not even the mutated strands. The day of global relief will come. And since we don't trust in our elected leaders no more, we will drop our guards a couple weeks later. And then we'll be done with this shit.
Please be patient and keep on fighting!
So we can meet again save and sound.
yøyø