Not funny. Not funny at all.
Woke up this morning looking like a burned leper, itching red spots and bulges all over my usually sexy body. Did I say it itches as hell? 😮
So me completely clueless. Didn't change anything in my diet, didn't use any new washing and household cleaning detergents, didn't buy any new clothes … uh oh! 😮 Was wearing an old blouse I didn't wear in a long time. Maybe that's the culprit, or the washing powder we used back then?
So off with the blouse and taking a nice long shower, which only helped temporarily. 😐
Now what to do? Itch becoming worse, more and more skin surface turning red and fugly. So into Oubaas we jump and fly in direction of the local polyclinic, see if I can catch a skin doctor or sumfink. On the way I must stop by the shopping mall quickly, get new Aspirin, adult nappies, and mattress layers and … oh stupid me! 🙂 The pharmacy has a huge dispensary inside, so I show my new itches to one of their pharmaladies. She knew already what over-the-counter meds to give me and told me no need to see a doctor. It's an allergy, and as soon as I'm not in contact with the allergen anymore I should be healed in a matter of days. If not – I can still go and see a doctor.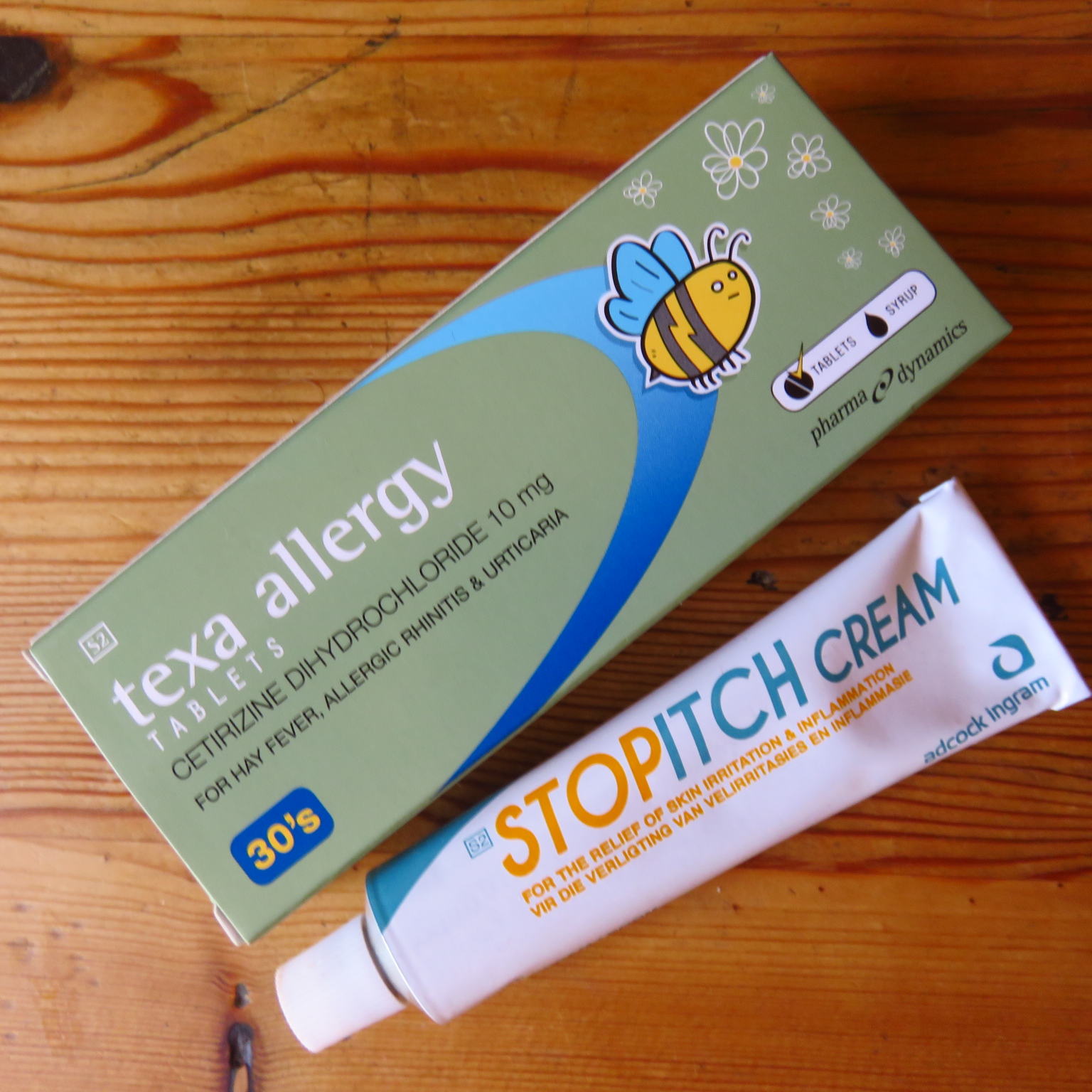 The tablets will last me 30 days, of the cortisone cream I should've better bought 30 tubes, as a major part of its contents is already being sucked up by my irritated skin.
And – oh the irony – my mechanic just called; Oubaas' replacement windscreen has arrived from Jo'burg. I'm waiting for this moment since weeks … and now I'm not in the mood, neither in the condition to leave the house. 😦
Back on the sofa with me, for some meditation on not scratching. 😐
If only I knew what really caused my allergic reaction. I'm usually not allergic to anything. Spent a rather unhygienic childhood with more time playing outside in the snow and dirt and pollens and insects and dead fish than inside playing with soapie water. Such a youth usually makes a healthy, tough as nails adulthood. Dunno what exactly caused my downfall today. 😦