Good A.M. my wonderful children
I trust you're doing well, or at least well enough to surf the web and stumble upon my bloggy. Because this is where you find the hot newnesses about Orca's boring and depressive life first hand. =^.^=
Oubaas' radiator sprung a leak! Fuk dat. Cancelled Monday morning's gym appt and will have to visit my mechanic instead. I hope 3 bottles of water (6 liters) will be enough to get me to his workshop before the engine overheats.
How do things look at the Covid front?
Hm, I guess, coming very close to one year in lockdown, it's time for a more introspective article from the South African perspective:
A year in lockdown: The new normal is no closer than it ever was
By Kevin Ritchie
2h ago
The experts say it takes a minimum of 21 days to break a habit. Keep it up for three times as long and your better life choice becomes a lifestyle.
On Monday, it was a year since President Cyril Ramaphosa gave us the first of what we'd call our family meetings, when he declared a state of disaster. Next Saturday, it'll be a year since he plunged us into Lockdown Level 5.
It took everyone by surprise. In the old days, the suburban daggakoppe used to buy their bankies on petrol station forecourts, but suddenly blue-rinsed gogos were getting their illicit fags the same way. As for the boozers, WhatsApp became the letterbox of choice for smugglers who would have put Pablo Escobar to shame.
But, by and large, South Africa behaved – and laughed at the absurdities of some of the regulations. Lockdown was a golden time for South African humour, but it was also an unimaginably tough time. The economy hadn't been doing that well beforehand, the shutdown put everything into a tailspin. Livelihoods were lost – but lives weren't. And that was the whole point; flatten the curve of infection, stop our already compromised public health system from becoming overwhelmed and compromising the public's health.
We succeeded. And, those who had gave more to those who had less, contrary to the gospel of the hate-mongers. The start of the lockdown saw an unprecedented outpouring of generosity both financial and in kind, with volunteer organisations tirelessly dishing out food parcels and running soup kitchens.
For a brief moment, when they weren't being shown up by their own hypocrisy, our lesser (yet disproportionately vocal) political leaders shut up and observed their own lockdowns too. It would have been marvellous had it lasted, if we had actually built back better as we pivoted to the new normal – as we were told to do.
But we've all got to make a living. After more than 365 days the old normal is proving a desperately hard habit to break because selfishness and narcissism are far harder viruses to contain, perpetually mutating through opportunism and expedience.
Politicians most of all have to make a living too because there are elections around the corner – and tenders too. Duduzane Zuma, whose only work experience has been working for the Guptas (for which we now have an entire State Commission of Inquiry), announced he fancies becoming president.
The EFF managed to simultaneously render campuses battlegrounds and race-bait in defence of Public Protector Busisiwe Mkhwebane while feverishly purging the social media records of its leaders who wanted to pillory her two years ago.
And then on Thursday, Eskom suspended load shedding for four hours for King Goodwill Zwelithini's memorial service – despite the super spreader events in KZN the day before. It couldn't keep the lights on for a nation struggling to breathe, but somehow it could for a dead man.
A year on since we went into lockdown, we're still looking for that great reset. The new normal is no closer than it ever was.
* Kevin Ritchie is a media consultant. He is a former journalist and newspaper editor.
** The views expressed here are not necessarily those of Independent Media.
Here's something about the failure of political leadership in France: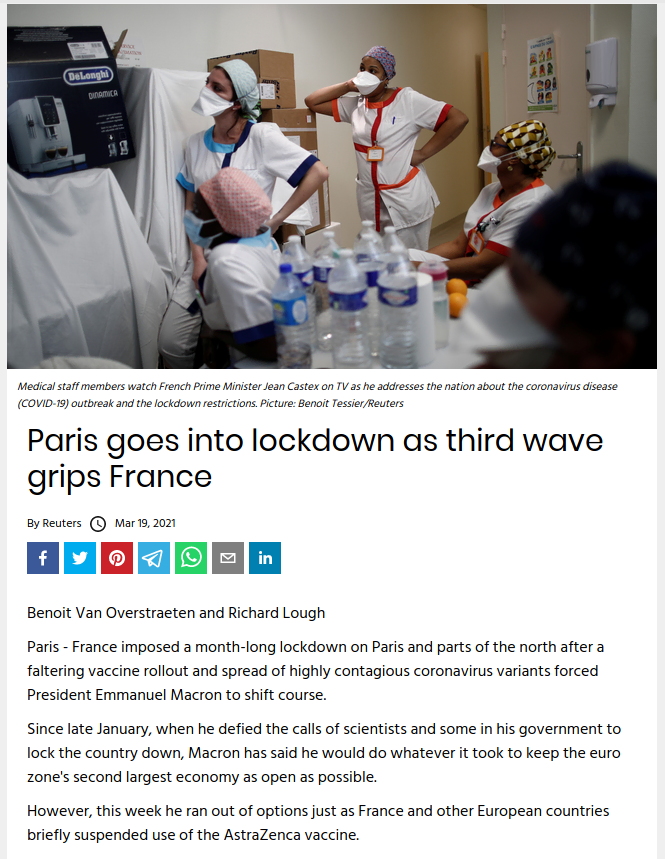 And here we have a video showing Europe's most hard-hit country, Italy:
Well, Italy is special. They are an ongoing political crisis ever since the Roman Empire fell 2,000 years ago, and still somehow manage to survive, torn apart between fascist and communist governments. And the high infection rate probably tells us more about the Italian mindset than about whatever party is ruling right now.
Si si it's all just song and dance an the whole life a party …
… until it isn't anymore! 😦
Some more general Covid-19 news:
A-ha! So the 3rd wave's gonna decimate the economy? WTF did the 1st and 2nd wave do for the economy then? But yay! 66,000 doses of J&J wonderjuice have arrived. We are saved! Oh and poor old Donald, his good Florida Mar-a-Lago club closed due to Covid-19? How come? I thought Covid-19 was fake news, cooked up by the Democrats? But at least one really good news, as 180,000 frontline workers in SA are vaccinated by now.
Guys, I said it before, and I stick to my opinion: Regardless of your personal situation, if you're fighting for some meagre stimulus payout or – in more advanced civilisations – landed soft and warm in the hands of social insurances, everyone of us must fight for their own survival! Don't count on your politicians to see reason, they decide based on statistics, not on your personal wellbeing. Matter of factly those sociopaths couldn't care less if you're healthy, sick or dead. I hope you care a bit more about yourself. And the least and best thing you can do is Stay Home, Wash Your Hands, Sanitize, Eat Healthy shit and – mostest importantest – keep your fuxn Social Distance! Show your family and loved ones and local countrymen how much you care by not getting close to them!
Stay healthy my frens!
xxoo