… just re-manifestated in my email inbox. And not even a particularly nice or welcome manifestation at that. Lucy, Sammie, all old members of the SL Sailing community, look at that and go 😮 Shriek! 😮 with me: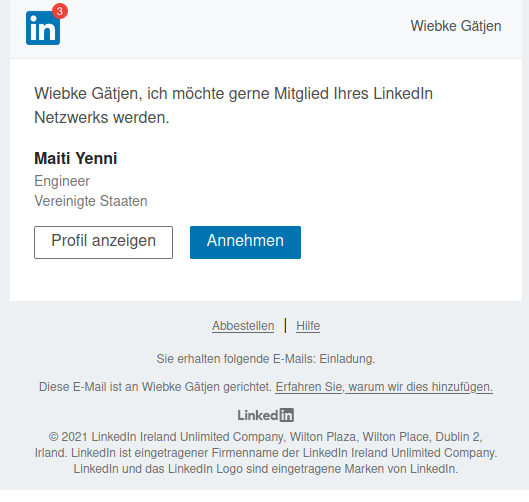 Sammie, you never believed Maiti that she was really dying, didn't ya. Neither did I but I gave her the benefit of a doubt. It couldn't harm being nice to her during her last days on the grid. So I thought. And now she's back? 😮 She or any other asshole pretending to be her and sneaking into my LinkedIn network. Yikes! What is it with that network of professionals and why is it always the dumbest, meanest and most egomaniac people being members there?
(Let's not forget that a certain Don Berithos was a member of LinkedIn as well, and what kind of special asshole he was. But that's a topic for another day.)
I may be dumb and mean but I never was a member of LinkedIn!
So I won't invite her into my non-existent network, won't even answer that mail. For me the bitch is dead and will stay that way. Not that she couldn't be nice but she was a powerplayer and no dirty trick and no lie was beyond her dignity when she was on the warpath … which was always.
And to think I really broke my head over her invented sickness. 😦
And now I hope this was the last time I've ever heard of that bitch … EVER!