LOL, hai and gud morning my peeps.
I know you know that I use ArchLinux. Not the usual Ubuntu/Mint stuff everybody else uses. Notice I said stuff, not crapola. Because I don't think your Mint is crapola, not at all. I even recommend that shit!
It's just not for me, Ok?
I hope you're all updated to Mint 20.1 Ulyssa by now, or you're running LMDE 4, Mint's Debian version. So, the normal standard Ubuntu version is on Ver. 20.1, and its Debian brother on Ver. 4 … what version is Orca's Arch-y system on?
Let's ask the all-knowing terminal: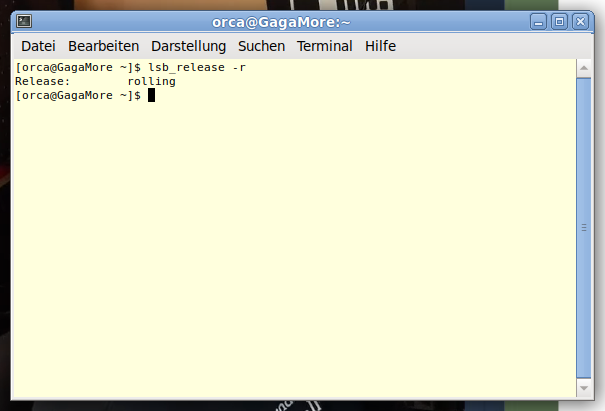 Just says "rolling". Hmmm, what's that all about? Surely Orca's operating system must have a version number, too.
No, not really. Think about it; a software under permanent development and multiple updates each and every day will never have version numbers coz it's slippin' and slidin' into eternity, always fresh, never resting.
From time to time the distro developers decide on a "snapshot". They'll stop the ability to upload anything to the distro for a short time, freeze the system and give it a name, mostly the date of the snapshot. And then they put it up for download from the distro's repositories.
Looks like so: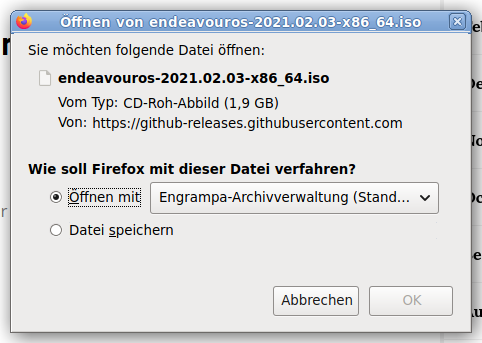 But don't get me wrong, EOS-2021.02.03 ain't a version number. It's just a snapshot, a random moment in time in which development was halted just long enough to put a downloadable ISO file onto the net. It represents the most up-to-date "version" of EOS/Arch at that moment. That means when you wanna download and install Endeavour on your hardware you best take this file since you'll save a lot of time during the first update. With every passing day this initial update is growing bigger and will take more time. And at some time the devs will decide it'd be a good idea to make a new snapshot.
This is exclusively meant to be used by new users and when you want to install your trusty Endeavour on a new machine. You don't use your 2 or 3 or 23 years old ISO file from your personal archive but go for the latest snapshot! And after installation you'll roll with all the other Arch users.
It also means that no existing ArchLinux user will ever be forced to upgrade to a new version like they do in the Ubuntu/Debian world and other "static" distros. We just do our updates when they come rolling along or once a day, a week, monthly, quarterly or … hey, I wouldn't wait much longer than that! It can lead to great confusion inside your computer. 😮