Hiya I-Mocca Fans,
we will start NEXT SUNDAY a test series of 4 races with the TMS I-Mocca60 v1.50 at Saint Aubreys.
St AR TMS – I-Mocca60 v.1.50 Regatta
Sunday 21st February 2021 01:30PM SLT, Saint Aubrey
Rezzone and Spectators Saint Aubrey:
http://maps.secondlife.com/secondlife/Du%20Sud%20Isle/144/199/23
Mustertime and Skippers Meeting: St AR Rezzone: 01:00 PM SLT
NOTE: 01:00 PM SLT = 22:00 CET and 21:00 UK Time.
Racing starts at 01:30 PM SLT (22:30 CET and 21:30 UK)
Plans for the future:
Races for the TMS I-Mocca 60 V1.50 only on Sundays
Alternation of this race between Saint Aubrey and NYC weekly after our test series
Even races from one club to the other are planned in the future
We start first with a test series of 4 race at Saint Aubrey, until all is prepared at NYC as well
Saint Aubrey:
We will usually do 1 race on our courses "St AR – I-Mocca60 – 1" with alternating winds (21knots, NE and SW with V2 at first and maybe later will add SE and NW for some interesting upwind duells).
Racetime will be around 40min
CAUTION:
We have a special raceline at Saint Aubrey, which requires a special routine. Rez your boat in the little "short term parking" area next to landing point. Catch the racewind there and then sail to Conwy (next sim to the north). You can only receive the startsignal in Conwy. Please find your place there for the start a bit later.
As we will widen our raceline to the maximum of 107m for this big boat race we cant rez buoys with it. So you need to make sure you cross the visible line during start and finish to get registered.
It is a relaxed fun and fair race. A great opportunity to learn how to race the TMS I-Mocca60 V1.50.
Practice is allowed at any day. Remember: Practice makes perfect!
** Auto-pilot or auto sail trimming usage during a race will result in a DSQ.
Spectators are always welcome to follow the races.
Courses & Wind for today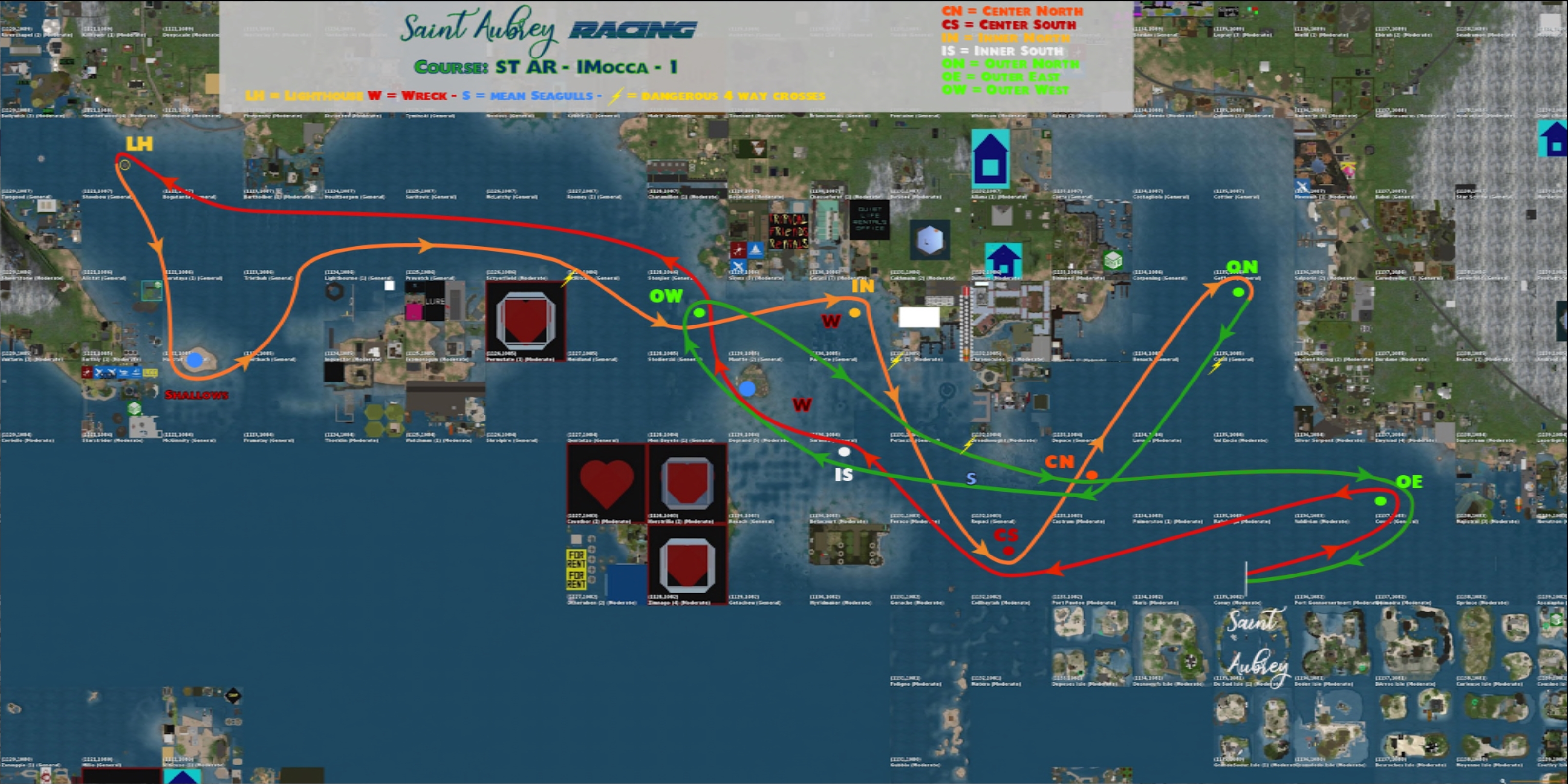 Racewind for our first race will be from the North East (45°), 21 kts, V2
Note: Racewind comes from the windsetter at the Rezzone
What you have to do:
Race wind comes from the windsetter at RezZone.
Make sure to say 'racing' to go into Race mode so that your Race ID will be set.
open the map for the course.
Load the USB notecard for your navigation onr the course.
Reset USB starttimer to 00:00:00
sail to the sim Conwy (next to the north) and get the startsignal from there
Be ready to start on time.
Sail fast and fair and most important "HAVE FUN"
Stay all safe and healthy and hope to see you for some interesting and exciting long race.
hugs and kisses
Bianca