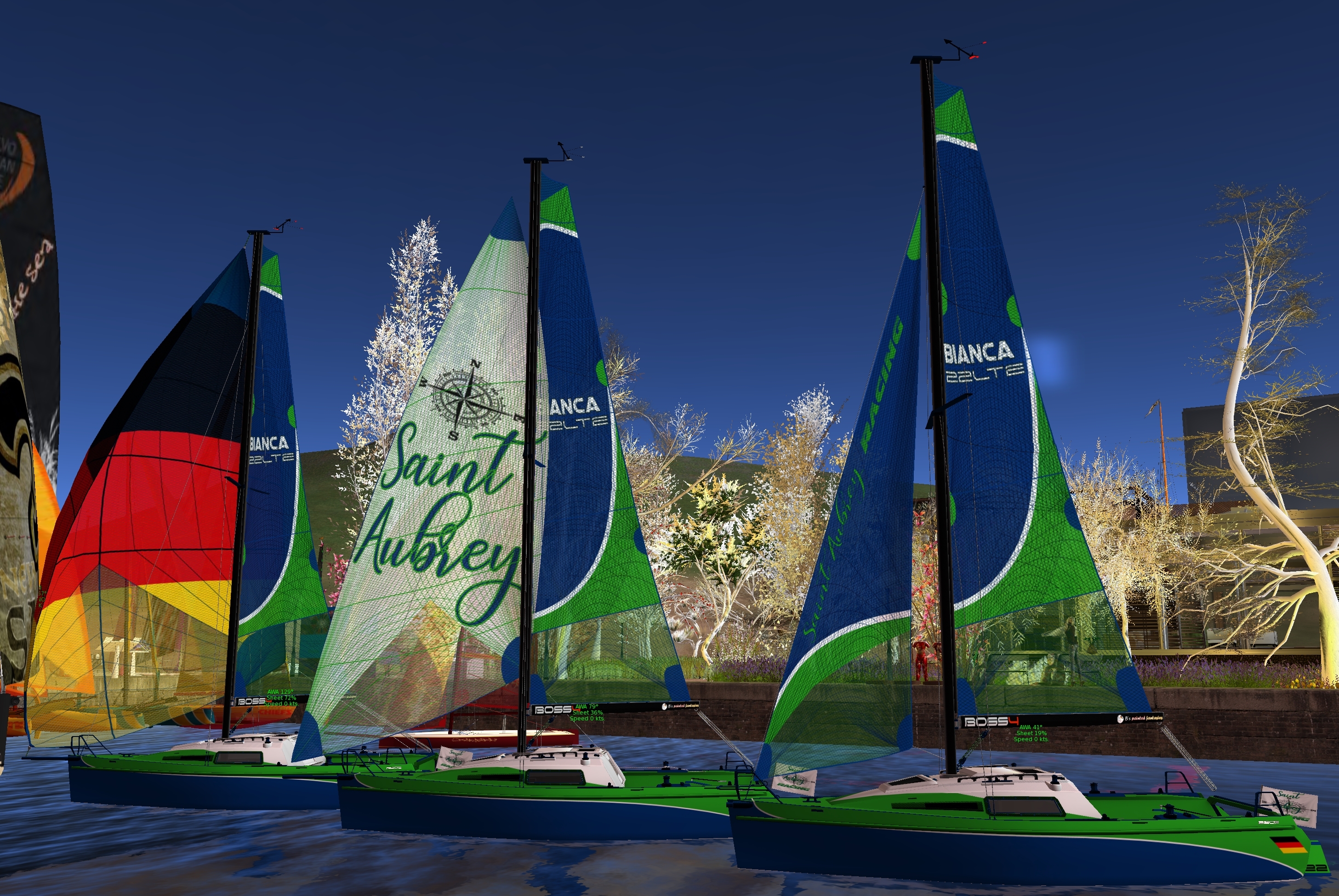 After Triumphal was sold and TrYC disappeared from SL sailing calendar i tried to move on and to find a new place to continue my races for Bandit 25R, Bandit 22LTE and Sea Boss Rider.
Nearly all clubs offered me the opportunity to use their club for my races and a big thank to you all for your support, but the weeks before i was already supporting Giulia at Plum Gut (PGSC).
While i gave the Flying Fizz my last desperate try to understand it and Giulia tried to teach me very patiently the secrets of this Fizz-oldtimer, i helped her with a new philosophy of Fizz sails (colored tell tales in the colorsystem of TMS and Bandit boats and the shields) to help her students to understand the Flying Fizz better and faster. So it was a natural step to work with her at PGSC.
It took me about 10days and i had my courses designed and tested and sent them out to some of my most reguarly racers to test them as well to give me their feedback. They did and liked the new courses.
But you cant live somewhere in peace when someone doesnt like you to. Giulia showed me a chat with the "Fleetcommander" of FIYC in which was said that i am not welcome in that area and if Giulia would let me do the races there the "Fleetcommander" would find all kind of ways to disturb all events at PGSC. Giulia had put already a lot of heart, energy and money into her idea of her club and we both agreed sadly that i will leave again and let her have her peace there.
A little later when i went to one of the Patch races at Race Rock i found out the weird reason for this. I got directly said in IM that i am not welcome there to race. The "Fleetcommander" claimed that i told her she isnt welcome in my races, that i treated her badly and that i will be banned from the region if i interfer in the race (what ever that meant).
Truth is i never ever used the words "not welcome". We had a useless discussion after a Star Class Race at NYC about our starts and her way to protest every fart she notices around her.
This is legal and its following the rules, but is that really necessary in fun races?
Specially in my races i have all the time new sailors who want to learn racing and thats why i try to create a relaxed atmosphere and talk to the "new" sailor about some mistakes they did after the race with a beer in our hand. That motivates them a lot more to come back to races.
So i told the "Fleetcommander" if she cant calm down and cant sail more relaxed she better stay away from my races and wont scare my beginners away. I gave her the chance to decide and she stayed away.
During the next weeks she supported her friend at our Bandit 22LTE and Sea Boss Rider races. She was always welcomed, being greeted friendly and got always an "after race beer" as well. Thats my way of treating people "badly".
I sat at my open fire at home and thought about a new idea. Adeli, one of my best friends has very good friends in the area south of Corsica. They run the Saint Aubrey Airfield and Yacht Club (Sim "Du Sud Isle") there. So i asked Adeli if they would like to be my new base for races. After some explanations and discussions they agreed and told us they love the idea.
Some of you will remember that i have already organised races in that area for several years before i changed to TrYC. The area is perfect for racing, lots of open water, rarely traffic of Monsteryachts, not too much lag and you can fly in for the races.
I started immediately and was pretty busy the last week to design and test new courses again: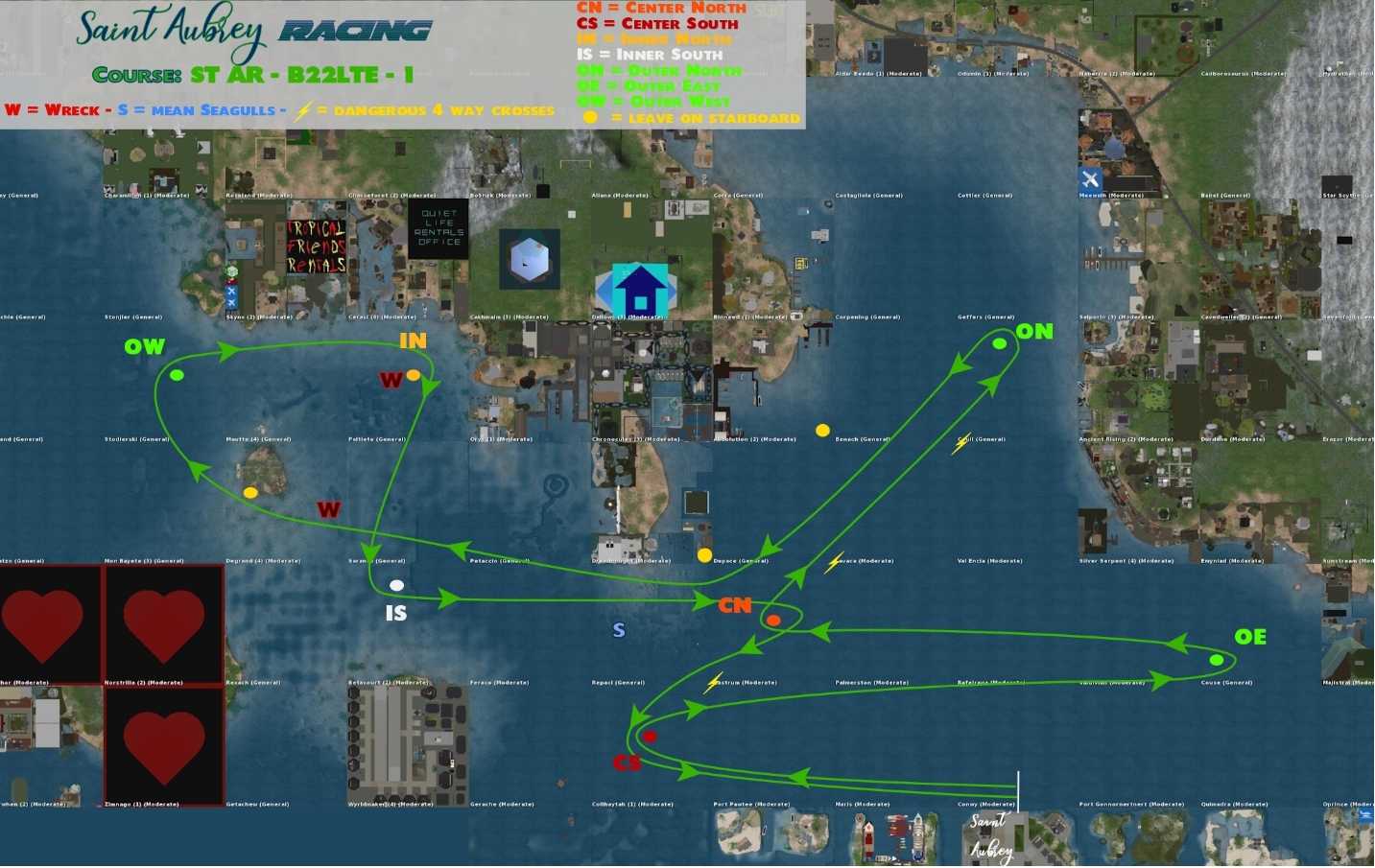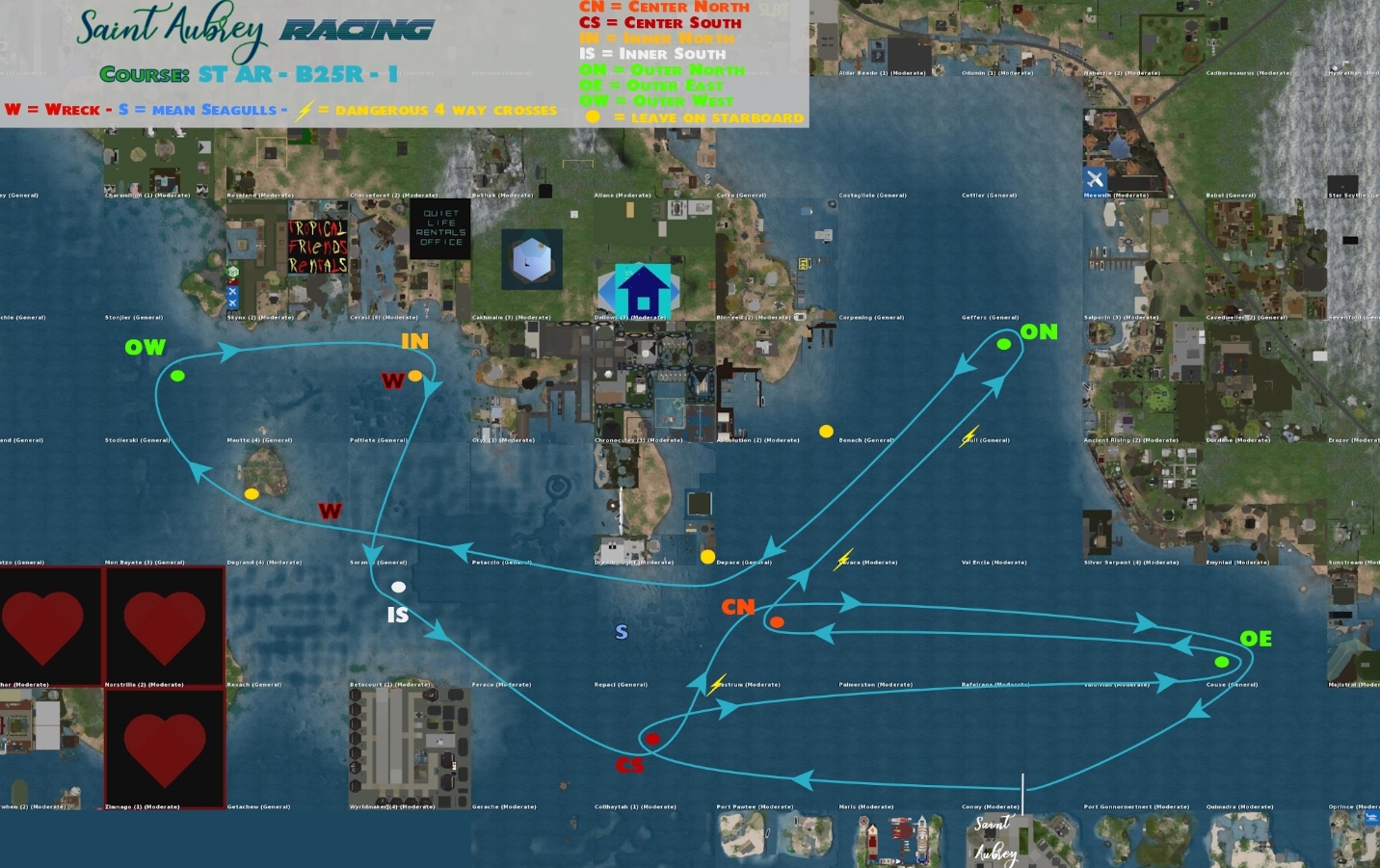 The wind for the two Bandit races will alternate every week between NE, SE, SW and NW and will get 21knots and we will use the reversed courses as well. The racetine should be something between 26 and 32min. We will maybe add N, E, S and W wind in the second half of next year.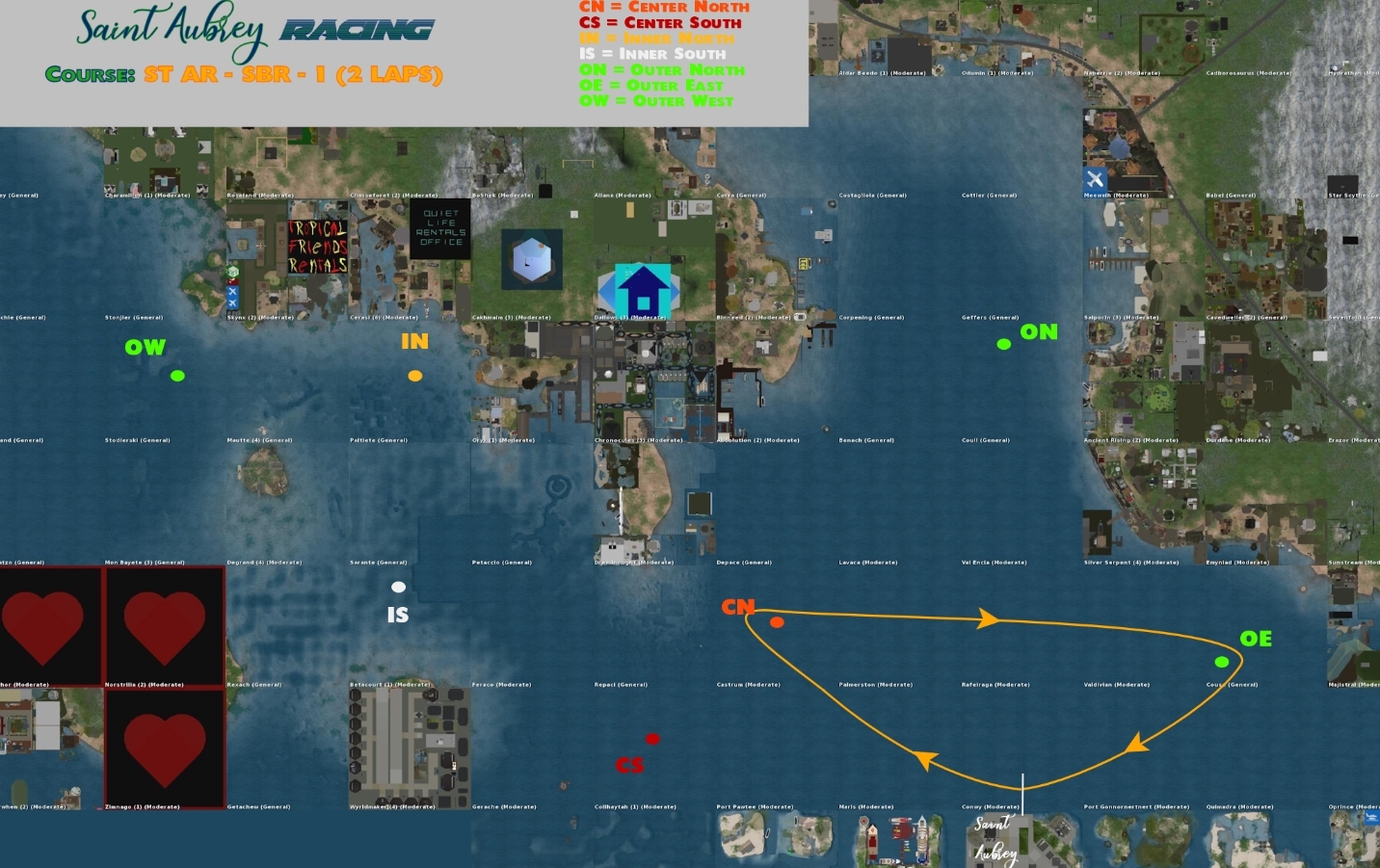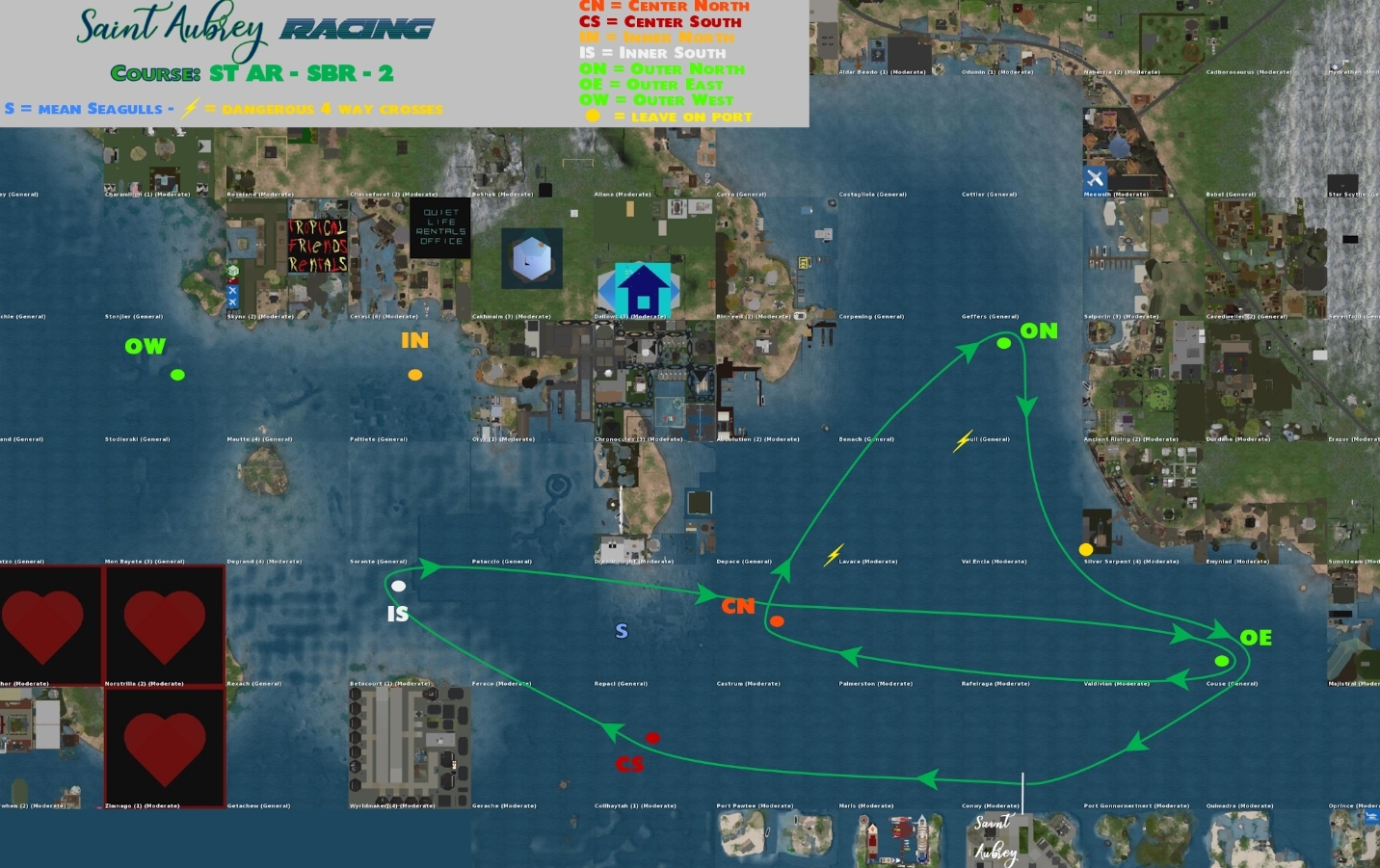 The wind for the windsurfing race will alternate between N and S with 25knots and will use the reversed courses as well.
The racetimes will be as you were used to them in the past (Tuesday B22LTE, Thursday Sea Boss Rider, Saturday B25R)
We are on a good way to get prepared for the races in the near future. The only technical issue we have atm is that we have to rez the raceline in the club sim, let it cross the boarder to the next sim and let it work there properly. But Lalia is working on this already very hard for us and trying to help us out with a solution.
I have sent out already the courses and additional informations to a lot of our former racers and asked them to test them if they like. If you want to know more about the area, the courses and want to test them as well please ask me inworld and i will send you the informations as well.
Stay all safe and healthy and i hope to see you all again soon at the new races.
hugs and kisses
Bianca