Learn more at https://secondlife.com/destination/no…
Nord Storm is a huge world full of steampunk adventures. The HUD that the user puts on for the game makes the avatar close to reality. Crafting, stats, leveling avatar levels, combat system, mazes and quests, team games, extraction of ingredients, and its own financial system. All this and much more you will find in the world of Nord Storm.
CREDITS:
Video Production: Draxtor Despres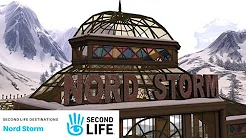 I'm usually a bit of a steampunk fan, but in this game sim I'm missing my beloved airships.