Yes!
The Second Wave is here. Definately.
And in Le Grande Nation it's even an incident on Boss Level. Look what I just found on my French blog friend Angelilie's blog: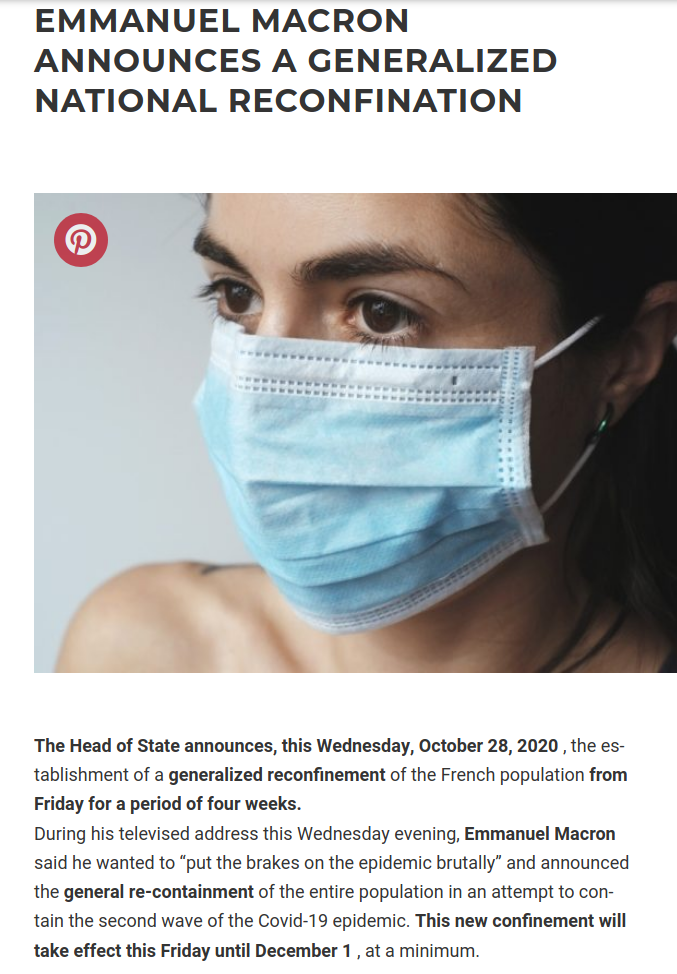 Okay, back to Level 5 lockdown for France. A bold step! And I expect all the neighbours to follow suit pretty soon. Germany, Netherlands, Belgium, Italy, Austria (not the one with the kangaroos) and Spain anyway. And others, like our ice-cold scandinavian frens, won't be able to resist much longer. Fine by hubs and me, so we don't need to fly to Germany anytime soon. 😉
We expect this to be a very dark and long winter for Europe, more overburdened hospitals, more burials, more shitty politics and politicians, more rightwing and nationalist assholes opening their loud mouthes and spewing hatred, and … at least the African and Arab "invaders" are off the hook for a bit as the populists concentrate all their primitive and unfounded aggression onto China.
It's all so sad. 😦
At least in our national South African news aggregator IOL, C-19 is back in the headlines. I mean of course some ultra important news about has-beens Cameron Diaz and Naomi Campbell are featured there but the fave viral infection of the doomed masses is trending again:
While the airline industry is dying a slow and brutal death, our posh neighbour Botswana opens its skyborders so the rich tourists can fly in for undisturbed safaris. Fuk Corona, we wanna kill animals! Western Province premier Alan Winde acts against "fake news" like Trump (of course he does, he's a rich blankie) while the leading medical experts are predicting a new harsh lockdown.
Politicians, I tell ya.
Hubby and me are just waiting for the president's next speech and the next round of lockdown restrictions. Call us selfish all you want but come on, we're hanging in the un-balance here and dunno what to do ourselves. At least at home hubby (hi-risk group) is save. Much saver than in a plane full with maybe infected people, on the way to a country that is overrun by the second wave of Covid-19 and will put us in quarantine for at least 3 weeks and then send us back because no hotel will accomodate us. Or so. Or something.
Peeps, have a wonderful day and enjoy the short-lived freedom of no lockdown. Still, please take good care of yourself and your personal hygiene. Don't offer free hugs to the public, don't have spontanious sex with strangers, wash your front paws, sanitize everything before you touch it, take your vitamins, install Linux, read Orcablog and – most important! – watch the mucking Mandalorian!!!
CYA laterz
xoxo