It has started!
The Second Wave is here. 😮
"Looking at the statistics around us, we can now safely say that we are definitely going back into a hard lockdown if there is no urgent and drastic change in behaviour," he said.
South Africa's leading epidemiologist and infectious diseases specialist, Professor Salim Abdool Karim, has expressed deep concern about a second wave of new Covid-19 infections in the country.
"It seems that the second wave occurs a few months after the first wave. And when it occurs, it might be related to people becoming complacent in their adherence to prevention interventions. It might also be that people who were infected the first time have waning immunity and then a few months later, they are susceptible again, that might be contributing," Karim said in a Q & A session with Gavi, the Vaccine Alliance.
He added while he did not know the reasons, he believed that second waves were largely due to complacency and the releasing of restrictions which created conditions for a second wave.
"Looking at second waves in Spain, Israel and South Korea, amongst others, we see that each country had different reasons for a second wave but they are mostly related to easing restrictions or allowing mass gatherings. These potential ways that a second wave can start, will need to be kept in check. That's part of the new normal," he said.
Karim said people were also tired of wearing masks and social distancing. Karim said he was optimistic SA could reach a stage where people were able to live with the virus, resulting in low-level transmissions of between 1 000 and 2 000, or below, a day.
"We have a situation where taverns and nightclubs are becoming a source of the virus spreading, and if that happens then we are in for it. It makes it inevitable that we will have a second wave," he said.
According to the latest stats from the Health Ministry, SA's cumulative Covid-19 caseload stands at 716 759 with 19 008 deaths with a 90% recovery rate.
And here we have American Exceptionalism illustrated perfectly: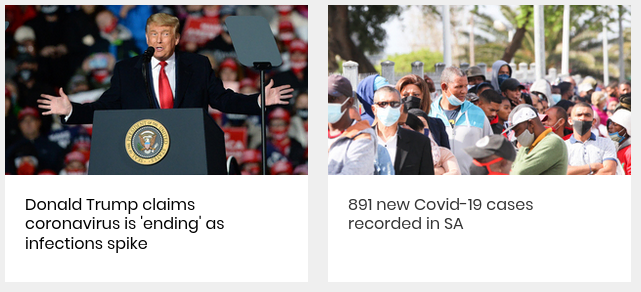 See, that's the difference between the shiny city on the hill and some African shithole. We have recorded C-19 cases. Because our cases are still countable and we've not given up the fight … unlike the White House.
No, honest now. If I was one of the many C-19 infected Americans right now, fighting for air under my ventilator, I had one or two things to say to my president. But then, for obvious reasons, I couldn't. I guess Trump knows it and trusts that all the sick persons are dying so they won't call him out. 😦
Okay, let's have a global look …
Last Updated: October 28, 2020 05:16 PM
Note: While data will continue to be updated here, Reuters will no longer be maintaining this page. Please see our new Global COVID-19 tracker for the latest insights and information.
I didn't know Luxembourg had a population of 320 people all together. 😮
As you can see, even with Reuters giving us less elaborate news, the second wave is clearly trending. 😦
My frens, please don't fall for any cheap propaganda, don't believe the hype but just trust in the numbers. And those numbers look like shit. So best way of action, like in the first days of the lockdown: Stay Home! Keep your social distance, sanitize your manos and eat your veggies!
And, come on, while we're sitting bored at home, we make a cozy place in this bloggy, ok? So lets's huddle around our virtual campfire and send comments to Orca, Lucy and Bia.
Cya laterz
xoxo