\o/ YAY! \o/
If you watch with attention you'll see an old bounty popping up again …
People call him the fishman or fish guy. I guess his name is Niktos. But who gives a fuk? And who cares if Ahsoka, Sabine or Boba will be in this season, all we want is more Baby Yoda! 😉 And for little Orca some Cara Dune please. I think Gina Carano plays her role really good, for a wrestler that is. Ok, I also guess that a certain flair for the dramatique is required if you wanna make it big in that business.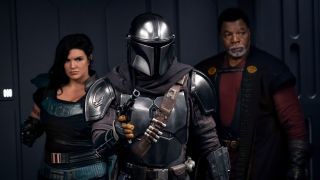 I just sooo hope they won't destroy the Disney Magic by giving "the baby" a name. It'll be the same disappointment and disenchantment that happened when LL introduced Voice in Second Life. I didn't need to know that the most pretty girl in SL talks with the voice of a 75 y/o Vietnam vet. 😮 Not really, no. I don't need to know if Baby Yoda is Yoda's clone or not, or if his name is Hubba Bubba. He's there, he's a useful plot device … and he's ultra cute … in his gross fuglyness. That really is enough to know for me.
I also hope that they will stick with the episodic nature of this series, with the small scale of the plot. I don't need a galaxy-spanning war and destruction of countless worlds. Let's keep Mando the small wild west gangster story. Mando has a task and a goal, that's enough motivation for him to get into trubbelz on many backwater planets. It's a cool enough concept.