Two favourites of the unwashed masses, two very practical and easy to grasp operating systems. Nearly identical Ubuntu bases, nearly identical Mate desktop environments, and still two very different attempts to define a GNU/Linux distribution that works for everybody:
Ubuntu Mate vs Linux Mint Mate | DistroWars
Today we will compare two popular Mate distributions to see which one has more to offer a new user. We will look at #Ubuntu and #LinuxMint Mate editions. We are using the Ubuntu 20.10 beta and Linux Mint 20. #DistroWars

00:00 Intro

03:06 Ubuntu Mate

12:23 Linux Mint Mate

19:37 Conclusions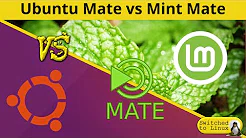 Needless to mention that I don't use none of those two. But if I did I'd go with Mint. Jus' sayin'.