\o/ YAY! \o/
Finally Disney+ released the second Trailer for Mando S2. I'm showing you Star Wars Meg's video about it so we get a bit of context. Buuut unfortunately the trailer contains mostly scenes from season 1 and reveals nothing about the new hires and additional characters:
No Rosario Dawson, no Sasha Banks, no Mark Hamill … they shed no lights on the speculations and rumours. 😦 Not even the best informed SW YouTuber, Meg, has much to say about this disappointing teaser.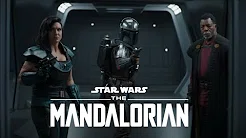 Pff, I guess we all have expected – or at least, hoped for – more. More of everything. Show some faces, hint on some plot twists, something. Alas Disney shrouds itself in secrecy. Patience, my young padawans, patience is the most important Jedi power we need right now. Show will start soon-ish: On Disney+ on 30th October, in the Pirate Bay obviously a day later. 😉 This is the date!