A honest talk by Derek about our freedom! It's very basic, and easy to grasp. Because when it's about freedom there is no compromise, no grey zone, no half baked measures. Either we're free or we we use Microsoft and Apple and others' products. And become the used, not the users. 😐
Recommended viewing:
Everyone wants freedom but most people have no idea just how enslaved they have become to their computing devices and the proprietary software that controls those devices. The Free Software Movement aims to spread awareness of this issue and to advocate for the use of freedom-respecting software ("free software").

I see too many people fighting against social injustices and trying to make a difference in the world. Many of those people have chosen causes that, while noble causes, are not as wide-reaching as the Free Software Movement. So if you truly want to affect change in the world, join the fight as we free the software!

JOIN THE FIGHT: ► https://www.fsf.org/ – Free Software Foundation
Let me repeat what I'm preaching since many years: Guys and dolls, if you really wanna become free human beings, if you wanna be self-determined people, you don't even have a choice. You must take up GNU/Linux or BSD.
And today it's easier than ever before. You don't even need to know a huge deal about computers, to throw out Windows and put Linux on your computers.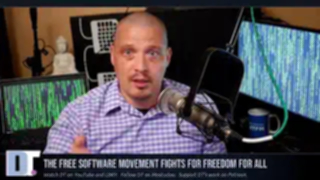 PS: Hell no, your fukn proprietary Android phone is not a Linux device! And neither is your sexy Chromebook. Geez. 😮