The infamous Grace Randolph is supposedly a really bad meaniepooface. She started the rumour about Pedro Pascal leaving/being fired from the Mando show. Alas, he's staying with the series that's supposedly all about him. So much the official side of the whole affair. Pooh, Mando and starving audiences are saved and we will probably even get a third and fourth season. \o/ YAY! \o/
Lookywatchy:
The Mandalorian Season 2 is 27 days away! In today's news update, we look at how Disney+ DE have confirmed Rosario Dawson as Ahsoka Tano for Season 2 of the Mandalorian. We also look at the Pedro Pascal rumor that Grace Randolph faked, as well as speculation surrounding Sasha Banks' character that we saw in the Mandalorian Season 2 trailer. While many fans assume that she is playing Sabine Wren, it turns out this is unlikely. With the rumors that Ahsoka Tano is set to return to Star Wars through Rosario Dawson, this one also might just be wishful thinking. Season 2 of the Star Wars, Lucasfilm and Disney+ show drops on the streaming service on October 30th and so it's only days until we see Baby Yoda (The Child), Boba Fett, Mando (Din Djarin), Cara Dune, Greef Karga, Bo-Katan and more!
All good and fine. But as we all know there's no smoke without fire and rumours don't just spring up from nowhere and without reason. I can vividly imagine Pedro asking for more helmetless screentime and the studio saying No way José, followed by some muscle flexing and harsh words between Pedro/his management vs Disney … and after a little payraise for our faceless star … everything calms down again and aren't we all just a happy family?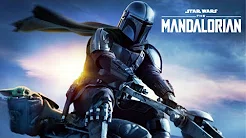 Bullshit. We also know how pigheaded Disney management reacts and how easily tempers flare in tinseltown. I can really imagine that they almost fired Pedro Pascal … or indeed did fire him and gave him a last chance to redeem himself after a paycut. 🙂 Everything is possible when lawyers are involved. And what everybody knows is that Disney has a legal department that far outweighs their creative department.
And some more newnesses in Star Wars Meg's video about Dawson and Banks and even Hamill. Check out her latest video about the Baby Yoda Show!