Morning my dears 😉
Hope this message finds you all in good health, and why shouldn't it. Y'all have listened to the good ole hippie momma Orcsi and washered your hands, practiced social distancing and sanitized yourself and your gear on a regular basis. It's astonishing how clean and shiny your old misused cellphones can look after a quick wipeover with a babywipe, right?
Anyhoo, what's going on in the world of our most fashionable pandemic?
Am I in the mood to compare those numbers to those of the last time? Naaaw, I trust we got more infections, more deaths and more days on the counter. BTW, I hear Germany's health insurance system is back open for business … haha. 😦 Makes no sense for hubby to book a date with the community sister for his annual evaluation, as long as SA's borders aren't open and no flights available, innit?
Flights? We don't even fuking know if our trusty airline, KLM, have survived the locky downy and if Amsterdam airport is open for international passengers. No reason for hectic, it will all be revealed in time and then we will decide what to do. Who knows, maybe the health insurance will be happy with a simple phone call in the future … or sumfink. Because that's pretty much the sole business we have in Germany. Meet community nurse for 5 minutes and bugger off again. And with some bad luck going into quarantine for 2 weeks? In Germany? What a friggin waste of resources.
Nevertheless it can't harm to do regular updates on our little OrcNet netbook. So at least one tiny, very tiny part of us is always ready to jump on a plane at short notice. See: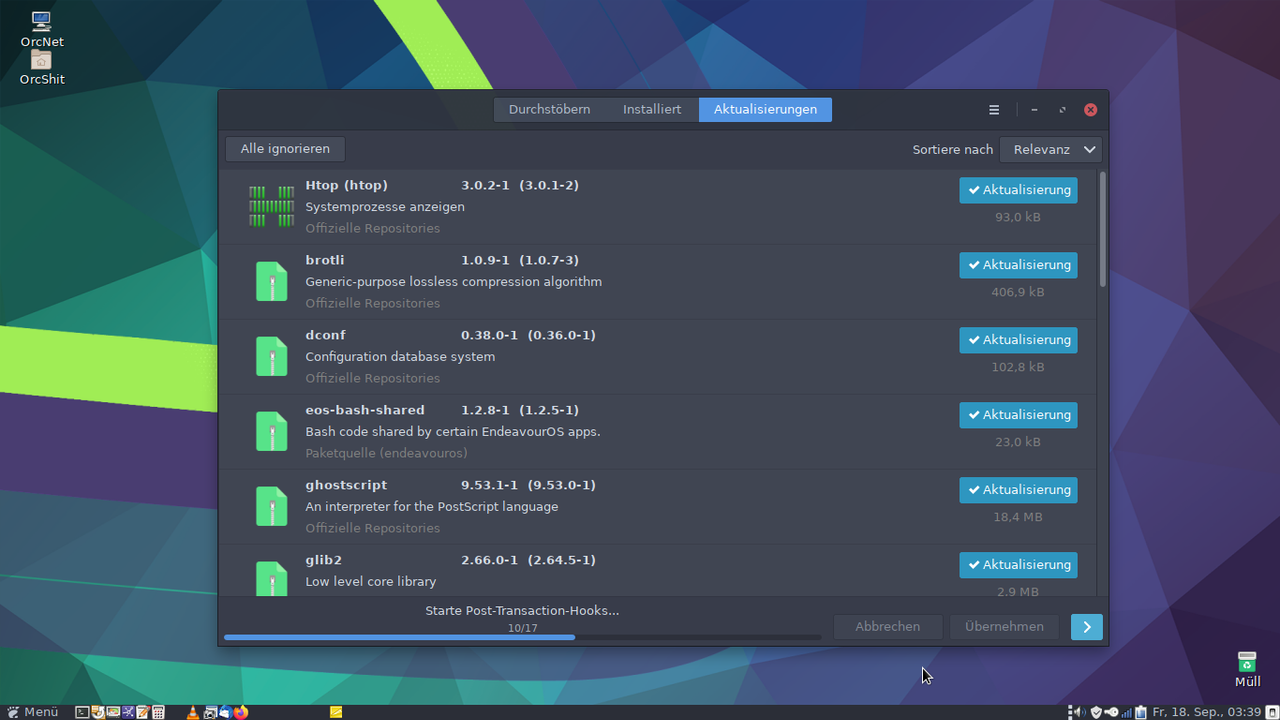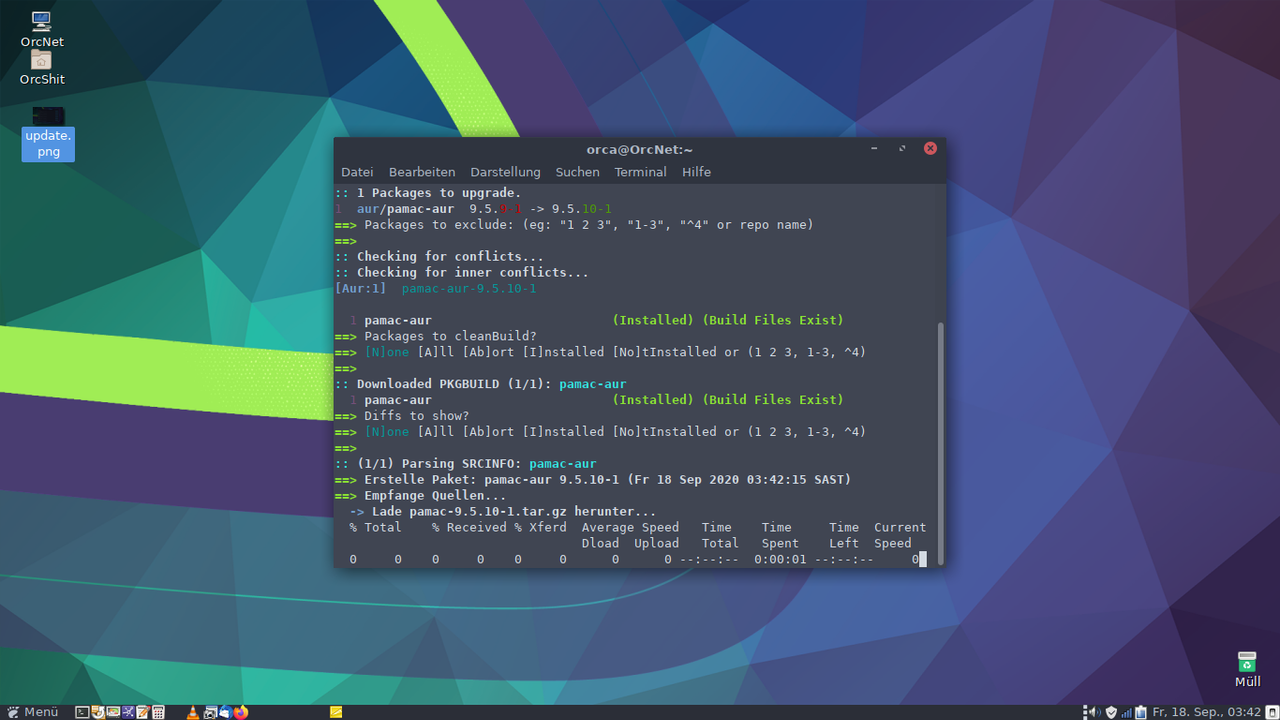 The attentive amongst you have figured out by now that our lame netbook is on Endeavour, just like its bigger and better brother machines. I love that distro. It's a little bit like Mint: Shit just werkz! But without the bloated nanny state!
What else?
Just stumbled onto my diary from Day 106: I still can't get over it how remarkably professional and friendly Morocco handled the Covid19 situation with many thousands of foreign tourists stranded on their shores and deserts. And how quickly they improvised a working infrastructure for all the afraid, suddenly homesick vandwellers.
It's 04:57 in the friggin AM. Am I krayzee to be up? Back to bed with me. Panelbeater will come at around 9 with a friend and a fresh battery to finally remove the wurstest complimentary car from my parking bay, and I don't wanna miss that. 😉
We had a "serious", open and honest convo just yesterday evening. I let him know that I'm not a push-over and not at all happy with some of his handiwork and that I demand it all to be fixed before I'll pay the price in full. Hubby, all manly man, decided to stay in the house while I was out, fighting the good fight. Those small bizniz guys give you a hard time when you're a girl … but in the end it's me sitting on the money and deciding about his ability to pay the rent for his workshop and feed his family. And he knows that!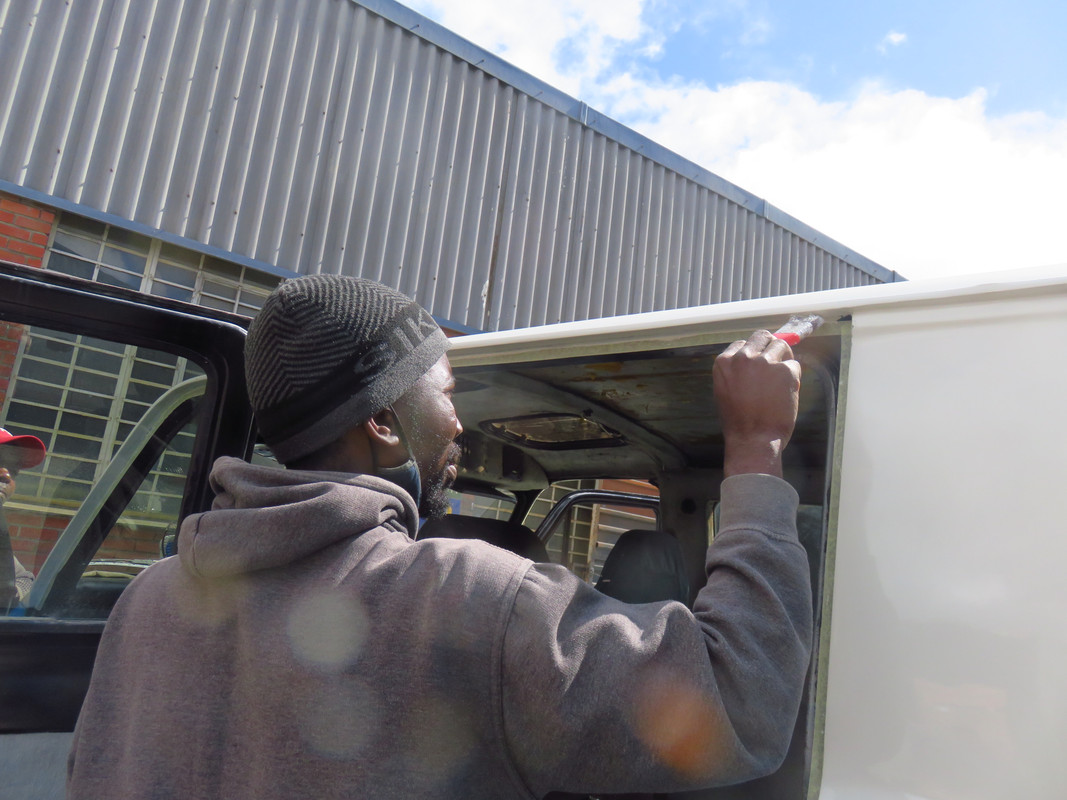 "You can't expect results on Germany level."
"Yes, I know. If I did you'd be wearing my van as a necktie by now! But I expect not to be totally pissed off about your sloppy work any time I see my own van!"
So after a while he was smooth talking, avoiding any bad blood, purring like a kitten. That's how I love my men. 🙂
And know how I love you guyz n gurlz?
HEALTHY!
Let's make sure we all stay that way, okay?
Laterz
xoxo