1001 Nights … or wot? Macho men and their harem of soft girl servants/dancers/whores, I never understood the appeal of sims like these. But please, Second Life has something for everybody.
Learn more at https://secondlife.com/destination/nour
Surrounded by huge dunes of desert sand in the west and the wide, crystal-blue ocean in the east, Nour seems to be secluded. But far from it! It is pulsating with life! Traders, travelers, dancers, snake charmers, Bedouins, they all add color to the town and so do the omnipresent strains of oriental music and the scent of the rarest spices. Explore the area on camelback!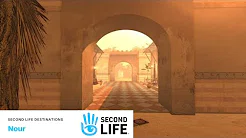 Credits:
Video Production: Draxtor Despres