Oh wow!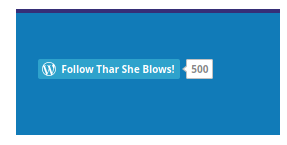 Fivehunnerd krayzee stupid peeps are stalking this blawg!
You guys are the cream of the crop, the kinks and kweenz of the asylum, the cheese of the cake! Thank you very much for your interest in this sick bloggo.
May I ask wky? Or just enjoy the masses of true disciples? I guess yes.
Anyhoo, I love not all of you but most. 😉
Laterz
xoxo