Hai everybody, wherever you are.
Sometimes I wonder if everybody is in lockdown mode by now or are there still some Thar She Blows! readers roaming this planet of ours freely and unhindered by security and health concerns? Or their own conscience. If so, please let your fellow bloggies know in what magical area you're dwelling. I'm very curious.
As I told you already hubby and me aren't too badly restricted by the quarantine measures, as he almost never leaves the house and I rarely leave our northern Capetonian suburbia. So we're quite happy about the rain today. The land needs it urgently, and we've already decided rain's a good thing. Heck, when in lockdown anyway, please go on, let it rain for the next two weeks … or however long this will take. We have ample food supply for the next two weeks, so no need to go anywhere.
But but but … what to do inside the house? Particularly when you're not a real housewife and not interested in doing house-y projects? Hmmm, letting my view gaze over the computers … hm, hm, hmmm, \o/ Linux projects! \o/ Come on Orca, you love Linux, so now is the time to test a couple thousand distros!
BTW, how many Linuxes are there, really?
It's almost impossible to be hundred percent sure here, because there are some distro's that are actively supported, but in-company or just for a specific product.

Put the fun back into computing. Use Linux, BSD. is probably delivering the answer that comes close: 275
Ugh, no! My distrohopping times are behind me, I've found my home in the Linux world (I use Arch btw.) and have no desire to move anytime soon.
And I'm not geeky enough to treat Linux as a hobby. Not gonna play and tinker and optimize Linux code. God no!
That doesn't mean I'm not scouting for nifty n00b-friendly distros, like, every fukn day. I'm still on a mission to convert all of you to Linux. For that I made a list of recommendations, as you know. And I've even streamlined that list and trimmed it down to just 2 entries. It's not the list most experts would give you, it's mine and mine alone. But I can promise you that – if you are on a similarly sober mindset – my choices make a lot of sense. So, basta. But anyway, me, personally, I just want to let you know that …
And since I've checked DistroWatch already earlier, and found nothing worthwile to check out, so what am I sposed to do now?
Last thing I did in regards of Linux on this bloggy, was a little comparison of Sparky vs LMDE4, which Sparky won. Not by a huge margin and mostly because I'm biased and decide based on taste rather than on technical merits. But far as I know Sparky won on both accounts.
Anyway, Jack M. Germain tested LMDE4 very thoroughly, explains a lot about it and wrote a wonderful rambly article for Linux Insider. And as he found out there ain't really a huge difference between the "normal" Ubuntu-based Mint and Mint's Debian Edition. In the end it seems it's all a question of personal taste. Doesn't matter, doesn't mattter to us in no way, as neither version made it on my very restricted recommendations list. But then again, there is nothing wrong with the Minty goodness, no matter which path you gonna take.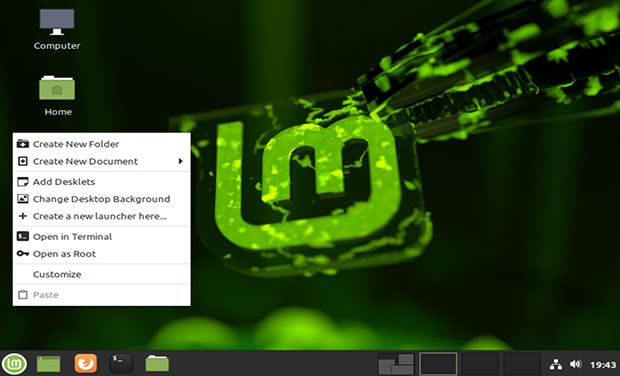 Ok, now you have something to do, you lucky fux. And me, I'm still sitting here …
Stay healthy, stay happy, wash your hands and have fun.
Laterz perhaps
xoxo