What a cool idea!

And look, Orca has already nice low lag skins ready. I made those not-very-sexy-but-unlaggy skins particularly for not crashing when I had my Zpeeed Trialz sailraces going … in 2010 or so.

Be naked without being naked. Be just a slightly female humanoid shaped blubb and be zpeeedy! And never ever kräsch!
Daniel Voyager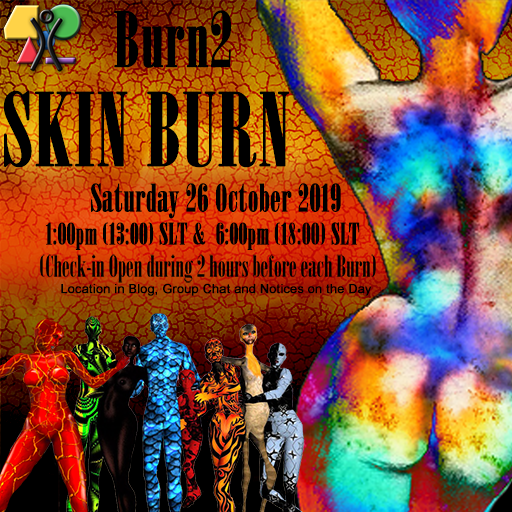 The Burn2 Skin Burn event takes place tomorrow on Saturday 26th October 2019 in Second Life. The first burn starts at 1pm SLT and the second burn starts at 6pm SLT.
The check in opens two hours before each burn. Everyone is welcome to participate and have fun.
The Man will be burning again but this time everyone will be in their best low lag form to see it. It's a low lag burn!.
WHY DO WE DO THIS?
We recognise that some of us may have had difficulty seeing the Man burn last Saturday – lag is a fact of life with all the partying and the range of lag generated in the sims.

Thus, we become more radically inclusive by expending a bit of communal effort and "slimming down" to just skins and system layers, It helps reduce sim lag (BURN2 sims) and also client lag (your computer's…
View original post 31 more words