Hai Ho Linux groupies!
Next little not-a-review about Xfce Linuxes. Today the mother lode itself, the green elephant in the room, but the one everyone's talking about, the Big Kahuna, the legend, the infamous, the mighty and fat Manjaro!
So far,  what did we find out? Xfce is Orca's thirdmost favourite desktop environment, and she prefered Endeavour OS over Xubuntu (mostly due to its ArchLinux base), without actually liking it very much. Now let's see how the legendary legend, the mountain itself fares in regards of Xfce look n feel and overall performance.
But before we deep-dive into the legend itself, let's have a short detour and talk about what makes Manjaro so special.
Manjaro is like the Ubuntu of the Arch world. Means it is losely based on Arch but uses its own repositories. And is installable by mere human idiots. Good or bad? We'll talk about that a bit further down.
Manjaro doesn't need to be announced as Xfce distro. Although it comes in lotsa different flavours, Xfce is the undisputed main course!

Manjo even has its own YT channel with pictures of girls

Manjaro is sexy and will get you the girls! At least when you look at their website, which is full with bishies. Haha, as if. 😐 When you on Linux, you a mom's basement dwelling loser. Deal with it. 😉
Manjaro ain't quirky … it is The Quirk! Hey, when being on Linux and not even being on boring Arch isn't good enough anymore and you need that little bit of extra ooomph and distinction; when you know the secret handshake, when you're even too cool to be noticed by senpai … hey presto, welcome to Manjaro!

No! Not even lesbians!

Manjaro won't get you the girls! Hubby, got his girl while he was on boring Kubuntu, and not even incel Orca can get girls anymore since she's on Arch. 😦

Manjaro is for the specialest of special snowflakes, so special that you can join a huge worldwide army of same-same special snowflakes.
The sad reality of Manjaro and wimmin looks more like so: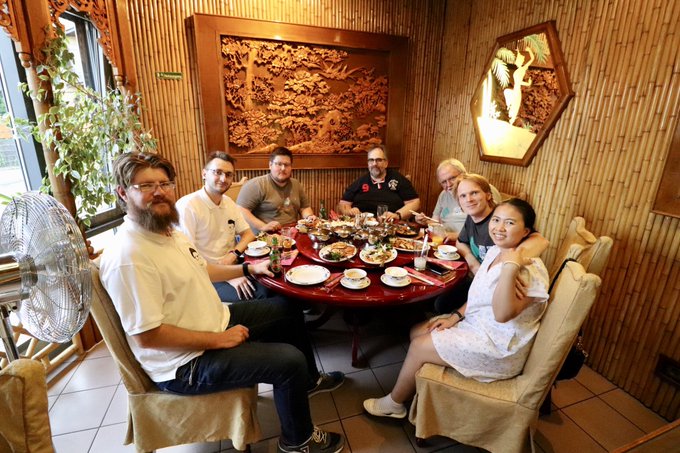 Okay, now that we know what we're dealing with let's see if Manjo is even remotely capable of filling its own footprints.
Okeeee, up to now I'm stumbling over the usual points I never liked about Xfce in the first place. But that's mostly caused by my non-familiarity with that desktop. And it's really gotta be said that Manjaro devs made the experience an easy one, and we begin to understand why Manjo is where it is in DistroWatch's chart, as insignificant as it may be.
Manjaro gives the impression of a well-rounded ArchLinux distro, eventhough PhilM and gang are stressing the fact that their baby ain't Arch but something better. But now let's see how the installation of my fave SL viewer goes …
So, yes, I guess that was already enuff. Y'all can imagine that all the Linux standard shit works flawlessly, like browsing the interwebz, using office products, email, doing your photography and graphical stuffz n shit. Installing and starting an SL viewer for me is always the final proof of concept.
What about Manjaro in the greater scheme of things, among its Xfce siblings? Sorry Endeavour OS, you lost out and Manjo is still the king of the Xfce desktop. Must I really install Namib's Xfce flavour, just to show you that it will be roughly the same? Maybe not that finely tuned but much more Archie than Manjaro would even dare to go. Let's say like always, when you have a bit of a clue and are slightly advanced, you'll always be better off with Xfce on Arch foundation than on Xubuntu.