2018 Francois Jacques Memorial, with eigth racers. Joris was actually flying, not giving a chance to us. Second place was Fanny, winner of the 2016 edition, and third, Taka, winner of last year edition.
As usual, SL wasn't acting good, with much residents being spilled out 40 minutes before the race. When people was able to log back, was all nervous if it would be able to saty.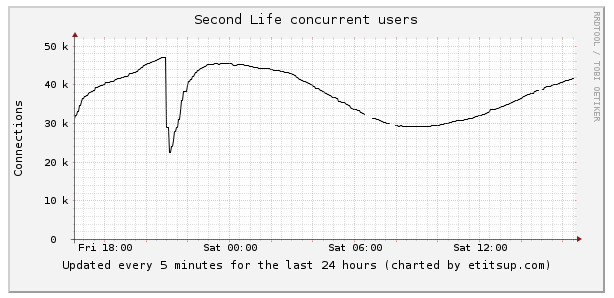 (look that valley in the graph, just before the Memorial)
Moon had problems in 2nd and 3rd races, and I had many problems in 1st one, being freezed twice, and finally crashing in last leg, but my boat still made it, in 5th place.
It was competitive, with many boats rounding buoys together, yet with no faults or protests. Ok, some yells about ROW, Stb, but nothing serious.

The trophies
And Viv made a great video of 2nd and 3rd races: