Hai kidz!
Yeah, I know, I have plagued you with stories about my (technically) oldest desktop computer really often enough. Yes. But recently, due to actual happenings, I was once again reminded myself, what a nifty little machine it really is.
A little reminder: When I purchased MiniMe back in October of 2016 it was already 6 years old and I became probably its third proprietor after the small-time used PC dealer bought it from some office where it was replaced by something more fancy. I paid 1600 ZAR (around 80 – 90 Woolong at that time), including keyboard and mouse. Another 15 Woolongs got me a crappy old 4:3 flatscreen … and Bob was my uncle. What I got for my monies was, and still is,  a i5-650 processor, 2 GB RAM and a teenie tiny 160 GB hard drive. Got another 2 GB So-dimm RAM module for free from my computer repair lesbian and that thing was ready to go.
Fancy? No, not the least little bit. But it's packaged very well and kinda cutely in its humble small form factor case and … it's running strong and reliable ever since! And that's why I post this, this is why I mentioned in my posts about Dual Booting that I don't like that approach and much (actually muchmuchmuch) prefer to use a dedicated machine for every operating system you wanna run or try out.
Plus, let's not forget Lenovo's IBM genes, legendary build quality and, due to its age, a completely non-evil, kinda ancient legacy UEFI/BIOS, that won't throw sticks between your legs and lets you install all kinds of shitty Linux distros without even blinking.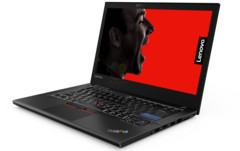 Granted, Intel's 1st gen i-Processors are now a bit long in the tooth but already 64-bit procies, plenty fast enough to play around with many Linuxes, and even use them for professional office applications, internet stuff and light gaming. Ok, you can forget about good experiences in Second Life with this particular machine since it doesn't feature a dedicated graphics solution but for just hanging out in world and chatting and cleaning your inventory it's always good enough.
And, know what the best thing is about old Lenovos? There are millions of them out there! And most aren't even that old and in a good condition. And now, two years later, you'll get much younger, much betterer machines for the same awesome price. These things are getting phased of offices every couple years so the trusty old overworked secretary gets a new machine to project her hate on. 😉 The old machines goes back to the leasing companies, who then are trying to get rid of 'em for cheapcheap prices. And for cheapcheap you can pick them up as well. Look in Gumtree, Craigs List, eBay, thrift shops, or whatever classifieds you know. These things are The Shit, go get one! Once you have one you'll be happy as a clam, and forever grateful for Orca's good advice. And you'll have much less stress, won't endanger your main system … plus you'll have a secondary workhorse ready to take over when your recent machine becomes sick.
So many advantages for such a little pricetag! GO GET YOUR OWN LENOVO (or HP or Dell) NOW!!!