Okayyyyy, you know Orca loves miniscule computers. They don't necessarily need to boast a beefy graphics card or a dedicated graphics solution at all. Intel's onboard graphics are good enough by now to allow for the one or other short stint into SL, so all is good. For me a mini PC is cool as long as it can run Linux in a kinda speedy fashion.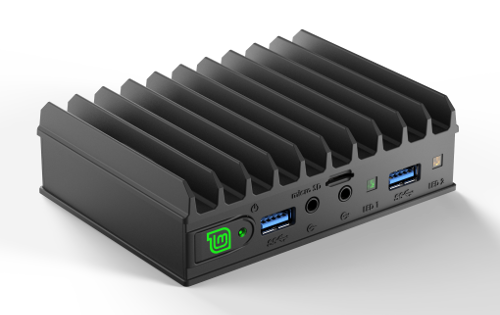 You can't expect record breaking speeds from the MintBox Mini 2, even if it's a bit upgraded from its two predecessors. The quad-core Apollo-Lake Intel Celeron J3455 with embedded Intel HD Graphics 500 isn't one of Intel's gaming or server CPUs but just a nifty energy saving chip for everyday use. So what you should and can expect is silent operation and good speed in office and mom n dad computing tasks. Perfect.
And look how small it is: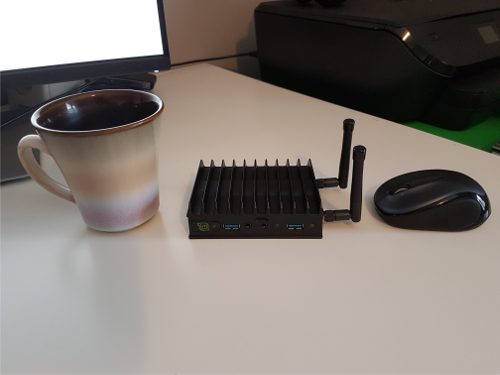 Reality check with my Lenovo ThinkCentre M73:
Of course this yogini don't drink no coffee so a glass of milk must suffice. And well, yes the MintBox is indeed even smaller I guess. But let's not forget I have a real i3 CPU, which can still run circles around all those Apollo Lake thingies. Oh, but I see the Mint Boxes sport SSDs while my Lenny still has to live with an oldfashioned mechanical platter. So let's say their performance will be decently speedy. And whisper quiet. Psssht. 🙂
As always I'm kinda hesitant to recommend those machines for everybody. They are niche products, but if you fit into that special niche you'll get something very special and very nice.
The MintBox Mini 2 and Mini 2 Pro come with preinstalled Linux Mint 19, so they are perfect for the lazy/cowardish new users or generally users who can't find any other cheap hardware to play with Linux. And they are hassle free, like Apple Macs. Just plug in, switch on and become awesome instantly!
Now let's look at the available configurations and prices: