Sailing in SL give us some surprises, not ever good but ever funny ones.
Last Friday I attend FIYC's big boats races with Quest IACC special edition. Then the usual SL behavior: a crash in a sim crossing.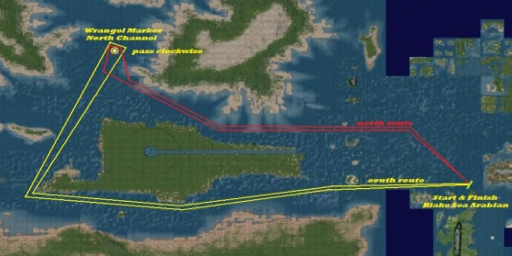 The red course was the one we were racing.
But I was lucky, reloged, found my boat at a short distance, sat on and… I was sitting backwards! Tried a few commands, boats responded well but didn't move, it took me some time to realise that it was stucked on a sand bank in North Channel. Okies, lets go back a while, move to south a while to get rid of sand banks, e returned to west.
Finally arrived at the buoy to be rounded and return to the line. and after a while, I realised that I rounded the buoy the wrong way, CCW instead of CW. Ouch again! Oh well, go back about 200m, round it again, the right way this time. After all, what I least needed was a DSQ.
And all this looking behind, remember: